The Wedding Ring Questions
Sitemap



Welcome to our wedding ring questions sitemap! Here you can find links to pages which include Q&As about a variety of topics that concern couples looking for engagement rings and wedding bands and questions sent in by visitors who already own rings.
Our wedding guides answer any wedding or engagement ring question - so if you have a ring question of your own, send it in through EWR's Wedding Ring Questions page. Whether you are wondering if your antique engagement ring is authentic, or you have a question about a type of ring metal, or whether a wedding or engagement ring is really a good choice, we are happy to help!

Main Sitemap --- Engagement Sitemap --- Gemstone Sitemap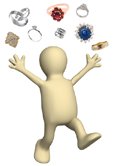 Carat Difference in Size in Cubic Zirconia

Width and Size of Titanium Wedding Band

Sizing a Ring with Rhodium Plating

Buffing Palladium Rings

Created Heart Shaped Ruby Ring?

Matching Wedding Bands for Engagement Rings

Hiddenite Value?

Spinning Wedding Ring and Ring Size

Tension Set Damage to the Stone?


Where to Find a Synthetic Diamond?

How to Tell if Morganite is Real or Not?

Value of Morganite?

Age of Ring?

Is this a Victorian Engagement or Wedding Band?

Georgian Ring Question

Antique Ring Dating?

Dating of Ring?

Is my Grand Mum's ring really as old as she was told?

Georgian or Victorian Ring?

1890s Wedding Rings?

Alexandrite Repair and Possible Damage

Too Big to be True Alexandrite?

Is my Ring a Genuine Alexandrite Ring?


Real Alexandrite Ring?

Crack Mark on Ruby Stone

Will an Amethyst Ring Suit a Virgo?

Amethyst Engagement Ring Question

Amethyst Ring Durability?

Loose Aquamarine Value and Ring Setting

I Love my Wooden Wedding Ring!

Ethical Wedding Bands in Berlin?

Iridium Wedding Bands

Weight of Wedding Ring Metals

Value of Rhodium and is my Rhodium Real?

Real Moissanite and CZ vs. Moissanite

Polishing and Replating CZ Ring


Return from Wedding Ring Questions Sitemap to Main Sitemap

or

Everything Wedding Rings Home