Design Your Own Wedding Ring
Tips and Recommendations


Design your own wedding ring - the perfect choice for unique wedding bands and one-of-a-kind handmade engagement rings.
Below, you'll find our top recommendations for online wedding ring jewelers that specialize in custom ring designs plus top tips on how to begin designing your ring including pointers on choosing metals, diamond cuts and gemstones.
And if you have any questions about designing wedding rings or would like to share your gorgeous custom design rings with our viewers, just use the comment box at the end of the page.
Fun Fast Ideas for Wedding Ring Designs!
Vintage and antique rings can be terrific sources of inspiration for unique ring designs.

Personalize rings with birthstone gemstones, engravings and significant symbols.

Unique touches on custom designed rings can include colorful gemstones, two-tone bands and gorgeous filigree metalworks.

Recommendations for Design Your Own Ring Online Jewelers

With today's amazing technology, it is now possible to design your own ring through an online jewelry store and to even work with a personal wedding ring designer all from the convenience of your own home.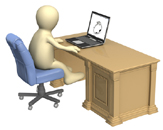 While there are plenty of options for online wedding ring designers that specialize in custom handmade rings, here are a few of our favorite jewelers that offer top-of-the-line online custom designing services.
Brilliant Earth - Along with a wide selection of ready-made wedding rings plus authentic antique and vintage rings, BE also specializes in custom design wedding rings. The design team will work with you to create your vision, and they even make a wax prototype and send pics of the wax model to you for final approval before the ring is made. An estimate of the ring's cost is also sent to you at the beginning of the process. Your custom wedding band or engagement ring can be made with a variety of diamond cuts, colorful gemstones and metals including platinum, yellow, white and rose gold.
Below are a few rings from BE's custom gallery, so you can see the amazing type of work the design team can do! Rings are crafted by hand in the U.S. - and with eco-friendly metals and conflict-free diamonds and gemstones too.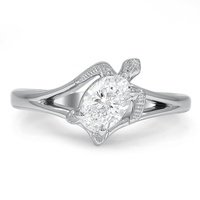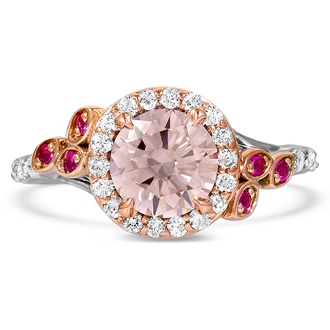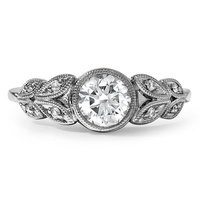 Blue Nile - As a leader in online jewelry, Blue Nile has an excellent "Build Your Own Ring" option that is perfect for couples who would like to design a ring by selecting features through a user-friendly process. With this option, you can easily select your perfect diamond, including luxury natural fancy color diamonds, choose from a list of metals and settings that will fit the diamond of your choice and then opt for engraving the band - you can still design a ring that looks unique and contains personal elements working with an online assistant, and the process can be a lot quicker than designing a ring completely from the ground up.

Gemvara - If you are looking for unique handmade rings that can be customized, look no further! All pre-made rings offered at Gemvara can be customized with a variety of natural and lab created diamonds, an extensive selection of natural and lab created gemstones, plus choosing and even creating multi-tone wedding rings in platinum, yellow and rose gold and silver. If you need assistance with creating your ring, or would like to alter the design of the ring, jewelry consultants are available to work with couples on designing their rings - including matching bands for couples. An example of a Gemvara ring that is customized is below, the 'Lotus' ring in rose gold with yellow gold highlights, a central round diamond, and a band made with diamonds and Iolite gemstones.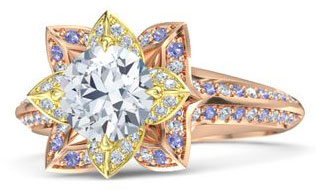 Design Your Own Wedding Ring Tips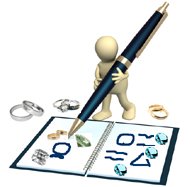 Whether you decide to have your wedding rings designed by an online jeweler or a local jeweler, here are a few tips on selecting metals, diamonds and gemstones to help you get started on your custom design rings.

Design Your Own Wedding Ring: Choosing Your Wedding Band Metal

Platinum is definitely the best metal in terms of durability for any wedding band or engagement ring. Platinum is more expensive than other types of ring metals, but it can be worked into a variety of designs - it is also hypoallergenic, does not require rhodium plate, and will offer you the best long term wear.

Palladium is the second best metal to choose from, it is highly durable, can be worked into a number of styles, is hypoallergenic and does not require rhodium plate either. Palladium is much, much lighter than platinum and gold - the only downside to this metal is that it can sometimes be challenging to find a jeweler who is experienced with crafting palladium rings.
Gold is another terrific choice, but keep in mind that white gold will require a new rhodium plate at least every one to two years to maintain its white reflective shine. White gold can cause allergic reactions to individuals with nickel allergies, but for colorful or two tone rings yellow and rose gold are terrific options. In terms of gold durability, 18k gold is your best choice for custom gold designed engagement rings and wedding bands.
Sterling Silver does require special care and is not nearly as durable as the other metals above, but if you wish to design your own wedding band or engagement ring for an affordable price, sterling silver can be a good choice - especially if you would like a ring made with highly intricate filigree or outside engraving details.
What about newer metals like tungsten, titanium or cobalt? These types of metals are so hard that they cannot be worked into very many styles - and so custom designs for contemporary metals can be challenging to find. In most cases, bands made with these metals can be customized with outside or inside laser engravings and a few design touches, but keep in mind that intricate designs, filigree and exceptionally delicate bands are just not possible in these metals.




Design Your Own Wedding Ring: Choosing Your Diamond and Gemstones
If you would like diamonds in your custom designed rings, here is a quick rundown on what you can expect from some types of diamond cuts. To find out more about specific diamond cuts, see our Engagement Ring Styles page.
Colorful gemstones can also add a very unique flair to custom designed engagement rings and wedding bands. Some of the most popular wedding ring gemstones include sapphires, rubies and emeralds. You can also go with birthstone gemstones for an extra personal touch. Whatever gemstone you use though, make sure the stone is at least a 7.0 or higher on the Moh's Hardness Scale. Ideally, gemstones should not be combined with white gold as the rhodium plate process can be hard on the gemstones throughout the years - instead, choose platinum, palladium, yellow or rose gold and silver. You can find out more about gemstones perfect for wedding rings in our Gemstone Wedding Rings section.
Design Your Own Wedding Ring: Choosing Your Ring's Setting
There are dozens of settings to choose from, and some of the most popular settings include prong settings, trellis settings and halo settings. If you would like to design your own wedding band with gemstones or diamonds, the channel setting is a great option for stones set in the band. And as far as the center setting goes - the sky is the limit.
Just remember that raised and prong settings will allow the most light access to the center diamond or gemstone - which maximizes the shine, sparkle, fire and brilliance of the stone. Any setting that includes metal wrapped around the stone itself will somewhat decrease these qualities - depending on how much metal is around the stone.
And, platinum is by far the best metal for wedding and engagement ring settings.


Design Your Own Wedding Ring Final Tips
Just a few "last but not least" tips to keep in mind when you design your own wedding ring include:
If you decide to design your own wedding ring from the ground up, it can take months - and handmade engagement rings and wedding bands can take at least 3 weeks to make once the final conception of the ring is completed. If you want to design your own rings, start early to make sure they are ready in-time for the wedding date.
Diamonds included in wedding bands and engagement rings need to be certified by a reputable laboratory - ideally the GIA, AGS, EGL or the IGI - and come with a conflict-free guarantee. Even little diamonds included in the band of the ring should be certified.
If you are going with a local jeweler who specializes in custom design wedding rings, make sure the jeweler has extensive experience working with the metal of your choice. Ask to see samples, and if possible to speak with couples who have had their rings designed at the jeweler's boutique.
And finally, some type of written guarantee on the quality of workmanship of the ring - and even the results of the design concept - is best.


Best of luck on choosing a design your own wedding ring option - and if you have any questions, comments or would like to share pics of your rings, just use
the comment box below!


Questions or comments about designing your own wedding ring?
Send in your questions or comments - or share pics of a ring you helped to design!

I will post answers to your questions as soon as possible!
Return from Design Your Own Wedding Ring to Unique Wedding Bands

or

Return to Everything Wedding Rings Home