Round Diamond Engagement Rings
and
The Brilliant Diamond Cut


Exquisite round diamond engagement rings, treasured for their unsurpassed brilliance and fire, have been the leading style of popular engagement rings for over a century.
To find out if this is the perfect style for your ring, use the helpful guide below which includes info about the characteristics of the round cut, pros and cons, best settings and essential shopping tips.

All the advice here also applies to lab created diamonds which have the exact same characteristics as natural diamonds. If you have any questions about round engagement rings - or the brilliant diamond cut - just use the handy comment box at the end of the page.
Round (Brilliant) Cut Fast Fun Facts!
Rates #1 Most Popular Diamond Cut for Engagement Rings!!
Cut includes 58 facets
Best Setting: 4 Prong (ideal), Bezel
Ideal GIA Grades:
Clarity = IF to SI2
Color = D to G
Cut = Excellent to Fair

Characteristics of the Round Brilliant Diamond Cut
The round brilliant cut is the most studied and analyzed diamond cut. Round diamond cuts are more than four hundred years old, but it was not until the year 1919 when the original round brilliant diamond was created by Marcel Tolkowsky. Before that time, rose cut diamonds and old European cut diamonds were the most popular round diamond styles.




Marcel designed the round brilliant cut by applying his extensive mathematical knowledge to craft a shape and cut which would maximize the brilliance and fire of the diamond to its uppermost limits.

Years later, advances in laser technology and computer modeling led to today's even brighter round brilliant cut – a cut with the highest amount of mesmerizing fire, brilliance and light dispersion that no other cut can quite equal.
The cut itself includes 58 dazzling facets, and it preserves a large amount of the original rough diamond's weight. 


Pros and Cons of Round Diamond Engagement Rings
The round cut diamond engagement ring style is one of the most versatile of all styles – and perhaps this is why round diamond engagement rings have been so popular for so long.
Engagement rings featuring round brilliant cuts are available from small to large carat sizes, in solitaires, as a two or three stone ring, or coupled with additional channel stones wrapping around the band. Today, the round trellis diamond engagement ring - with its gentle vintage flair and eye catching fire - tops the list, but the selection of captivating round engagement ring styles is virtually endless.
Because choice round brilliant diamonds can easily be found in a number of sizes and designs, couples can more readily find an engagement ring in this style that will fit their budget – from around $600 dollars to well over $200,000 dollars depending on the size of the center stone and the band metal.
The round shape of the brilliant cut diamond is also very suitable for every day wear engagement rings – with no sharp corners or edges, the center stone will be less likely to catch on hair or clothes and there are no sharp edges which could be vulnerable to chipping or breaking.
With an impressive degree of fire and brilliance, a brilliant round diamond will also hide minute flaws in the diamond – color tints, inclusions and blemishes will not be so readily apparent – and couples have an even greater amount of flexibility when it comes to looking for beautiful but affordable diamond engagement rings.
Grade parameters to keep in mind for the brilliant diamond cut include:
Color: G or above on the GIA scale or a 1.5 and above on the AGS scale.


Clarity: S12 and above on the GIA scale or a 6 and above on the AGS scale.


Cut: Fair and above on the GIA scale or a 6 and above on the AGS scale.
If you go below these values, flaws in the diamond – color tints, inclusions or blemishes - will be visible. The strength or integrity of the diamond could also be greatly reduced if the diamond contains too many inner inclusions or flaws.
What about the Cons?
We honestly tried to find cons associated with round diamond engagement rings – but we could not find any! The only cons which may occur (visible flaws, poor cut etc.) are due to the quality of the cut instead of the cut itself - but sticking with the grades above will ensure that your diamond engagement ring will be amazing.
And one other consideration is that even though round cut diamond ring prices vary from affordable to sky high, there are some diamond cuts - like the oval - which are a little more affordable than brilliant rounds of comparable quality.


Best Settings for Round Diamond Engagement Rings
The number one setting for the round cut diamond ring is the 4 prong setting. This type of setting will securely hold the center stone, and the open setting maximizes the amount of light which can enter the stone.
Larger brilliant cut diamonds, usually those which are over 2 carats, may need a 6 prong setting - but for most brilliant diamonds the 4 prong setting is perfect.
The bezel setting – which wraps around the entire stone – is quite popular for contemporary brilliant round diamond rings, but this type of closed setting will block a little bit of light and may slightly reduce the fire and flash qualities of the ring. 
Brilliant cut diamonds with an excellent to ideal cut look their best in a 4 prong setting because their fire and brilliance qualities are maximized – a bezel setting ideally should not be used on higher grade cut diamond like Flawless IF round diamonds or D color grade diamonds. 
However, bezel settings are an excellent choice for brilliant cut diamonds with good to fair grades without overly affecting the brilliance and fire of the diamonds.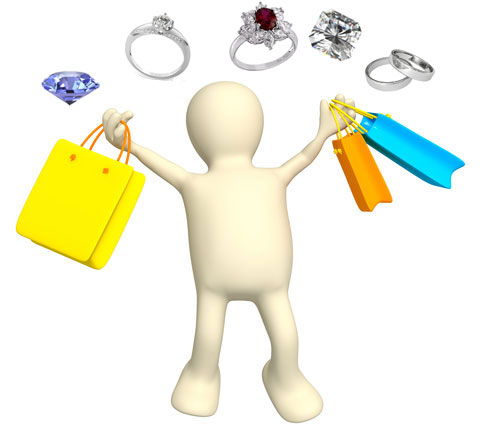 Shopping Tips for Round Diamond Engagement Rings
The brilliant round cut is not a patented cut, and unfortunately some jewelry stores sell 'brilliant cut rings' that are a poor representation of the real thing. To make sure that you are buying a quality round cut engagement ring here a few essential and helpful shopping tips, plus our top recommendations for round diamond engagement rings made with authentic brilliant diamond cut stones. 
Starting off with our top recommendations, here are 3 fabulous engagement and wedding ring designers which offer rings made with the highest ethical and eco-friendly standards in mind - known for their excellent workmanship and stellar customer service!
Brilliant Earth: BE is a personal favorite here at Everything Wedding Rings, not only because all rings are eco-friendly, but also because all BE engagement rings and wedding bands are handcrafted in the USA. BE also has a very large selection of high quality loose brilliant round diamonds, lab created diamonds, plus round engagement ring styles including simple engagement rings to intricate filigree rings.  And if all of that weren't enough, Brilliant Earth also offers an online custom wedding ring option with BE's experienced design team!
Blue Nile: Here you'll find unique and popular engagement rings and wedding bands crafted with round brilliant diamonds in a huge range of sizes and prices - and, Blue Nile has one the largest online selection of high quality loose round brilliant diamonds in addition to a rare collection of natural colored diamonds, some in the round cut.

Clean Origin: Find the very best of quality made rings made with lab created diamonds in an extensive selection here, including fancy colored lab created diamonds, pre-set designed men's and women's wedding bands plus a supportive design team.

Gemvara: While Gemvara is known for amazing gemstone wedding rings, this designer company has a beautiful selection of rings which can be crafted with a selection of brilliant round diamond rings crafted with natural or lab created diamonds - rings can also be made with gemstone highlights and features. For edgy, contemporary, vintage and unique round diamond engagement rings - this is the perfect place to start.
Now on to the shopping tips:
Wherever you decide to shop, stick with retailers who specialize in GIA, AGS, EGL or IGI certified round brilliant cut diamond rings. With a certified grade report from a reputable laboratory, you will know – without a doubt – the quality of the diamond's cut, clarity, and color.
Remember that a round diamond is not necessarily the same as a brilliant round diamond. Make sure the description of the diamond in the certification report states that the cut is a brilliant round.

Use the grade parameters listed above, as going below those parameters may result in a diamond that has obvious color tints or visual imperfections.
If you are buying a used or vintage round cut diamond ring, a certification may not be available because diamonds that are mounted cannot be certified. In this case, the engagement ring should come with a certification of authentication and/or an appraisal.
Any white gold ring will need a fresh coat of rhodium about every 1 to 2 years - but if you want to forgo rhodium plate, platinum, yellow and rose gold and even silver can offer an alternative metal (rose engagement rings especially are coming back into style!).


The very best with finding your perfect brilliant round diamond engagement ring!

Do you have comments or questions about round diamond engagement rings?
Send in your questions and comments, or share pics of your gorgeous round diamond engagement ring here!

I will post answers to your questions as soon as possible!
Return from Round Diamond Engagement Rings to Engagement Ring Styles
or
Return to Everything Wedding Rings Home