The 14k Gold Wedding Band
and
Engagement Ring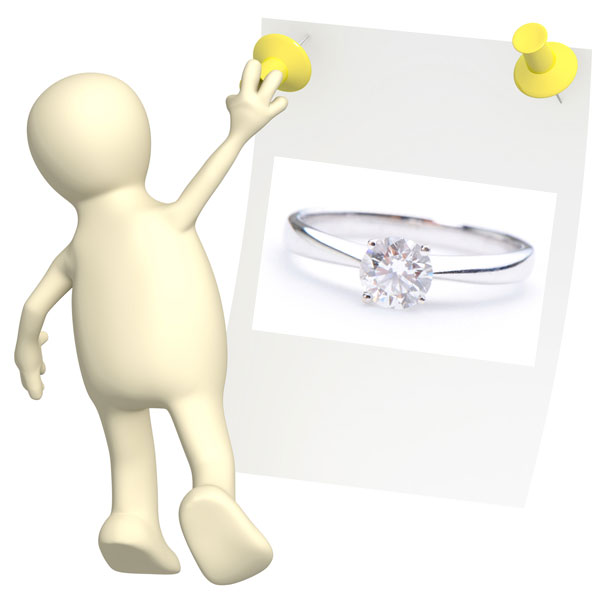 The 14k gold wedding band and engagement ring is the perfect combination of affordability, durability and of course ravishing beauty.

To find 14k gold wedding rings that will reflect your style and last a lifetime, plus to see how 14k gold measures up to 10k and 18k gold alloys, use the helpful info below including metal comparisons, the best styles for 14k gold engagement and wedding rings plus essential shopping tips.
Fun Fast Facts About
14k Gold Wedding Rings!
Rings made with 14k contain 58.3% pure gold by weight combined with metals like silver, palladium, platinum and zinc.
14k gold wedding rings debuted in the late 1890s during the Art Nouveau period.
14k white gold is one of the most popular wedding ring metals.

And if you have any questions about 14k gold wedding bands and engagement rings, just use the comment box at the end of the page to send in your questions!

Comparing 14k Gold Wedding Rings with 18k and 10k Rings
Wedding rings made with 14k white and yellow gold are pretty durable - though not quite as durable as 18k wedding rings. And a 14k gold wedding band or engagement ring is, in most cases, much more durable than a ring made with 10k gold.
The increased durability of 18k and 14k gold rings is due to the higher amount of gold in the rings. As a malleable metal, gold lends flexibility to rings - so, if the rings come under pressure they are much more likely to bend but not break. Whereas rings made with 10k gold can be somewhat brittle in nature.

What about surface scratches on the rings? Take a look at the table below which shows the Vicker's Hardness rating (HV) - a measure of a metal's resistance to scratching - of the different gold alloys.


| | Rose/Pink Gold | Yellow Gold | White Gold |
| --- | --- | --- | --- |
| 18K | 160/195 | 155 | 225 |
| 14K | 125 | 140 | 165 |
| 10K | 115 | 145 | 190 |

Rings with the highest resistance to scratching are made with white gold alloys - 18k rose, yellow and white gold rings have a pretty high overall resistance to scratching too.
Some 10k gold rings can have a higher resistance to scratching than 14k gold rings, but overall their durability factor is reduced because they can be brittle and every day wear 10k bands tend to thin out with time.
Between 14k gold rings, 14k rose gold rings have the lowest resistance to scratching whereas 14k yellow gold rings are in the middle - and 14k white gold rings have the highest scratch resistance properties.
Fortunately though, surface scratches which develop on 14k rose and yellow gold rings - and white gold rings - can be buffed out. While repeatedly buffing a ring - especially to remove severe scratches - can gradually thin down the band, regular wear generally does not lead to deep scratches or dings on gold wedding rings.
If you need a ring that can hold up to extremely heavy wear and tear with a high level of scratch resistance, then a wedding band made with newer contemporary metals like Titanium or Tungsten may be a better option.
But if you decide to go with a 14k gold wedding band or engagement ring, treat the ring with a little TLC to reduce the amount of scratches, dents and dings which can accumulate on an every day wear gold ring over the years. Remove the ring before performing any activities which can scratch the ring or expose it to hard blows, and if you need to store the ring place it in a separate soft jewelry pouch to protect it from jewelry contact scratches.

14k White Gold Wedding Band and Engagement Ring Considerations

Rings made with 14k white gold always have a rhodium plate. It is the rhodium which gives white gold it's bright, reflective mirror-like shine. As the rhodium wears away, a white gold wedding ring will begin to yellow and loose its luster.
Rhodium does offer added protection against scratches, and can increase the durability of the ring, but wedding rings usually require a fresh rhodium plate every 12 to 36 months. And costs to continually re-plate the ring can add up as the years go by.

A 14k white gold engagement ring or wedding band may also contain nickel - which can cause allergic reactions in those who have sensitivities or allergies to nickel. Fortunately, nickel is being phased out as an ingredient in white gold jewelry alloys - but many 14k white gold wedding rings on the market still contain nickel. If you have an allergy, look for companies which specialize in nickel-free white gold or go with an alternative white metal like palladium - which is often priced the same or a little lower than 14k gold - or platinum.
One big pro though for a 14k white gold wedding ring is that the white gold background will definitely give higher grade diamonds a visual pop - especially those with excellent color and clarity values.


Best Styles for 14k Gold Wedding Band and Engagement Rings
Thanks to the highly malleable nature of gold, wedding bands made with gold are available in an endless selection of styles. Just a few styles to consider that are very popular right now include:
Celtic wedding bands


Vintage-style and antique-style engagement rings


Colorful 14k gold wedding band and engagement gemstone rings


Filigree wedding rings


Two-tone 14k gold rings


Men's 14k gold diamond wedding rings

Plenty of authentic vintage and antique wedding rings too are available in 14k gold, and for very reasonable prices, which were crafted during the Art Nouveau, Art Deco and Retro periods.
If you are shopping on a budget, a 14k yellow gold diamond ring can hide slight color tints in diamonds with soft yellow tints. Because diamonds which show any hint of color are much more affordable than those which are completely colorless, you can choose a slightly tinted diamond with a higher clarity rating - and a heavier carat weight - for a lower price.
On either a 14k yellow or white gold diamond ring, it is also possible to have the ring set in a metal with a contrasting color. For example, placing a diamond in a white gold ring with a yellow gold setting. This slight color variation can add just the right design touch on a diamond wedding ring.
For 14k gold gemstone rings, it is best to stick with either rose gold or yellow gold bands. This is because the rhodium plate process needed to keep 14k white gold wedding rings in prime condition can - over time - affect gemstones which have a Moh's hardness rating less than 9.0. The best gemstones with a high hardness rating for 14k white gold though include sapphire and rubies.

Many jewelers work with 14k gold too, so it is quite possible to commission a unique handmade ring for a price that is close to what you would pay for a retail ring.

Affordable 14k Gold Engagement Rings
If you are looking for a low-cost 14k gold diamond engagement ring, Moissanite is an excellent diamond simulant that can lower the overall price of your ring, and moissanite is an extremely strong stone that has high fire and brilliance qualities.

Another alternative is to go with cluster or composite diamond ring styles which, because they hold multiple smaller diamonds set together, are much less expensive than one larger carat diamond.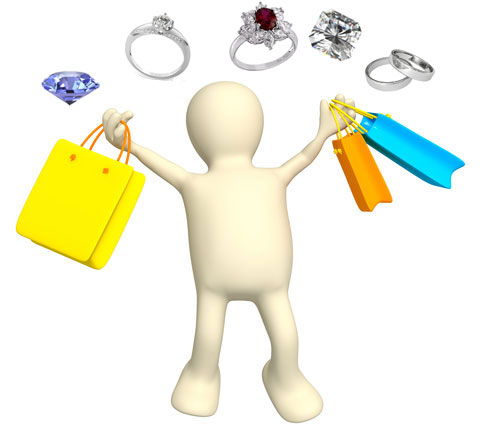 14k Gold Wedding Band and Engagement Ring Shopping Tips
Because 14k gold is not considered a luxury metal, (unlike 18k gold, palladium or platinum) shoppers need to be a little more savvy when searching for the perfect rings.
Unfortunately, there are a ton of pretty cheap 14k gold wedding rings on the market - but with these shopping tips you can be sure to find quality rings for the right price!
Start by sticking with a retailer or jeweler who offers at least a 30-day refund on the rings - or an exchange/guarantee if the rings are handmade.
If you are looking for a 14k yellow gold diamond ring, rose gold diamond ring, or 14k white gold diamond ring remember that any diamond ring should come with a certification from a reputable laboratory (preferably from the GIA, AGS, EGL or IGI). Even small diamonds on men's wedding bands should be certified.
Antique or vintage wedding rings that do not have certified diamonds (because mounted diamonds cannot go through the regular certification process) should come with an appraisal from a reputable unbiased third party.
Avoid any 14k white gold wedding band or engagement ring with any type of plate (except rhodium plate). Two tone rings need to be made with inlays or solid features only - because any plate will quickly chip and wear off in a matter of months.
A new style fad too is to place platinum or 18k gold plate over 14k gold rings - but these types of plates will quickly wear away as well and the plates can significantly increase the price of the rings even though they are not permanent.
Likewise, avoid a 14k gold wedding band or engagement ring that is made with a silver, copper or brass band with just a 14k gold plate.

Regarding gold stamp laws, in the U.S. if a ring is stamped with a hallmark stamp which indicates the purity of the metal used to create the ring (like a 14k stamp) then the hallmark stamp must be accompanied by a maker's mark too. So, beware gold rings that are just stamped with a hallmark stamp with no accompanying maker's mark. A quality 14k gold wedding band or engagement ring will contain two stamps - the hallmark stamp and the maker's mark stamp.
Palladium and Platinum used to cost much more than 14k gold, but today these metals have much lower prices. Price check a ring design you like in palladium (it might actually cost less than a 14k gold ring), or see how much an upgrade to 18k gold or platinum ring costs - palladium and platinum do not require rhodium plate and so in the long term they offset the costs of repeated rhodium plates needed on 14k white gold rings.


Questions or comments about 14K gold wedding rings?
Send in your questions or comments here - or upload pics of your 14k gold wedding rings to share with our viewers!
Return from the 14k Gold Wedding Band to Gold Wedding Bands
or
Return to Everything Wedding Rings Home