Gold Wedding Bands
and
Engagement Rings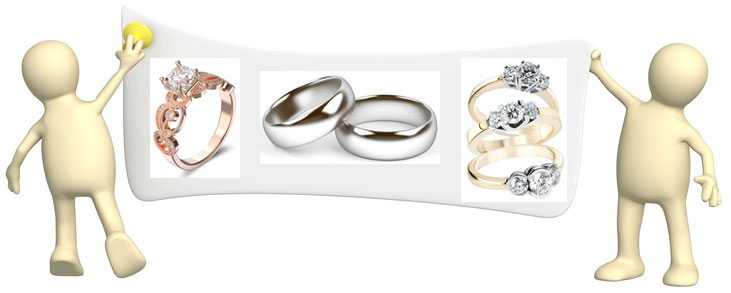 Gold wedding bands and engagement rings have been the top wedding ring choice with couples for centuries.

Fun Fast Facts About
Gold Wedding Rings!
Gold is the most popular wedding ring and engagement ring metal.
Gold wedding bands did not become widely available until after the mid-1800s U.S. gold rush.
In ancient Persia, gold wedding rings were a symbol of fidelity.

With such a large selection of gold rings made with different gold karats and colors plus limitless designs, the possibilities for styles in this versatile and malleable metal are endless. To find out what type of gold is the right material for your wedding band, check out the helpful info below.
You'll find the pros and cons of the different types of gold karats, the best gold for wedding rings plus unique styles like rose gold engagement rings. And if you have any questions about gold wedding bands that are not answered here, just use the comment box at the end of the page to send in your questions!
Styles of Gold Wedding Bands and Engagement Rings
While gold has been used for wedding bands for thousands of years, here are the most common styles of gold wedding bands today:
18K Gold Wedding Rings: Wedding rings in both white 18k gold, rose 18k gold and yellow 18k gold are the highest level of gold karat which is best for wedding bands. Rings made with 22k and even solid 24k are much too soft to stand up to every day wear, but 18k gold rings will definitely stand up to the test of time. On this page you'll find out more about 18k gold rings plus how 18k white, rose and yellow gold rings compare to one another and other types of metals. You'll also see our favorite top 18k gold engagement and wedding ring picks.

14k Gold Wedding Rings: In the last 20 years, 14k white gold has been the most popular metal for men's gold wedding rings and women's gold engagement rings. See how 14k gold stands up to other types of metals and if this is the right metal for your rings here, plus see our number one top recommendations for 14k white gold wedding ring styles.

Rose Gold Engagement Rings and Wedding Rings:
Rose gold engagement rings, once quite rare, have been growing in popularity recently due to an increasing interest in vintage-style wedding rings. No other metal can match the luster and enchanting beauty of rose gold, and this metal is perfect for unique engagement rings and vintage-style wedding bands. Find an amazing selection of rose gold engagement rings here plus rose gold wedding ring sets and wedding bands.

Yellow Gold Engagement Rings: Although white gold has been the leading wedding ring metal for many decades, yellow gold engagement rings have never gone out of style. With a classic look of quality, yellow gold is still a preferred engagement ring metal. Here you'll find more info about yellow gold karats and how they compare to other types of metals - plus a beautiful selection of yellow gold wedding rings.

Men's Gold Wedding Rings: While new metals like tungsten, titanium and stainless steel are becoming more common, gold - and especially 14k white gold - is still one of the leading metals for men's wedding bands. And, one of the increasingly popular styles of men's gold wedding bands which is predicted to top the charts for this year are men's white gold and diamond wedding bands. Find the very best quality styles of men's 14k gold wedding bands and more on this page!

Gold Karats for Wedding Rings

18 karat and 14 karat gold are the most common types of gold alloys used to create gold wedding bands and engagement rings, followed by 10k gold.

    18 karat gold is 75% pure gold (by weight).
    14 karat gold is 58.3% pure gold (by weight).
    10 karat gold is 41.6% pure gold (by weight).

Gold is alloyed (mixed) with other metals such as copper, silver, palladium, platinum, or nickel to create different forms of gold karats and various colors of gold.

Pros and Cons of Gold Wedding Rings

Gold is an extremely soft and malleable metal, and these properties of gold allow it to be easily formed into a variety of engagement and wedding ring styles including custom, intricate carvings, complex patterns, and inlays with other metals or stones. Gold is also resistant to oxidation, although it will develop a rich patina with age which is highly desirable in antique and vintage ring markets.

The biggest con to gold wedding rings is that they can have a huge environmental cost - it is estimated that one gold wedding band can be responsible for as much as 20 tons of waste. Fortunately, there are a number of options for eco-friendly gold wedding rings including rings made with recycled metals and new gold obtained through ethical and low-impact methods. And, all of our top wedding ring picks are handmade with the highest ethical, environmental and customer service standards in mind.

Because gold wedding bands can scratch and bend, they do need to be treated with a little TLC. If the bands become damaged though, the good news is that an experienced jeweler can usually repair the band as gold is one of the easiest wedding ring metals to repair.


Pros and Cons of White Gold Wedding Rings
White gold is an alloy, or mixture, of yellow gold which contains at least one other white metal such as silver, zinc or palladium. White gold rings may also contain copper or nickel.
White gold initially became popular in the 1920s as an alternative to platinum and is measured in karats just like yellow gold.

The highest karat of white gold is 18 karats made of 75% gold and 25% palladium.
The pros of white gold is that it is an extremely durable metal - sometimes more durable than comparable yellow gold karat metals - and it is often more affordable than yellow gold.
The biggest con of white gold wedding rings is that they have a Rhodium Plate to seal the gold and increase shine and color. Once the rhodium plate wears off, the rings will begin to yellow. Rhodium plate on every day rings needs to be replaced about every 12 to 36 months, and couples will need to decide if they want to deal with the extra maintenance costs of continually plating the ring. White gold alloyed with nickel can also cause allergic reactions in some individuals.



Pros and Cons of Rose Gold Wedding Rings
Rose gold is another alloy of yellow gold created by adding copper in various amounts to achieve dark to light rose gold colors. Rose gold is also known as pink gold or red gold.
Rose gold is measured in karats, the higher the karat the more yellow gold is in the mixture. Higher karat rose gold engagement rings and wedding rings are a lighter pink color while the lower karat rose gold rings range in color from a soft pink to a darker more rich almost brass like color.
Colors of rose gold will depend on the mixture and portions of the metals in the rose gold alloy, including yellow gold, copper, palladium, zinc and silver.
The highest karat of rose gold for wedding rings, 18 karat, is made from 75% gold and about 21% copper, but may also contain silver or palladium.
Rose gold made with 14k gold is 58.3% yellow gold and about 41.6% copper (and may also contain silver or zinc).
Colors of rose gold, in 10k, 14k, and 18k, can range from a light pink to a deep copper red.
The biggest pros of rose gold wedding rings are that they are very durable and quite affordable. Rose gold engagement rings are available in a growing selection of styles too as they are becoming more popular with newly engaged couples looking for colorful vintage-style rings. And, rose gold does not require rhodium plate either.
Cons? We really tried to think of cons of rose gold wedding rings and couldn't come up with any! The only thing is that couples interested in antique rose gold wedding rings will need to shop wisely because there are a ton of modern-day reproductions on the market sometimes sold as authentic antique or vintage rose gold rings.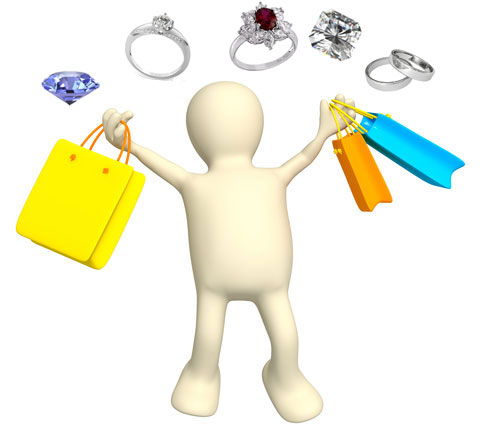 Shopping Tips for Gold Wedding Bands
In addition to sticking with reputable jewelers and retailers which offer a no-nonsense refund and a guarantee of their work, keep these tips in mind as you shop for gold wedding rings:
In the U.S., if gold rings are stamped with a hallmark of purity (and they don't have to be, but if they are) that stamp must be accompanied by a maker's mark too. So, if a gold engagement ring or wedding band is stamped there should be two stamps. Avoid rings with just one hallmark stamp as these stamps can easily be replicated.
While 10k gold is a terrific option for affordable wedding rings, use caution when shopping for rings made with less than 14k gold. This is because some rings made with cheaper gold alloys are not crafted with quality settings and work. Again, stick with retailers who stand by their work no matter what type of gold the rings are made from.
Gold engagement rings which hold highly valued gemstones or diamonds should have prongs or settings made with platinum - ideally. Platinum prongs and settings are by far the strongest and will last for many decades to come - because gold is such a malleable metal, it does not make a very good metal for gemstone and diamond settings. 

Because the rhodium plate process can be hard on natural and lab created gemstones, if you would like a gemstone gold ring it is best to stick with yellow gold and rose gold.

If you have a known nickel allergy, but you want a wedding ring with a white metal, it may be best to go with an alternative metal like palladium or platinum.
Avoid rings plated with gold which have brass or copper rings. These types of rings, while very affordable, often fall apart within a few months after purchase - plus the gold plate quickly wears off (keep in mind that gold plate is usually just a few molecules thick).
Likewise, avoid two-tone gold wedding rings which have plate too - instead, the two-tone features should be achieved through inlay or solid colored gold alloys. Any plate on a wedding ring will rapidly chip and fall off - avoid any type of plate what-so-ever on a ring unless it is rhodium plate.

Do you have comments or questions about gold engagement rings and wedding bands?
Send in your comments and questions about gold wedding rings, or share pics of your rings here!

I will post answers to your questions as soon as possible!
Comments and questions from EWR visitors
Click on the links to see comments and answered questions...

Authenticity Stamp on Gold Wedding Band?

Does a gold wedding band have to have a karat stamp or engraving on the inside of the band to be a real gold wedding band? Hi Brandon, The stamp …
Return from Gold Wedding Bands to Everything Wedding Rings Home