Oval Cut Engagement Rings
and
Your Guide to the Oval Diamond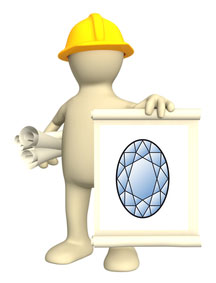 Oval cut engagement rings feature striking eye catching flash and fire effects similar to round brilliant rings, and oval diamonds are an excellent alternative to the traditional round engagement ring styles. 
To see if oval diamond engagement rings or wedding bands may be just what you are looking for, check out the info below for characteristics of the oval cut, pros and cons, best settings, recommendations on where to find stellar oval engagement rings and essential shopping tips.

Oval Cut Fast Fun Facts!
Rates 6th Most Popular Diamond Cut for Engagement Rings
Cut includes 56+ facets
Best Setting: 4 Prong, Bezel

Ideal GIA Grades: Clarity = VVS1 to VS1 Color = D to G

Ideal Length to Width Ratio: 1.5 (Perfect Oval)

If you have any questions about oval cut engagement rings, or you would like to share reviews or pics of your ring, just use the handy comment box at the end of the page!
Characteristics of the Oval Diamond Cut
The diamond oval cut is a newer type of cut created in the 1960s by the popular diamond company Lazare Kaplan International. The cut is a modified brilliant cut which preserves many of the supreme qualities of the original - and exceptionally flashy -  round brilliant cut.

Most oval cuts contain 56 facets, but some may have a few more facets depending on how the underside of the stone (known as the pavilion) is cut. Ideal perfectly symmetrical ovals have a length-to-width ratio of around 1.5. Higher length-to-width ratios result in longer and skinnier ovals and lower length-to-width ratios result in shorter, chubbier ovals.


Pros and Cons of Oval Style Engagement Rings
Plenty of pros come with this type of fancy engagement ring style.

Oval cut engagement rings are simply stunning, particularly in an ideal cut which preserves the original characteristics of the oval diamond design. The shape itself is extremely stable too - no sharp corners or points which can be vulnerable to damage or which may catch on clothes or hair - a big plus for every day wear engagement rings.
Oval diamonds also cost much less than round brilliant diamonds - and many other types of fancy cuts like emerald, Asscher and radiant cuts.
The savings between engagement rings made with oval or round diamonds is usually a few hundred dollars, and sometimes up to a thousand or more dollars, for under 1.0 carat – but once diamonds go over 1.0 carat the savings can be quite significant.

For example, a 1.60 carat oval diamond can cost thousands of dollars less than a 1.60 carat brilliant round diamond of the same quality.
With fire and brilliance qualities similar to the brilliant round, an oval diamond will sparkle and shine even in a smaller carat size. And oval wedding rings with diamonds 1 carat or larger can practically be seen from space!
Oval cut engagement rings also look fabulous in gemstone styles - particularly rubies, aquamarines and sapphires - and oval diamonds look quite handsome in men's diamond wedding bands too.
And the cons?
Oval Engagement and Wedding Ring Picks! (All with Matching Bands Available)

The biggest con with this type of cut, known as the bow tie effect, will appear with a poor cut. The bow tie effect causes a small shadow in the shape of a bow tie on all modified brilliant cuts - but when a diamond has an excellent ideal to very good cut this visual effect is minimized quite well. A bow tie shadow though can be very significant in a poor cut fancy oval diamond, and will reduce the brilliance and fire of the stone too.
As with most other types of modified brilliant cuts, the oval cut may highlight any tints of color, inclusions or blemishes in a diamond – so a diamond with a high color and clarity grade is preferred for this cut, and sometimes it can be a challenge to find larger carat quality diamonds in fancy cuts. 
For oval engagement rings, it is best to stay within these diamond grades:

Color: G or above on the GIA scale, and a 1.5 or above on the AGS scale. 
Clarity: VS1 or above on the GIA scale, and a 3 or above on the AGS scale.
If you go below these grades, the diamonds can show slight color tints and possibly visible inclusions.


Best Settings for Oval Cut Engagement Rings
The best settings for oval engagement rings include the 4-prong setting, the 6-prong setting and the bezel setting. In some instances, particularly for a 3-stone oval diamond ring, a combination of the 4-prong and bezel setting will be used to securely hold the diamond.
4-prong settings are safer for ovals set down into the ring or combined with a multiple stone ring - and 6-prong settings or a combination 4-prong and bezel setting are best on solitaire oval rings or oval diamond rings where the diamond/gemstone is in a high mount setting.
Combined 4-prong and bezel settings are also often used on an oval diamond engagement ring wedding band where the entire band is crafted with a ravishing circle of oval diamonds.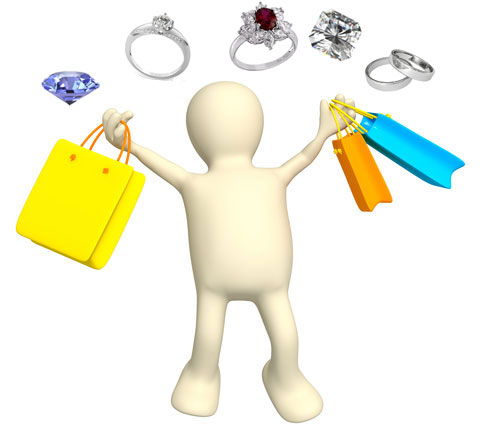 Shopping Tips and Where to Find Oval Cut Engagement Rings


Where to find oval diamond engagement rings and loose oval diamonds?
Recommendations for eco-friendly conflict free oval engagement rings and loose oval diamonds include:

Brilliant Earth has quite a lovely selection of engagement ring styles and wedding sets, all hand crafted in the USA with the highest standards of workmanship - plus a large selection of natural GIA certified loose oval diamonds and a smaller selection of lab created synthetic oval diamonds.

Blue Nile has an extensive selection of loose GIA certified oval diamonds and certified lab created diamonds in small to extremely large carats in addition to pre-set oval diamond ring designs. If you are looking for a rare loose natural fancy color oval diamond this is also the best place to start.

Clean Origins solely specializes in certified lab created diamond wedding rings - which have the exact same characteristics and are indistinguishable from natural diamonds. Here you can find pre-set oval wedding rings and engagement rings, loose lab created oval diamonds plus fancy colored lab created diamonds.

Gemvara is a leader in diamond and gemstone wedding rings, plus you can easily mix and match your ring on stone size, metal and gemstones. Gemvara offers natural and lab created oval diamonds plus natural and lab created gemstones.


No matter where you decide to buy your oval engagement rings, keep these shopping tips in mind to ensure you find a stellar ring for the right price!

For a perfectly oval diamond ring, the best length-to-width ratio of the diamond is a 1.5. Remember the diamond grade parameters listed above too - just to make sure the diamond will not show any noticeable color tints or flaws.

To avoid purchasing ovals with a noticeable bow tie effect, look for rings made with oval cut diamonds and gemstones which feature an ideal or very good cut. You can even go down to a good cut, but a fair to poor cut will probably have a noticeable bow tie shadow in the center of the diamond. 
Stick with diamonds which have been certified by the top most reputable diamond laboratories in the world, including the GIA, AGS, EGL or IGI.

If you are buying a used or vintage oval engagement ring, the ring may not come with certified diamonds as diamonds which are mounted cannot go through the certification process. In this case, the ring should come with a certificate of authentication and/or an appraisal.

Remember that any white gold engagement ring will need a new rhodium plate about once every 1 to 2 years. If you want to forgo the expense and bother of rhodium plating, palladium and platinum rings are excellent choices - as are rose and yellow gold oval wedding rings.

Do you have comments or questions about oval cut engagement rings?
Send in your questions and comments, or upload pics of your gorgeous oval engagement ring to share here!
Return from Oval Cut Engagement Rings to Engagement Ring Styles
or
Return to Everything Wedding Rings Home