Retro Rings
and
The Vintage Wedding Ring Set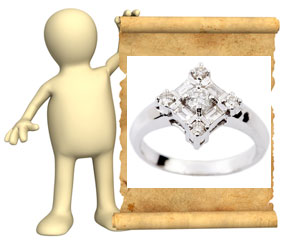 Retro rings were created during a chaotic period in our history which reflected the upheaval of World War II and dramatic changes in society. The main influences on jewelry at this time were a combination of the War Effort, Hollywood, the post-Depression recovery and women's entry into the workforce.
Because of their unique characteristics, authentic Retro rings are again a favorite with antique and vintage jewelry collectors. Plus, this is the design era where you are most likely to find a vintage wedding ring set too.

Fun Fast Facts About
Retro Rings
Retro ring designs were influenced widely by World War II.
Costume jewelry and rings experienced a new surge of popularity during the Retro years.
Cocktail jewelry made its first official appearance during this time.

The glitz and glamor of 1940s Hollywood had a huge impact on ring styles featuring tons of flash and fire.

If you are on the hunt for a Retro diamond ring, wedding band or just a real Retro ring from this amazing time, use our guide below which includes essential info about the styles, materials and metals popular during the Retro years, plus valuable shopping tips for genuine Retro rings. If you have any questions about rings made during this time, just use the comment box at the end of the page to send in your questions!

Styles and Designs of Retro Rings
Retro ring styles are a fascinating combination of static Art Deco designs married with the free flowing styles of the Edwardian and Art Nouveau periods.
Rings made during this era from the mid-1930s to the early 1950s often feature geometry with movement. Circles are paired with squares, rectangles with oval shapes, ribbons with blocks and amazing almost liquid metal filigree work is fixed between hard lines.
Symmetry meets asymmetry: this was the defining style of the Retro years, perhaps inspired by the uncertainty of the times. War, social changes and tumult in the financial sectors seem to be reflected in these intriguing and captivating jewelry trends.



During the Retro years, Hollywood too had a huge impact on jewelry. Actresses lit the screen and dazzled audiences with rings, brooches and hat pins made with large diamonds and brilliant gemstones - and flashy cocktail and costume jewelry became all the rage.
Provocative jewelry pieces, including rings, were crafted to catch the eye for a second glance - they were made to entertain, to delight and to be remembered.
Motifs which were featured prominently in Retro rings included flowers, flags, birds, hearts, ribbons, scrolls, American Indian inspired themes and stars.


Popular Gemstones and Metals Use to Create Retro Rings
The metals available to create Retro rings were heavily influenced by World War II.
Platinum was the main metal that was used to create jewelry pieces that would maximize the flash and fire of diamonds and gemstones throughout the 1920s and 1930s. But after World War II started, platinum resources were directed for the War Effort and could no longer be used for jewelry as of 1941.
Jewelers then turned to the use of white gold, but the U.S. government further restricted the use of gold in 1943.
The only light white metal left was palladium - which many jewelers had completely shunned when platinum and gold were so abundant because palladium can be a difficult metal to work with.
Retro rings from the 30s are often made with platinum or white gold, while those in the early 40s were mainly made with palladium.
Restrictions on the use of gold and platinum were lifted in September, 1944 - and shortly thereafter platinum and white gold replaced palladium again.
Although the use of white metals was prominent in the U.S., in Europe rose gold was used - when available - for Retro jewelry pieces. Solid rose gold Retro rings are not common, but it is possible to find rings that have been decorated with rose gold filigree or inlay on white gold or platinum. (The use of entire rose gold Retro jewelry pieces was more popular for bracelets, necklaces and brooches).

Gemstones that were utilized the most during the Retro period were diamonds, diamonds and more diamonds. The many Retro diamond ring styles are a favorite with vintage collectors and couples interested in authentic antique engagement rings and wedding bands.
While diamonds were definitely at the top of the list, sapphires and rubies were also big favorites - in part because they could be combined with diamonds to create patriotic red, white and blue jewelry pieces.

Other types of gemstones which were used to create colorful - and sometime astonishingly dazzling rings - were amethyst, aquamarine, citrine, golden beryl peridot and tourmaline. Pearls and moonstone - which were quite fashionable during the Art Deco design period - were sometimes added to Retro jewelry too.
Channel settings are seen often in Retro rings featuring multiple gemstones and diamonds. And the newly invented invisible setting - created by Van Cleef & Arpels in the early 1930s - was utilized in many designer Retro diamond rings.


The Retro Design Era and The Vintage Wedding Ring Set
Bridal wedding ring sets as we know them today really did not appear until around the Art Deco years - but it was during the Retro period when wedding ring sets really made their debut. Before, wedding rings often consisted of a single band, an engagement ring or an engagement ring with a keeper ring. As time passed, engagement ring and keeper ring matching sets were crafted - but vintage wedding ring shoppers will be hard pressed to find sets before the Art Deco period.
An Art Deco wedding ring set is itself a very rare find - but thanks to the prosperity of the post-World War II era, stunning bridal sets crafted with gold and platinum and, of course, diamonds became widely accessible and available to the growing middle class. Many of these gorgeous sets survived, and today it is quite possible to find a vintage bridal set in almost like-new condition from the Retro era. Many estate diamond rings and estate diamond engagement rings are from the Retro years too.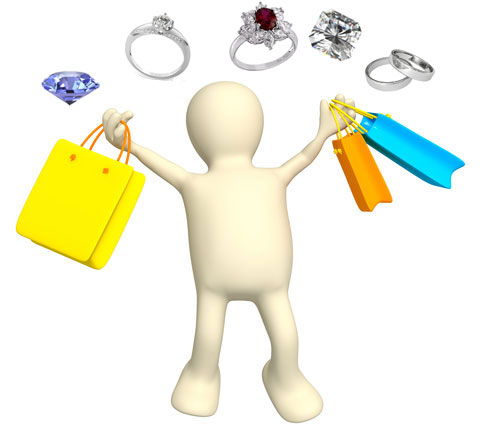 Shopping Tips for Retro Rings and Wedding Bands
Where to find authentic Retro rings? Two top online resources for rings from this era include:
Brilliant Earth: BE maintains a pretty impressive selection of rings from the Retro period, including some really unique one-of-kind pieces with diamonds and gemstones, plus priced sizing options are available on most rings at BE too. BE is also one of the best resources for vintage wedding ring sets too.

Adin Fine Antique Jewelry: Adin carries some of the most distinct antique, vintage and estate jewelry pieces - including rings - which represent the true design styles of the day. For Retro vintage and estate rings, Adin has a fine selection of rings which display the classic design characteristics of this time period - including the patriotic rings crafted with rubies, sapphires and diamonds that were so popular during the Retro years. Adin also offers free ring sizing for most rings! (Receive a 5% discount on all Adin buys with code=Everything-Wedding-Rings at checkout, or mention this special when purchasing over the phone!).

As with any other type of vintage or antique wedding ring, shoppers need to be savvy while they search for authentic antique rings - whether they are shopping online or in person. To ensure that you find a ring from the Retro period, keep these tips in mind while you shop:
1. The Retro design period is often dated from 1935 to 1945, but these dates are quite subjective. The very first burgeoning Retro jewelry styles emerged in the early 1930s and creative Retro pieces were still crafted will into the 50s. (Although jewelry made after the 1950s is more often known as Postwar jewelry). So, it is quite possible to purchase a real Retro ring from the early 1930s or early 1950s.
2. Remember the main style theme of the time: asymmetry meets symmetry. Retro rings were captivating and eye-catching, and the gemstones and diamonds used in the rings too were often quite large. It is not uncommon to find a Retro diamond ring which holds a main center stone of 1 carat or more.
3. While many Retro diamond rings were made with outstanding diamonds, this was a time when costume and cocktail jewelry became quite prevalent. And the abundance of costume and cocktail rings from the Retro period poses two risks for vintage ring shoppers:
Although many of the costume and cocktail pieces from the Retro period are quite gorgeous, they may be priced well above their value.
Costume rings from the Retro period are sometimes sold as real Retro diamond rings. While they may be Retro rings, the diamonds they hold are not real.
4. Yellow gold during the Retro period was not as popular - but it is possible to find some lovely yellow gold wedding bands and yellow gold Retro engagement rings. Rose gold rings were more commonly fashioned in Europe, while in the U.S. there was a heavy emphasis on the use of white gold followed by platinum and - when needed - palladium.
5. Men did not begin to regularly wear wedding bands until World War II, and because of this emerging tradition it is possible to find a nice selection of men's Retro wedding bands in (generally) white gold, platinum or palladium.
6. Retro ring styles were not copied as much as the Art Deco and Art Nouveau styles, but plenty of replicas are still out there. Watch for any language or descriptions such as "Retro style ring" or "Retro design ring" which indicates that the ring you are looking at is not the real thing.

7. It is possible to find simple-styled Retro wedding rings and bands for less than $1,000 dollars, but the majority of Retro rings are priced well over $1,500 dollars - with an average price of around $3,000 to $5,000 dollars.
To find an authentic ring from this period - with the right price - it is best to stick with experienced antique jewelry dealers. If you decide to purchase a ring through an estate sale or private dealer, protect yourself with a refund policy and have the ring evaluated by an independent jeweler.

Remember too that any ring which has a diamond should come with an estimate/evaluation of the quality of the diamond authenticated by an experienced gemologist. (Keep in mind that diamonds cannot go through the certification process without being removed from the rings, and so most antique, vintage and estate rings from earlier periods do not come with a diamond certificate). 
Do you have comments or questions about vintage Retro rings?
Send in your questions and comments, or share pics of your amazing Retro ring here!

I will post answers to your questions as soon as possible!

If you are sending in questions about a vintage ring you own, please include as many details that you know about the ring as possible along with clear pictures.
Return from Retro Rings to Antique Wedding Rings
or
Return to Everything Wedding Rings Home