Antique Wedding Rings
and
Engagement Rings
Antique wedding rings are unique, stylish, and many antique rings are very affordable. Knowing that these rings were once worn by another couple in love and that they were crafted with the utmost care, are just some of the reasons that antique rings remain high in demand.
To find quality and authentic antique rings, use our helpful guide below. Here you will find info about the design eras for antique engagement and wedding rings - including Georgian, Victorian, Edwardian, Art Nouveau, Art Deco and Retro rings - plus shopping tips that can help you to become a discerning and well informed shopper. If you have any questions about antique rings, send in your questions through the comment box at the end of the page!
Fun Fast Facts About
Antique Wedding Rings!
Before 1750, rings were created with hand-hammered alloys.
Rings made with less than 18 carat gold were not technically legal for sale until after 1854.
Men did not start to regularly wear wedding bands until around World War II.
The solitaire engagement ring made its first debut during the Late Victorian Era.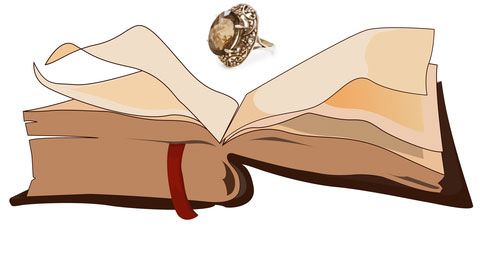 For a crash course on how to identify antique wedding rings, vintage wedding bands or antique vintage engagement rings by their styles, metals and gemstone materials, take a look at the History of Wedding Rings. Or, check out more info from the specific design eras.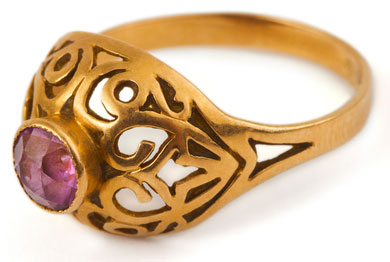 The Georgian Ring (1714-1830s) can be difficult to find, but these rings are created with intricate metal works and Grecian inspired designs; a truly authentic Georgian Ring will be cherished for many generations to come.



Victorian Wedding Rings (1837-1901) are created from the various styles which reflected the life and times of Queen Victoria. Here are the different types of rings from this period and the two major changes in wedding ring history that took place during this time.


Art Nouveau Rings (1890-1915) characterized by their flowing lines and natural themes top the list of the most popular antique engagement rings and wedding rings. Learn how to spot authentic rings from this time period and find out more about the history behind these enchanting ring designs as well.

Edwardian Rings (1901-1910) are known for their light and airy look, and as the first introduction of solid platinum rings available to the public. If you are looking for an antique filigree ring this is the era in which exquisite rings with amazing intricate details were created.


Art Deco Rings (1915-1935) with their geometric designs symbolized a time in which people came to terms with a modern era and new social freedoms as well; Art Deco wedding rings and Art Deco antique engagement rings styles are often very unique and quite bold.

Retro Rings and Vintage Wedding Sets (1935-1945) were directly inspired from the dramatic upheaval of World War II, and the metals, materials and styles used to create rings from this era clearly reflected the chaos of those times.



What is the difference between antique wedding rings and vintage wedding rings?


Antique wedding rings are usually 50-plus years old, (though some antique specialists and dealers consider antiques as 75-100 years old).



Are you searching for new Antique Style Engagement Rings? See EWR's top picks for antique and vintage style engagement rings and where to find classic antique style rings from your favorite design eras!


While vintage rings are those which represent a particular style of a specific design era - so, a ring that displays the characteristics of the Art Nouveau artistic period can be considered vintage and antique at the same time


Where to Find Antique Wedding Rings:
Antique rings and antique engagement rings can be found through estate sales, Internet retailers, specialized antique retailers, personal sellers, and even thrift (pawn) shops. While you may find antique rings through all of these sources, some of these sources are more reliable than others.
Retailers who specialize in antique jewelry are the most reliable sources for antique engagement rings and wedding rings. Making your purchase through a specialized retailer either in your area, or through a reputable Internet source, will help to ensure that you are dealing with a professional and that you are paying the right price for your ring.
One of EWR's best online resources for authentic antique wedding rings and antique engagement rings include:
Adin Fine Antique Jewelry: Adin is a highly respected resource for authentic antique and estate jewelry including wedding and engagement rings. From time to time, they even have rare rings from the Georgian periods plus an extensive collection of Victorian rings too. Best of all - Adin offers free ring sizing on sizable antique rings. And our visitors can take advantage of a 5% discount with any purchase at Adin using code=Everything-Wedding-Rings!

Estate sales and personal sellers are also good sources, but it may be difficult to find rings with authenticated papers and which have correct appraisal values.
If you are not concerned about the value of a ring, and you are more interested in a unique ring, then thrift shops and estate sales are good places to look for antique rings. The ring you find may not necessarily be valuable, but these are places where you can find some really unusual antique or vintage rings.

Shopping Tips for Antique Wedding and Engagement Rings:

Wherever you search for antique wedding rings, here are some shopping tips to keep in mind:
The ring should always come with an estimated, or exact date, the ring was created.


Any rings crafted with gemstones and diamonds should come with info about the stones including info on the authenticity of the stones and an estimation of the grades of the diamonds. (Diamond certificates are often not available with antique rings because the diamonds must be removed to go through the certification process. Instead, reputable antique dealers offer an estimation on diamond grades based on analyses performed by certified gemologists).


An estimated appraisal, on paper, should come with the ring and/or a certificate of authentication.


Always try to buy an antique ring with at least a 30 day return policy, this will give you time to have the ring independently appraised so you can be sure the original appraisal is correct; some antique rings cannot be resized either, so if the ring does not fit you should be able to return it.


If you are purchasing a ring through an Internet website, thoroughly check the website's reputation and return policy.


If you purchase a ring through an independent person, make sure the seller has an established reputation, or use a 3rd party to witness the transaction; have a contract drawn up for a return policy and obtain a verifiable address and phone number of the person as well.


Keep in mind that antique wedding rings which come with documented paperwork and original receipts are highly desirable, though you can expect to pay more for the written history of the ring.


When you are shopping for a genuine antique engagement or wedding ring, look out for terms such as 'antique reproduction ring' 'antique style ring' and 'antique design ring.' These rings are most likely recent reproductions using antique styles and designs, and they are not truly antique wedding rings.


Genuine antique rings are not considered to be antiques unless they are at least 50 or more years old. Although, many antique dealers do not consider something antique unless it is 100 or more years. Wedding rings less than 50 years old are usually labeled as 'estate wedding rings' or 'modern estate' wedding rings.


Pros of Antique Wedding Rings:

These rings have truly unique styles and designs. Handcrafted rings from antique eras feature stunning workmanship that is impossible to reproduce by machine.
Antique wedding rings are considered to be environmentally friendly as no new metals or materials are required for the ring.
Some types of wedding rings from older eras are extremely affordable, and they can be a more affordable unique ring option than designing your own rings.

Cons of Antique Wedding Rings:
It takes a savvy shopper to find an authentic antique wedding ring...research before buying is a must!
Wedding rings from even over a hundred years ago are often much smaller than today's rings, and some of these rings can be impossible to resize. It may be a challenge to find an antique wedding ring that is the right size. Some rings can be resized, but the fees may be high depending on existing metal work on the band.
It may be difficult to know for sure what type of metal alloy has been used to create the ring, especially if the ring is a gold or white gold silver alloy. For those who are allergic to nickel, it may be difficult to find a hypoallergenic white metal ring band in the years before platinum became available. However, rhodium plating the band can offer protection from nickel-allergies as long as the rhodium plating is re-applied before it wears completely away. Otherwise, platinum rings from the Edwardian, Art Deco and Retro years are an option - as are Retro palladium rings.

Additional Shopping Tips for Antique Rings:
Keep in mind this list of wedding ring metals and when they were in use; these little facts can give you a big heads up towards finding authentic antique wedding rings.
Gold has been used for thousands of years to make wedding rings. However, most gold crafted rings that were made before 1854 were 18 karat gold and some were made with 22 karat gold. Lower gold alloys such as 15, 12, and 9 karat were available after that date; rose gold also became available and in popular demand after the 1854 date.
While silver has been used for thousands of years to make rings as well, silver did not became more affordable until the mid-Victorian Era (1860 - 1885) and during this time silver wedding rings became more widely available.
Platinum made its first appearance in rings in the late 1770's, but at this time it was used only for royalty. Platinum wedding rings did not really come into use until the Edwardian Period which began in the 1890's.
Platinum was a popular wedding band material from the 1890's until the 1940's at the start of World War II. Once the war started, platinum was needed for armory and at this time gold, and white gold alloyed with silver and palladium became available to replace the use of platinum in wedding rings.
Titanium was not widely used to create wedding rings until the 1990's. Tungsten and stainless steel are two of the newest wedding ring materials, and they have only recently been in use in the last 10 years as a ring metal.

Do you have questions or comments about antique engagement rings or vintage wedding rings?
Send in your questions, share your comments or upload pics of your antique ring here!

I will post answers to your questions as soon as possible!

If you have questions about a ring you already own, please send as much detail as possible about the ring along with clear pictures.
Comments and questions from EWR visitors
Click on the links to see comments and answered questions...
Return from Antique Wedding Rings and Engagement Rings