Wedding Ring Metals and Materials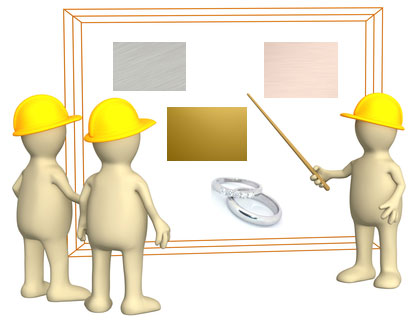 Fast Fun Facts About
Wedding Ring Metals!
Tungsten weighs much more than titanium.
Palladium rings are more affordable than gold rings because palladium is so light in weight.
Platinum jewelry was once reserved for royalty only.
Most popular wedding ring metal of all times? Gold

And if you have any questions about the materials and metals used to create wedding rings and engagement rings, send in your questions at the end of the page.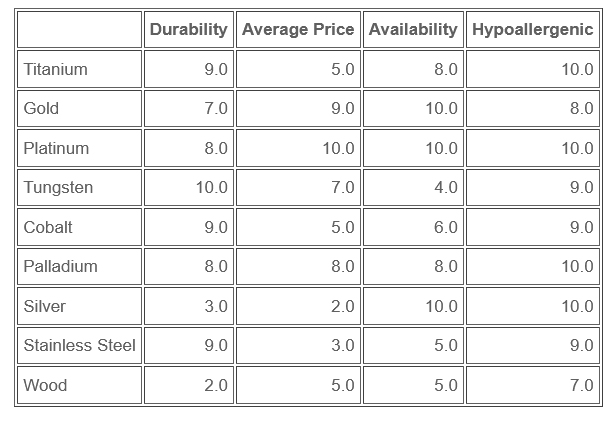 *The numbers provided above are based on averaged values. Many of the metals listed are also alloyed with other metals which can affect their characteristics. Click on the specific links to learn more.
Titanium, Gold, Platinum, Tungsten, Cobalt, Palladium, Silver, Stainless Steel, Wood

Rings made of white gold - and sometimes silver and even platinum - are treated with Rhodium Plating. Click on the link to find out more about this treatment and what you can expect from a rhodium plate.

Comparing Specific Wedding Ring Metals

The tables here, compare specific types of metals used to create wedding rings - like palladium compared to platinum and how the different types of gold karats compare to one another. The HV values listed are a measurement of resistance to scratching. Metals with a higher HV value have a higher resistance to scratching. To see a summary of metals that can help you to choose the right metal for your rings, take a look at our Wedding Ring Materials in a Nutshell below!


Comparing Platinum to Palladium


Comparing HV Values of Yellow, White and Rose Gold



Comparing 18k Gold to Platinum and Palladium


For couples with sensitive skin, hypoallergenic wedding rings include: titanium, platinum, palladium and silver. If you have sensitive skin, it is best to avoid rings that are plated because if the rings are made with a nickel alloy an allergic reaction could develop when the plate inevitably wears off.
What about affordable but durable wedding ring materials? The most affordable and durable wedding ring materials are tungsten, titanium, cobalt, stainless steel and 14k gold. Palladium too is exceptionally affordable, and is a terrific alternative to the more highly priced platinum, because it is a very, very light metal - this means less of the metal is used to make a ring.
The best metals for luxury wedding rings and engagement rings? Definitely platinum, palladium and 18k gold. Keep in mind that a higher karat of gold above 18k will result in a ring that is too soft to hold up to daily wear wedding and engagement rings.
For exceptionally durable wedding rings that can hold up to extremely heavy wear and tear, it is best to stick with the newer wedding ring metals including titanium, tungsten, cobalt and stainless steel. All of these metals offer a high degree of scratch resistance, and can hold up pretty well to heavy knocks and blows without denting. But, some rings made with extra heavy duty metals cannot be resized - instead, retailers often offer a lifetime exchange warranty just in case at some point finger size changes.
Do you have comments or questions about wedding ring metals?
Send in your comments and questions about wedding ring metals here!

I will post answers to your questions as soon as possible!
Comments and questions from EWR visitors
Click on the links to see comments and answered questions...

Iridium Wedding Bands and Rings

Hi, As I understand, close to 100% iridium rings are only produced by American Elements since 2009. Are they still the only company producing close …
Rings for Really weird skin Not rated yet
Hi, I have really weird skin, it's eaten away at the sterling silver playing within a week. My grandmother has had similar problems so I assume I got her …
Weight of Wedding Ring Metals Not rated yet
Could you list the wedding ring metals from the lightest to the heaviest? Of course! Wedding ring metal weights will depend on the alloy or …
Return from Wedding Ring Metals to Everything Wedding Rings Home