The Peridot Engagement Ring
And
Your Guide to the Peridot Gemstone



A quality peridot engagement ring features an enchanting yet durable gemstone that has a rich lily green color with a multidimensional depth. To find a gorgeous peridot wedding ring that will last a lifetime plus details about this amazing gemstone, use the helpful info below.
Here you will find peridot gemstone properties, enhancements, special care, price guides, essential info about why white gold peridot rings are not a good idea plus valuable shopping tips. And if you have any questions, just use the comment box at the end of the page to send in questions, reviews or share pics of your stunning peridot engagement ring!
Peridot Fast Fun Facts!

August Birthstone

Durability: Very Good

Meaning: Calming protection

Flash Factor: Good
Special Care: Only for enhanced gemstones

Price $$: Affordable

Availability: Good

Peridot Properties
Peridot has never gained the recognition it deserves due to the high amount of poor quality peridot gemstones on the market today, and this is unfortunate because a natural peridot wedding ring made with a superior gemstone will be cherished and admired for many generations to come.
Durability = Very Good
Hardness = 6.5 – 7.0
Refractive Index = 1.654 – 1.690
Specific Gravity = 3.34
This gemstone is quite durable plus has a moderate amount of eye catching sparkle and shine. The abundant peridot is found throughout the world including in Australia, Brazil, Burma, China, Kenya, Mexico, Myanmar, Norway, Pakistan, Saudi Arabia, South Africa, Sri Lanka, Tanzania, and the U.S.

The Meaning Of Peridot
Peridot has many meanings, but most of these meanings center around protection. Peridot is believed to protect the wearer from negative emotions of anger, nervousness, anxiety, and other types of emotional upset through its calming influences; another protective influence of this gemstone is keeping nightmares at bay while helping good dreams to come true.
Peridot is the modern birthstone of August.

Peridot Enhancements
Peridot gemstones are only rarely enhanced using oils, wax, resins, and hard substances to improve the overall appearance of the gemstone and to fill in any spaces or cracks within the stone.
These enhancements are somewhat stable, but stones with enhancements require special care (e.g. avoiding ultrasonic and chemical cleaning methods in addition to sudden changes in temperature). Enhanced peridot should be labeled with an E, O, or F, and the enhancements can affect the value of the stone.
For engagement and wedding rings, it is best to stick with all natural un-enhanced peridot gemstones.


Special Care for the Natural Peridot Ring
Peridot in its natural form does not require any special care unless the gemstone has received enhancements. Like most every day wear rings though, it is best to remove the rings before swimming in chlorinated water and to store the rings in a separate pouch/compartment where they cannot be scratched by other pieces of jewelry.


Peridot Rings and White Gold
While it is not uncommon to find peridot engagement rings and peridot diamond rings made with 18k, 14k and 10k white gold, it is best to avoid purchasing white gold peridot rings.
This is because peridot is very sensitive to sulfuric compounds, and sulfuric compounds are ingredients in the rhodium bath that is used during the rhodium plate process.
While one or two rhodium plate applications will not noticeably damage peridot - eventually with each successive rhodium plate the peridot will begin to take on a pitted and cloudy appearance as the sulfuric compound eats away at the peridot's surface.
As every day wear white gold engagement and wedding rings require a new rhodium application about every 1 to 2 years - within 3 to 5 years the peridot gemstone in a white gold ring can become severely damaged by repeated rhodium plate applications.
For a peridot wedding ring that will last a lifetime, stick with metals including yellow gold, rose gold, silver, palladium or platinum which do not require rhodium plate.


Peridot Price Guide
With peridot, you definitely get what you pay for. Low quality peridot gemstones with poor cuts and color are available for around $4.00 dollars a carat, but quality peridot gemstones are on average around $40.00 dollars and up per carat.
It's a big difference in price, but a quality peridot engagement ring will have a look that is much more dramatic than a ring made with a poorly valued gemstone; in fact, a ring made with a high grade peridot can sometimes be mistaken for an emerald ring.
The most desirable peridot color is a deep green lily color with secondary flashes of white.
Fine peridot gemstones also showcase a quality cut and are free of any blemishes. Although, some peridot stones are cut to include a natural lily shaped inclusion within the stone that adds depth to the colors too.
Carat is also a factor in the overall price of a peridot engagement ring or wedding ring: the price guide of $40.00 dollars per carat for quality stones holds until the stones reach above 4-5 carats in size, then the stones can cost on average $150.00 - $300.00 dollars per carat.
High quality peridot is not easy to come by, unlike the abundance of smaller low grade peridot gemstones. However, the mines which produce the most desirable peridot are currently in Pakistan and Saudi Arabia; the large mines located in Arizona, U.S., occasionally produce high grade stones as well.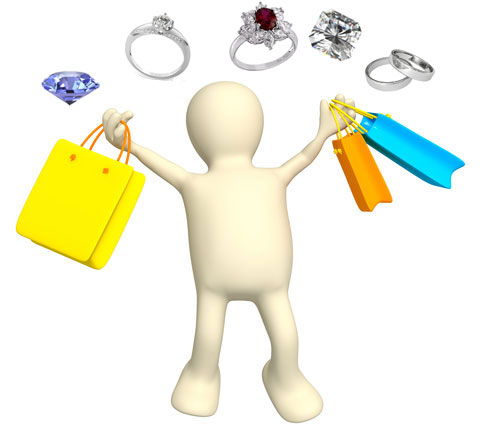 Peridot Shopping Tips

Highly valued peridot color is a deep lily green - while light olive colors or those with secondary brown flashes are priced lower.
Custom cuts, or cuts which develop the stones' depth of color and brilliance - in addition to stones free of blemishes - are also highly desirable in peridot gemstones.
If you are shopping for the ever popular peridot diamond rings, be sure that the diamonds come with a certification from a reputable laboratory such as the GIA, AGS, EGL or IGI. (Antique, vintage or estate peridot diamond rings should come with an independent appraisal and/or a certificate of authentication).

Due to the large amount of poor quality peridot gemstones on the market, it is always best to have an independent jeweler assess the quality of the stone and the stone's cut. Make sure your ring comes with at least a 30-day refund policy as well in case you are not happy with the stone's appearance or independent assessment.
Remember that when it comes to shopping for a natural peridot ring you get what you pay for. Take the time to shop around and compare to gain a good idea of what a quality peridot gemstone looks like.


Do you have comments or questions about peridot engagement rings or peridot wedding bands?
Send in your questions and comments, or upload pics of your favorite peridot wedding rings here!

I will post answers to your questions as soon as possible!
Return from Peridot Engagement Rings and Wedding Bands to Engagement Ring Styles
or
Return to Everything Wedding Rings Home