Discount Diamond Engagement Rings
and
How to Find Affordable Diamonds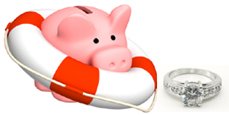 What is the best way to find discount diamond engagement rings? Find out below with these amazing tips! Here you will discover the best diamonds grades for quality affordable diamond rings, plus diamonds cuts and shapes that will give you the best bang for the buck.

You'll also see extra tips on how to find the engagement ring of your dreams for the perfect price. And if you have any questions about inexpensive wedding rings and affordable diamonds, or you would like to share pics or reviews of your amazing ring - just use the comment box at the end of the page!
Affordable Diamond Rings Fun Fast Facts!

The best diamond cuts for affordable diamonds are:
The brilliant

The princess

The radiant
January can be a great month for discount diamond ring shopping.
Finding diamonds with slightly lower grades can add up to a bundle in savings!

The Best Diamond Grades for Discount Diamond Engagement Rings
One of the best tips you can use to find discounted affordable diamond rings is to look for diamonds which have slightly less than perfect grading values for cut, clarity and color. The differences between a top of the line diamond and a diamond with lower values will only be detectable by an experienced jeweler, as long as you stick with these GIA and AGS parameters below.
On each scale for cut, clarity and color are the parameters – outlined in a rectangular box – which you can follow to find inexpensive wedding rings crafted with affordable diamonds. 
It is best to use these diamond grade parameters for the brilliant round, princess or radiant cut diamonds only. Other types of diamond shapes and cuts can actually magnify slight flaws, but the brilliant round, princess and radiant cuts are excellent at camouflaging slight color and clarity imperfections - and they have extremely high brilliance and fire qualities. 

*GIA grades cut on the brilliant round only, while the AGS issues a cut grade on the brilliant round and the princess cut. Other fancy shapes receive a separate cut grade by the retailer - but in this case too it is important to stick with diamonds with independently assessed cut grades between very good and good.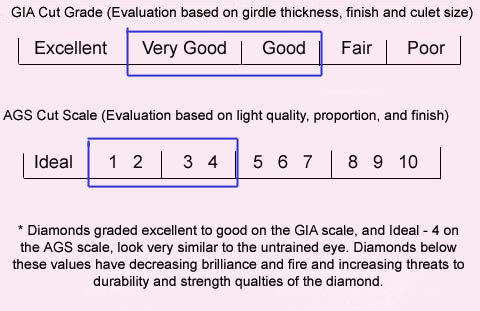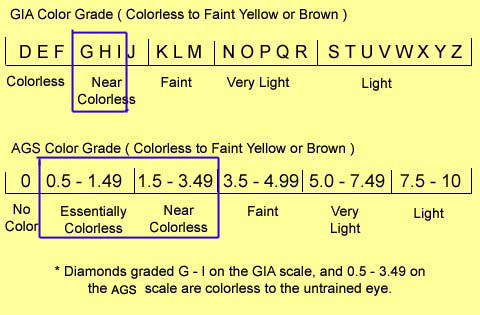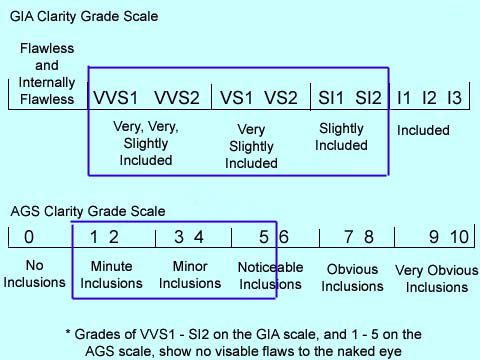 How much can you save by using these scales? Quite a lot! In fact, dropping the cut, clarity and color grades just a bit can add up to thousands of dollars in savings, especially for diamonds that are over a half carat in size.

Blue Nile is an excellent resource to check for these types of diamonds, here you can find diamonds priced in the hundreds to the millions of dollars, but with their Easy Diamond Finder you can set the parameters for a diamond of your choice, size, cut and grades.

Best Time of Year to Catch Sales on Discounted Engagement Rings
Without a doubt, hot holiday sales days like Black Friday and Cyber Monday are a great time to land diamond engagement ring discounts and sales - but there are plenty of other times during the year when discount diamond engagement ring sales can be found.
Look for diamond engagement ring sales following Christmas, New Year's and Valentine's Day especially - and during the months of September, October, April and July (all of these months are right before or after popular wedding season months when engagement rings are often sold at discount prices).


Discount Gently Used Diamond Rings
If you are looking to save big - but you want to find a diamond engagement ring with a larger carat diamond - a gently used diamond ring may be your best bet. You can save thousands of dollars on the purchase of a used engagement ring - and there is a large market of used diamond rings too, so you can be sure to find a style for the right price!


Save with Style
Certain types of engagement ring styles are a lot more affordable than others. Simple engagement ring styles, and styles that feature smaller carat diamonds set together on the band - also known as composite diamond rings - are both excellent options that can help to reduce the overall cost of the ring.


Diamond Synthetics and Simulants
Diamond synthetics can also be ideal for discount diamond engagement rings, but this is only the case for synthetic colored diamond rings because white synthetic diamonds cost just as much as natural diamonds. Synthetics too have the exact same properties as real diamonds, and color diamond engagement rings are very much en vogue now!
If you are on a really tight budget, and looking for a ring with a large center stone, moissanite or cubic zirconia simulants may be a good idea. Keep in mind though that simulants do not have the same physical properties as real diamonds even though they look a lot like real diamonds.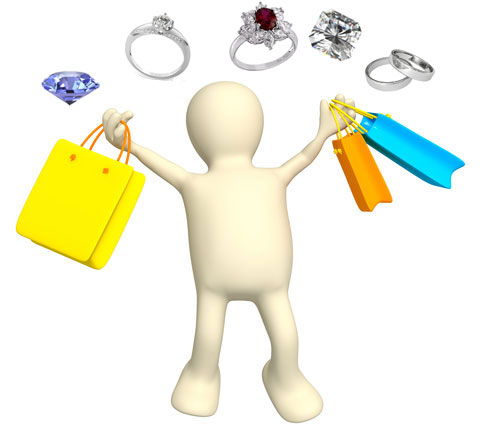 Shopping Tips for Discount Diamond Engagement Rings
While you are searching for discount diamond engagement rings, keep these precautions in mind to ensure that you find the right ring for the right price:
Start by sticking with affordable diamond rings that are made with diamonds certified from a reputable laboratory such as the GIA, AGS, EGL or IGI.
Avoid purchasing rings from retailers who offer diamonds with color and clarity grades issued by their own laboratories or on-staff jewelers and/or gemologists.

Discount diamond engagement rings should be made with quality materials and workmanship. After all, you are searching for discount diamond rings...not cheap rings!
Stay with reputable retailers, jewelers and boutiques that are known for selling rings crafted with high standards of workmanship - and please remember to avoid any type of plate and overlay like the plague (except rhodium plate which is used on white gold).
*There has been a disturbing trend with using brass or copper bands for inexpensive wedding rings that are plated with gold, platinum or silver. These types of rings will last - at best - a few months before falling apart.

Avoid engagement ring sales which do not offer a refund or - at the very least - an exchange. Even if you catch the ring during a red hot sale you should still have the option of returning or exchanging it.
Last but not least, make sure your ring is not crafted with diamonds and metals which have a high ethical and environmental cost. Look for discount rings by retailers with excellent reputations who specialize in ethically and eco-friendly obtained metals and diamonds that are conflict-free - or go with an earth friendly gently used diamond ring!


Questions or comments about discount diamond engagement rings?
Send in your questions, share your comments or reveal your successful discount diamond engagement ring shopping secret!

I will post answers to your questions as soon as possible!
Return from Discount Diamond Engagement Rings to Affordable Engagement Rings
or
Return to Everything Wedding Rings Home