Engagement Rings
Under 500 Dollars



Searching for engagement rings under 500 dollars? You've come to the right place!

Just use our handy guide below to find the best metals, gemstones and materials for inexpensive engagement rings, and take a look at our shopping tips too for precautions that will help you to find long lasting, durable rings for the right price.
Remember, couples looking for an affordable engagement ring do not have to sacrifice on style or quality - follow the guidelines below to find your perfect ring for the right price.

Shopping Tips for Engagement Rings Under 500 Dollars!

Sterling silver is one of the best metals for low-cost engagement rings.

Affordable gemstones are fantastic alternatives to traditional diamonds.

For diamond rings at this price, laboratory created simulant diamonds are the best option.
And if you have any questions about engagement rings in this price range, send them in through the comment box at the end of the page!

Best Metals for Engagement Rings Under 500 Dollars
With a budget of under $500 dollars, you'll need to shop wisely - but there are plenty of options to choose from.
The best metals to stick with for very affordable engagement rings include:
Sterling Silver


Palladium



Yellow or Rose Gold




Sterling Silver Engagement Rings
Sterling Silver is a lovely choice for engagement rings under 500 - as long as the ring is made with a strong durable design and expert handicraft. Silver is not as durable as palladium, but with a little TLC it can last a lifetime with minimal wear. Another pro to choosing silver for affordable wedding rings is that with a silver band you can opt for a larger, higher priced stone.

Beware of sterling silver rings that are crafted with yellow or rose gold plate, and brass or copper rings that are merely made with silver plate. Any plate on every day wedding rings will chip and wear away within a matter of months if not weeks.
Two of EWR's top recommendations for sterling silver rings include Novica and Gemvara. At Novica you can find a large selection of handmade sterling silver gemstone rings that are usually priced under $100 dollars. Gemvara also carries an extensive selection of high quality handmade gemstone silver rings, and you can use a handy filter search to look for rings within your budget range. Both of these companies have return policies and Gemvara also offers one free ring re-size within 100 days of purchase on rings plus a one-year warranty on rings.

Here are a few examples of engagement rings under $500 dollars that you can find at these two stellar companies. 


Sterling Silver Rings by Gemvara
All Styles Have Gorgeous Affordable Silver Matching Bands


Palladium Engagement Rings

Palladium is durable, wears well with time and looks gorgeous. Palladium is also a precious metal, but it is usually much less expensive than gold because of its feather light weight - and another big pro for palladium is that it does not require rhodium plate. The major downside to palladium is that it can be difficult to find palladium engagement rings. Gemvara does have a few ring styles available in palladium for under $500 dollars. 


Yellow and Rose Gold Engagement Rings
It may be difficult to find quality yellow and rose gold engagement rings in this price range - but not impossible! Check local used jewelry stores and online resources like Etsy. Avoid any gold rings that are made with gold plate!


Cubic Zirconia Engagement Rings

For a traditional diamond engagement ring look, Cubic Zirconia Rings will definitely fit your budget - but remember that a CZ stone will generally cloud up in a few years. However, with the right care your ring can last awhile - and perhaps in the future you can replace it either with another CZ engagement ring or with a higher priced engagement ring.

Sterling Silver and Stainless Steel are the best metals to use for CZ rings - you can find a large selection of beautiful stainless steel cubic zirconia bridal sets on Ebay or these quality-made cz rings by Jeulia!


Titanium, Tungsten, and Cobalt Rings

Tungsten, cobalt, and titanium offer plenty of lifetime durability for a low price, although engagement ring styles are extremely limited in these types of metals. This is because the metals are so hard that they literally cannot be formed into the intricate designs that most styles for engagement rings require. But, if you are looking for Discount Men's Wedding Rings these contemporary metals are perfect for affordable men's wedding bands. 

For women's rings, there are some styles available in Cobalt, Titanium and Tungsten - in streamlined contemporary styles. Titanium Kay has a few styles that would suit women - some in ring sizes starting at 5 or 6, it just takes a little looking on the website if you are interested in these types of rings - here are a few examples: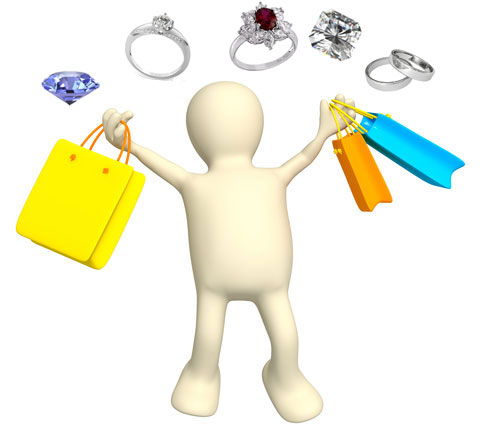 Shopping Tips for Engagement Rings Under 100 Dollars

Keep in mind that finding a quality engagement ring in this price range might mean redefining what type of ring would suit. For traditional styles, Cubic Zirconia rings are the best options - but CZ rings will not last forever. Instead, consider a ring crafted with a strong gemstone, there are plenty of affordable yet stunning gemstones that will last a lifetime, take a look at EWR's Gemstone Engagement Rings page for more info. (Gemstone rings with quality cut stones also will hold their value, and sometimes increase in value, over time!).

Sadly, many low priced engagement rings are made with not so environmentally friendly materials. To make sure that your rings are made with the highest ethical and environmental standards in mind, double check these policies with the jewelry boutique, retailer or artist you are purchasing the ring from.
Avoid engagement ring styles - like tension set rings - which require an extremely high level of expertise to create. While affordable copies are available, they will not stand up to the test of time.

If you have a known nickel or copper allergy, stick with sterling silver or palladium rings. Rings made with gold alloys can cause a reaction in allergic individuals. White gold plated with rhodium will protect the skin from any allergy, but once the rhodium plate wears off the allergen can come into contact with the skin.

*Rhodium plate will also need to be re-done every one to two years on every-day wear engagement rings, and the cost for rhodium plating can add up to hundreds of dollars over time. This is why it is best to go with silver or palladium if you want a white metal engagement ring - and rose or yellow gold if you would like a gold engagement ring.

Even though you are searching for engagement rings under 500 dollars, you shouldn't have to settle for a less than stellar deal. Stick with reputable retailers who offer generous warranty and refund policies for all customers - including budget shoppers.
While it is possible to find engagement rings under 500 dollars through clearance sales, pawn shops or private sellers - use the utmost caution. Many of these resources lack refund policies and warranties.


Wishing you all the best on your search for engagement rings under 500 dollars - and I truly hope that with this info you and your partner can find an affordable engagement ring that will be cherished for a lifetime!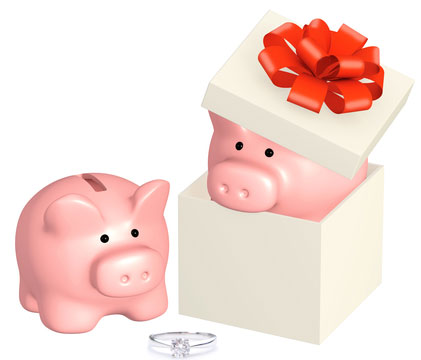 Do you have questions or comments about engagement rings under 500 dollars?
Send in your questions and comments, or upload pics of your gorgeous affordable ring find to share here!

I will post answers to your questions as soon as possible!
Return from Engagement Rings Under 500 Dollars to Engagement Ring Styles
or
Return to Everything Wedding Rings Home