Contact Us
at
Everything Wedding Rings


To Contact Everything Wedding Rings, just use the contact box below!
If you have questions about wedding rings, send in your questions through our Wedding Ring Questions page, and answered replies will be published. At the bottom of each of the ring pages too, a  'comment box'  can be used to submit questions, reviews and to upload and share ring pics.

Everything Wedding Rings has open advertising opportunities for jewelers and ring companies who:
Maintain the highest eco-friendly and ethical standards
Provide outstanding customer service
Craft rings made with supreme workmanship and quality
If you or your company is interested in wedding ring and engagement ring advertising opportunities on this site, just send in a request for more info through the Contact Us box below. (Everything Weddings Rings is particularly interested in forming relationships with family owned businesses and with jewelers who take pride in their fabulous eco-friendly handcrafted rings).

*Privacy Notice: We will not sell, exchange, or give away your email address to anyone for any reason. Everything Wedding Rings is not affiliated with any partner sites or any other companies that will send you email either.
If you would like to find out more about the website, check out our About page too.
Is this your first time visiting the site? You may be interested in a few of our more popular pages including: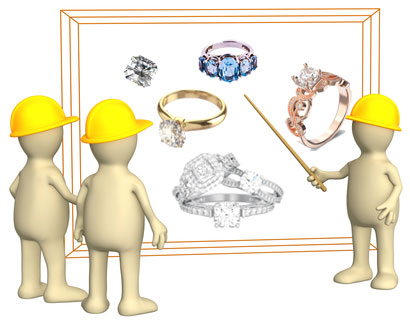 Engagement Ring Styles: Find out more about the many different styles of engagement ring cuts and shapes - including Asscher diamond engagement rings and the ever popular round brilliant solitaire rings - and discover helpful tips for locating durable and quality engagement rings to fit your budget and much more!




Antique Wedding Rings: Whether you are searching for a stunning Victorian engagement ring or an eye-catching Art Deco ring, here is where you will find complete info about antique and vintage wedding rings plus valuable shopping tips to ensure the purchase of an authentic antique ring.




Man-Made Diamonds: What are the differences between simulant and synthetic diamonds? How do the different types of man-made diamonds compare to real diamonds? What are the pros and cons of engagement rings and wedding rings made with man-made diamonds? Find out here!



Gemstone Wedding Rings: Looking for a colorful engagement or wedding ring made with a durable gemstone that can stand up to every day wear? Here you'll see a complete list of quality gemstones that are perfect for wedding rings - and find comprehensive info on each of the gemstones including physical properties, price guides and essential shopping tips.


Return from Contact us to Everything Wedding Rings Home