Emerald Cut Engagement Rings
and
Wedding Bands


Emerald cut engagement rings are treasured for their elegant, timeless and versatile designs. To find out if the emerald style is just what you are looking for, take a look at this helpful guide below which includes characteristics of the emerald cut, pros and cons, best settings for emerald diamond rings plus extra essential shopping tips. 
And if you have any questions about emerald cut wedding rings that are not answered here, just use the handy comment box at the end of this page to send in your questions, or to share pics and reviews of your ring with our future visitors!
Characteristics of the Emerald Cut
The emerald cut is a type of fancy cut known as a step cut. The cut was created well over 300 years ago specifically for emerald gemstones, but it was soon discovered that the cut looked quite captivating on other types of gemstones too including diamonds.


The cut results in a shallow, rectangular gemstone or diamond with an average number of 58 facets. The facets are quite large, and bright flashes can occur when light is reflected off the long, glossy and polished facets of the emerald cut.
Length-to-width ratios on emerald diamonds or gemstones are generally over 1.25. Classic emerald cut rings have a length-to-width ratio of around 1.35, while longer and more rectangular emerald cuts have a ratio of over 1.40.


Pros and Cons of Emerald Cut Engagement Rings
The emerald cut style is one of the most versatile of all gemstone and diamond cuts because it looks absolutely stunning on a number of gemstones (including diamonds) and it can be styled in almost any type of design – solitaire emerald engagement rings are just as popular as emerald cut rings made with side stones or pave baguette stones around the band of the ring.


Just a few of the more popular types of gemstone engagement ring styles which look fabulous in an emerald cut include emerald-cut emerald rings and the much beloved emerald cut sapphire diamond ring. More affordable gemstones that look quite exquisite in an emerald cut too include citrine, aquamarine and ruby.


The tapered edges of the emerald cut are also extremely secure – they are not prone to chipping or catching on hair or clothes – and this type of engagement ring style is extremely flattering on slender hands with long fingers.
Emerald cut diamonds are also much more affordable than other types of fancy cuts – usually half the price of a comparable brilliant round diamond. Unlike many other types of diamond or gemstone cuts too, a supreme emerald cut can be achieved in extremely large carat sizes (well over 5 carats).
One other major benefit to emerald cut rings is that gemstones and diamonds tend to look larger in the emerald cut style because of the shallow depth on the cut. So, a 1.0 carat emerald cut gem will look a lot larger than a 1.0 carat brilliant round cut gem.
Emerald Cut Fast Fun Facts!
Rates 3rd Most Popular Diamond Cut for Engagement Rings
Cut includes 58 facets
Best Setting: 4 Prong
Ideal GIA Grades:
Clarity = Flawless to VS2
Color = D to G
Ideal Length to Width Ratio: 1.35 to 1.40

Last but not least, emerald diamonds fit very nicely together side-by-side, and the emerald cut wedding band - with a row of set emeralds wrapping around the band - is beautiful on its own, paired with an engagement ring or for use as a unique eye catching wedding ring.
And the cons of this fancy cut diamond?

Most of the cons associated with the emerald cut ring style have to do with the cut itself. The emerald cut sacrifices brilliance and fire to create those lovely long facets. This type of cut will not sparkle or dazzle like other types of diamond cuts and shapes – for example, the Brilliant Round, the Princess, the Asscher or the Pear.
Instead of brilliance and fire, the emerald cut highlights the luster, polish and clarity of a gemstone. It creates flashes of light and depth which are quite striking – but if you are looking for an engagement ring style with a high amount of flash and fire, this may not be the perfect cut for your diamond ring.
The large facets of the emerald cut will also highlight even the slightest imperfections on a diamond or gemstone - inclusions, blemishes and color flaws will be magnified. Because of this characteristic, only high grade quality gemstones and diamonds should be used for emerald cut engagement and wedding rings.
For an emerald cut diamond engagement ring, try to stick with rings made with diamonds within these grades:
VS2 or above on the GIA Clarity scale or a 4 or above on the AGS Clarity scale


G or above on the GIA Color scale or a 1.5 or above on the AGS Color scale
One other con associated with this style is that when an emerald cut gemstone or diamond – especially in a larger carat size – is worn on a hand that is somewhat plump, the hand can look even larger and the fingers may look shorter than they actually are. So, while the cut is extremely flattering to long slender hands, it may not be as complimentary to petite or plump hands.

The Best Emerald Cut Diamond Setting

The 4 prong setting is the best type of setting for emerald cut engagement rings. This type of setting will securely hold the diamond or gemstone, and it will also allow the maximum amount of light to enter and reflect off the stone. Because it is important to maximize the amount of light available to the diamond, the 4 prong setting is even preferred for wrap around emerald cut wedding band styles.

Longer emerald cut gems of 2 or more carats in size may need to be held with a 6 prong setting, but for most emerald cut engagement rings and wedding bands the 4 prong setting is quite secure.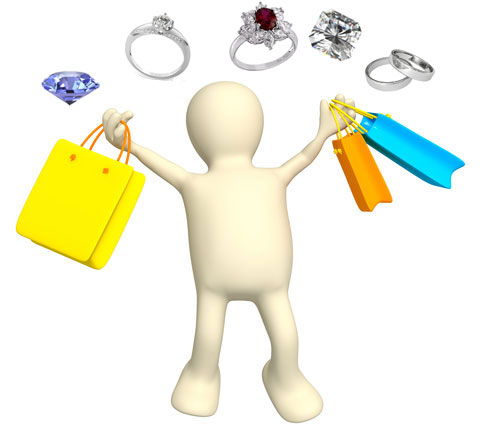 Emerald Wedding Ring Shopping Tips
To find emerald cut engagement rings made with the highest standards in mind, stick with jewelers and jewelry boutiques which offer a non-biased laboratory report on the diamonds or gemstones used in the rings.

The most reputable diamond laboratories are the GIA, AGS, EGL and the IGI – if another type of lab report is offered, research the laboratory to make sure they are reputable and legitimate (and not connected with the seller).
If you are searching for emerald cut diamond engagement rings, keep the GIA and AGS grade parameters listed above in mind to make sure the diamonds used in the rings will not show any imperfections or color flaws.
And, for estate, vintage or antique emerald cut engagement rings make sure the ring comes with an appraisal and certificate of authentication as mounted diamonds cannot go through the certification process. 


Do you have questions or comments about emerald cut engagement rings?
Send in your questions and comments, or upload pics of your emerald cut engagement ring here to share with our visitors!
Return from Emerald Cut Engagement Rings to Engagement Ring Styles
or
Return to Everything Wedding Rings Home