About Everything Wedding Rings
and
Me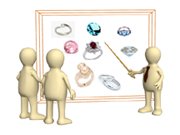 How did I create Everything Wedding Rings? I have always been fascinated with wedding and engagement rings; the historical traditions of wedding rings, different types of styles, and the ways in which artists apply their talents and expertise to the metals and materials used to create rings.
This hobby of mine remained just a hobby for years. I had a different future planned out for myself, one that was interrupted by a car accident and my future took another turn. I traveled around the world, became a writer and a researcher, and on my travels I continued to return to my fascination with rings and jewelry – especially pieces from different cultures. While living in Panama, I was fortunate enough to meet an amazing jeweler Marion Torgany who is highly experienced with metal work - including cloisonne - and she taught me a lot about the properties of different metals and how an artist can use these properties to bring a vision to reality.

When I moved back to the States, I decided to commit full-time to the creation of Everything Wedding Rings - and the rest as they say is history!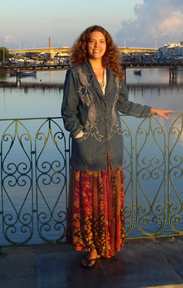 About Everything Wedding Rings
Everything wedding rings was created to help couples find the perfect wedding and engagement rings to suit their style and budget. This site focuses on providing complete information about the materials, metals and styles behind wedding rings including their pros, cons and history and works to combat a lot of misinformation out there on the Internet today.
I also created this site to help couples find quality rings made by artists and jewelry boutiques who have the highest ethical and environmental standards in mind. Today, couples have a wider selection of choices for rings that are made with environmentally friendly materials, conflict-free diamonds and conflict-free gemstones.
Many businesses are stepping up to consumer demand for eco-friendly and ethical wedding and engagement rings, and more and more wedding ring retailers are using recycled metals or low impact metals and materials to create rings that couples will enjoy – 100% - without worrying about the origins of their jewelry.
Change has always been driven by consumer demand. As more couples choose ethical and eco-friendly wedding and engagement rings - more companies will change their tune. Together, we can have a huge impact on environmental preservation and on improving the lives of people living in mining communities who are affected by our choices.
I wish all of my viewers the best with their wedding and engagement ring search, and congratulations on the upcoming wedding celebrations!
Sincerely,
Suzanne Gardner
P.S. In addition to wedding rings and engagement rings, another great passion in my life is animals. I was fortunate enough to live in Boquete, Panama for 2 years where I volunteered with 2 amazing non-profit spay/neuter groups whose hard work continues: Amigos de Animales in Boquete and Spay Panama Chiriqui. If you would like to read about their heroic work and their stories, click on the links!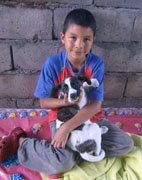 And if you need to contact EWR for any reason - whether it's to ask a question, send in a comment about Everything Wedding Rings or inquire about advertising opportunities, just visit the contact page for more info!
Return from About Everything Wedding Rings to Home