Moissanite Wedding Sets
and Bridal Rings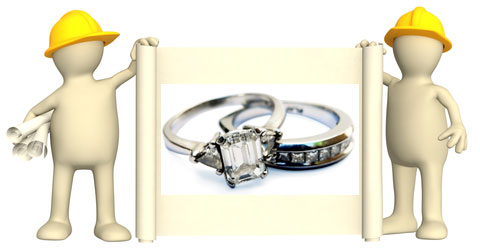 Moissanite wedding sets hold an exquisite, yet affordable, alternative to traditional diamond wedding and engagement rings. If you are interested in moissanite engagement rings and wedding rings, check out these tips below to find a quality synthetic moissanite.
Here you will find essential info about moissanite rings too including pros and cons, style and special care considerations plus valuable shopping tips. To see how moissanite compares to a diamond, take a look at What is Moissanite? for the unique characteristics of this striking gemstone and to compare moissanite vs diamond.
Fast Fun Facts
About Moissanite!
Real natural moissanite is extremely rare.
Jewelry grade moissanite is synthetically created in a laboratory and has the exact same properties as natural moissanite.

The patent Charles & Colvard held on moissanite creation expired in 2016.

And if you have any questions about moissanite bridal sets and wedding bands, or you would like to send in comments, reviews or pics of your rings, just use the handy comment box at the end of the page!

Pros and of Moissanite Wedding Sets
Moissanite engagement rings definitely have that 'WOW' factor. With high marks for brilliance, flash and fire, moissanite rings are known for superior sparkle and shine. Beautiful rings for an affordable price are the two major pros for moissanite rings, but here are a few more:
Made with a synthetic gemstone, moissanite rings are an eco-friendly alternative to wedding rings crafted with mined diamonds or gemstones.
No ethical issues arise from the purchase of a synthetic moissanite, unlike those related to the purchase of possible blood diamonds.
Moissanite rings are available in a variety of designs, gemstone cuts and gemstone shapes including the ever popular moissanite solitaire ring and this year's hot engagement ring style - the moissanite emerald cut ring.

With the end of the patent Charles & Colvard held on the creation of moissanite, prices for moissanite have dropped and moissanite is now more widely available.

Moissanite can be purchased already set in a ring or couples may purchase a loose moissanite stone which may be set by a professional local jeweler.
Moissanite is available in fancy colors including rose pink, canary yellow, shades of green and sherry brown.
With a hardness rating of 9.5, moissanite rings do not require the level of specialized care other types of simulants, such as cubic zirconia, need.


Cons of moissanite wedding rings?

Moissanite gemstones do not look exactly like diamonds - although this is not necessarily a con, it just depends on your tastes. The moissanite gem sparkles and flashes more than a diamond, and for some couples the bright moissanite gem can have just a little too much dazzle and fire.
While synthetic moissanite gemstones are eco-friendly, the ring you purchase may not be environmentally friendly if the gold or platinum in the band has not been obtained from eco-friendly resources. Always inquire with moissanite retailers as to the origins of their metal bands (eco-friendly bands include those which are made from recycled metals or created from metals supplied by companies which have a firm commitment against dirty gold - and of course used moissanite rings are always an eco-friendly choice too!).
While some jewelry retailers carry a selection of moissanite rings, the largest selection of wedding and engagement rings made with moissanite gemstones are only available online. Although more and more couples are purchasing wedding rings through online resources, some couples are not comfortable with purchasing rings they cannot see in person first.
Care for Moissanite Wedding Sets
Moissanite bridal sets and wedding bands will last a lifetime with the right care. As with diamonds, a moissanite gemstone can be chipped or even cracked with one strong blow. If you will be engaging in any activities which could expose the stones in your ring to a sharp strong blow, it is best to remove them.
Moissanite rings should not be exposed to chlorine bleach or harsh chemicals; substances such as chlorine or strong cleaning products can possibly cause the moissanite to become discolored. To maintain the bright luster of moissanite wedding rings, clean your rings on a regular basis with warm water and a gentle soap and remove your rings before swimming in chlorinated water.


Moissanite Wedding Sets and Rhodium Plating
Many moissanite wedding rings are made with 14K white gold, and the moissanite band is coated in a thin layer of rhodium plating. The rhodium adds an extra brilliant shine and durability to a 14K white gold band, but rhodium plating isn't always a good choice for wedding or engagement rings.
Rhodium plating will eventually wear away with time. Thin plates of rhodium can wear away on a wedding ring in just a few months, and thicker applications of rhodium may wear away in one to two years.
Once the rhodium plating wears away, the 14K white gold can develop scratches and will lose its lustrous white color. If the gold band was made with a 14K gold nickel alloy, those with allergies to nickel may begin to experience an allergic reaction once the rhodium wears away.
Another application of rhodium plating for wedding sets will cost upwards of $100 dollars or more - and over a lifetime these costs can add up. If you are trying to save on the purchase of your ring, it may pay to purchase moissanite in a palladium, 14K yellow gold, rose gold or sterling silver band.
For supreme durability throughout years of long term daily wear, the moissanite platinum ring will definitely offer the best performance!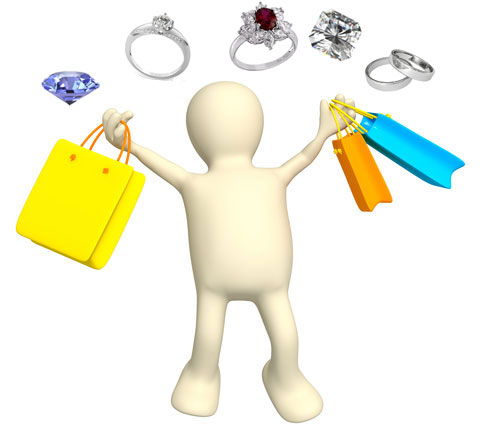 Shopping Tips for Quality Moissanite Wedding Sets

Most of the moissanite wedding rings on today's market are sold by reputable companies, but some moissanite products on the market are not so stellar. To make sure that you purchase a quality moissanite wedding set, keep these tips in mind:
Purchase your moissanite loose stone or wedding rings from a company that offers a guarantee and at least a 30-day no-nonsense refund policy.
The moissanite stones in your rings should be hand cut and hand polished.
Moissanite rings made with 10K gold are not the best products for wedding rings as 10K gold rings can cause allergic reactions from the metals in the alloy. Because it is a relatively cheap metal too, the band and setting may not be made with top of the line workmanship.
Charles & Colvard is still the top producer for high-quality moissanite. For quality moissanite rings, look for rings made with Charles & Colvard® moissanite which come with a certificate of authentication.
Two of EWR's favorite moissanite engagement and wedding ring creators are Brilliant Earth and Gemvara.

Gemvara carries a large selection of moissanite engagement rings, made with Charles & Colvard Forever One moissanite, available in a variety of cuts and metals including palladium and platinum.
Brilliant Earth has an extensive selection of high quality moissanite bridal sets in rose gold, yellow gold and platinum, plus loose moissanite stones that can be made into a uniquely designed wedding set.


Good luck with your search for the perfect moissanite wedding sets - and if you want to send in a moissanite review for other viewers to read, use the comment section below!


Do you have comments or questions about moissanite wedding rings?
Send in your questions and comments, or upload pics of your moissanite wedding rings to share here!

I will post answers to your questions as soon as possible!
Comments and questions from EWR visitors
Click on the links to see comments and answered questions...
Return from Moissanite Wedding Sets to Man Made Diamonds
or
Return to Everything Wedding Rings Home