Engagement Ring Styles
Settings, Cuts, Stones
& More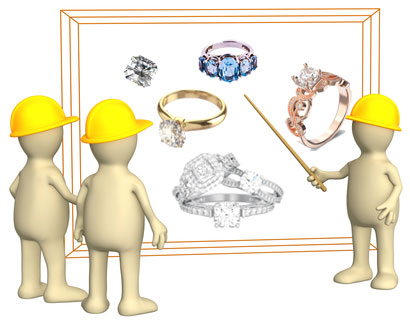 Use our helpful engagement ring styles guide to find the perfect engagement ring for a lifetime. Looking for engagement ring cuts, the right settings, info on diamonds and gemstones or tips on how to find an engagement ring that will fit your budget? No problem!
We've got the answers right here. And if you have any questions about engagement rings, just use the handy comment box at the end of the page!

Engagement Ring Cuts
Are you interested in a specific type of diamond or gemstone cut? Click on the links below to find the characteristics of each cut, pros and cons, best settings for each shape and shopping tips to ensure that you find a high grade engagement ring stone with a stellar cut.

Gemstone Engagement Rings
Non-diamond engagement rings are becoming almost as popular as traditional diamond engagement rings. Below are links to colorful a la mode gemstones which are suitable for eye-catching engagement rings. On each page you will find physical characteristics of the gemstones, enhancements, price guides and special care info.
Or check out Gemstone Engagement Rings for a full list of gemstones which are durable enough for daily-wear engagement rings.


Colored Diamond Engagement Rings
Are you searching for traditional classic diamond engagement rings, or exquisite colored diamond engagement rings? Use our helpful links below to find out more about the different types of colored diamonds and diamond engagement ring styles.
Black Diamond Engagement Rings: For a unique engagement ring that makes a statement, check out black diamond engagement rings.
Yellow Diamond Engagement Rings: As one of the most popular types of fancy diamond engagement rings, yellow diamond engagement rings come in a wide range of beautiful soft to intense yellow shades.
Blue Diamond Engagement Rings: From cool icy tones to rich warm summer blues, blue diamond engagement rings are famous for their depth, flash and fire.
Pink Diamond Engagement Rings: Made with one of the rarest types of diamonds in shades of subtle coral to vivid rose, pink diamond engagement rings definitely make a romantic statement.
If you are a first-time diamond shopper, check out our diamond wedding rings page for info on diamond certification, anatomy & terms, grading, understanding the 4 C's and diamond appraisal.


Engagement Rings for Cheap
Just because you are on a budget, doesn't mean you need to settle for anything less than wonderful. Find out here how to locate gorgeous, durable and affordable engagement ring styles.
Inexpensive Engagement Rings: A quick guide on the best options if you are looking for affordable gemstone engagement rings or inexpensive diamond rings.
Engagement Rings Under $500 Dollars: Here you will find a selection of beautiful engagement ring styles and designs made with affordable, durable materials for rings that will suit your tastes and your budget.
Engagement Rings Under $1000 Dollars: Use this helpful guide to find quality rings for less than $1000 dollars made with real diamonds, durable and stunning gemstones and amazing diamond simulants.
Used Engagement Ring: Tips and shopping precautions to help you find a quality used engagement ring for the right price.
Discount Diamond Engagement Rings: Helpful tips on diamond grading parameters to help you find a lower priced diamond engagement ring which still looks fabulous.
Man Made Diamond Simulants and Synthetics: If you are looking for an affordable diamond alternative engagement ring, find out the pros and cons of cubic zirconia, moissanite, Nexus Diamonds and lab created diamonds plus how they compare to real diamonds.
Matching Wedding Bands for Engagement Rings: Do you have an engagement ring that needs a matching mate? Find out here the best options for locating a matching ring for different types of engagement ring styles.
Do you have comments or questions about engagement rings?
Send in your questions, comments or upload pics of your engagement ring to share here!

I will post answers to your questions as soon as possible!
Return from Engagement Ring Styles to Everything Wedding Rings Home