Inexpensive Engagement Rings
and
How to Find Affordable Center Stones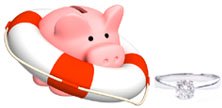 Inexpensive engagement rings that will match the style of your dreams, and your budget, are a definite possibility! But you'll need to shop wisely, and in some cases think outside of the box.
To find the best types of engagement rings for cheap prices, including those in traditional styles and unique non diamond engagement rings, check-out the helpful info below.
And if you have any questions about inexpensive engagement rings, or would like to send in comments, reviews or pics of your amazing affordable ring to share with future visitors, just use the handy comment box at the end of the page!
Fun Fast Shopping Tips
for Inexpensive Engagement Rings!
For traditional diamond rings, used and vintage engagement rings are a great option.
Non diamond engagement rings can offer stylish and affordable alternatives.
Choosing a ring that does not require rhodium plate can add up to hundreds of dollars in savings over time.

Where to Find Diamond Engagement Rings for Cheap Prices
If you are searching for a traditional diamond engagement ring for an affordable price, here are the best options:


On an Engagement Ring Budget of Under $1,000 Dollars
Your best options for affordable, durable and high quality engagement rings in the under $1,000 dollar price range include used engagement rings, gemstone engagement rings, moissanite engagement rings and diamond rings made with composite diamond styles. To see a selection of rings in this price range, visit EWR's Engagement Rings Under $1,000 Dollars page.

1. Used Engagement Rings
Used Engagement Rings may include modern, vintage and estate rings. But couples need to use caution when shopping for previously owned rings. The best way to make sure you are buying a quality, genuine used diamond ring for the right price is to stick with a ring that comes with a diamond certification from one of the top 4 diamond certification laboratories - the GIA, AGS, EGL or IGI.


2. Gemstone Engagement Rings
Gemstone wedding rings are becoming more popular as couples look for something other than a traditional diamond ring. And, many stunning gemstones like iolite, pink tourmaline and aquamarine are quite affordable. Here are a few examples of the types of affordable gemstone engagement rings you can find by Gemvara:



3. Moissanite Rings

Moissanite is known as a diamond simulant, but it is actually a gemstone - although most moissanite sold today is synthetic laboratory moissanite which has the exact same qualities as the real thing! With a little more flash and fire than a diamond, and strong enough to hold up to daily way for a lifetime, it is possible to find moissanite engagement rings below $1,000 dollars.



4. Composite Diamond Rings

Composite Diamond Rings are made with real diamonds, but with these styles smaller carat diamonds are set together to create an impression of a larger carat diamond ring. Composite diamond rings are much more affordable than one large carat diamond, and they are a great option for couples looking for real diamond rings that have plenty of flash and fire.



5. Cubic Zirconia Engagement Rings

Cubic Zirconia Engagement Rings are the best option for engagement rings under $500 dollars, but couples need to use extreme caution when shopping for these rings. The two best metals for cz engagement rings are sterling silver and stainless steel. Avoid rings made with any type of brass or copper plated with gold or silver (sometimes known as silvertone). Read the description of the rings very carefully to make sure you are not purchasing this type of ring. Likewise, silver rings that have been plated with gold or platinum will lose their plate rather quickly on every day wear rings.



Concerning rhodium plate on sterling silver rings, the rhodium plate will increase the strength of the rings but these plate too will wear off in a matter of months because cz rings usually have very thin rhodium plates on them. The cost of re-plating the rings with rhodium every few months, or even once a year, will quickly exceed the cost of the engagement rings - so if you are on a budget, it is a good idea to pass on replating (if the ring is crafted of sterling silver, it will look just as beautiful, but a little less reflective, when the plate wears away).


On an Engagement Ring Budget of Over $,1000 Dollars
With this budget range, the top options for affordable engagement rings include discount diamond rings, fancy color synthetic diamonds which have the exact same properties as real diamonds, moissanite simulants and antique rings.

1. Discount Diamond Engagement Rings

Discount diamond engagement rings are possible by catching special engagement ring sales, and by choosing diamonds that have grades which are slightly lower than ideal. To find out the best diamond grade parameters for lower priced diamonds that do not compromise on look or quality, and to see the best times of the year to catch engagement ring sales, take a look at this page.

2. Fancy Color Synthetic Diamonds
Synthetic diamonds have the exact same physical and chemical properties as real diamonds, the only difference between these diamonds and natural diamonds is that they were created in a laboratory instead of in nature.
The only caveat with these diamonds is that colorless synthetic diamond prices are just as high as their colorless natural counterparts. But, fancy color synthetic diamonds are much, much lower priced than real colorless and real fancy color diamonds.

3. Moissanite Diamond Simulants
Most moissanite engagement rings are priced over $1,000 dollars - and in the this price range you can find moissanite rings crafted with stronger metals like palladium and platinum and which come in larger carat sizes.


4. Vintage and Antique Rings
Antique engagement rings are not only unique, but they can be quite affordable too. To find genuine authentic antique and vintage wedding rings to fit your budget, take a look at this page for shopping tips, recommendations and to see an extensive selection of genuine antique rings for sale.



Affordable Non Diamond Engagement Rings
For unique and colorful engagement rings that are outside of traditional styles, affordable gemstone engagement rings made with these gemstones will last a lifetime with the right care - and they look fantastic too! Prices for these stunning rings range from less than $500 dollars to under $3,000 dollars for larger carat gemstones in higher priced metals like platinum or 18k gold.



With all of these options available for quality inexpensive engagement rings, the hardest part will be choosing the perfect style for your ring! Before you shop though, here are some valuable precautions and tips that will ensure you find a fabulous stellar ring for the right price.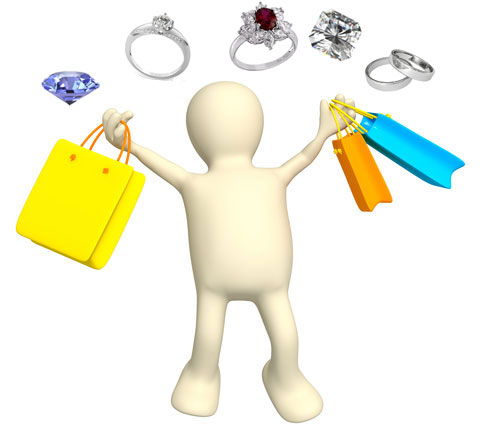 Shopping Precautions for Inexpensive Engagement Rings
While many inexpensive engagement rings on today's market are made with quality workmanship and materials, couples still need to use caution when they search for engagement rings for cheap prices.
One of the biggest concerns for affordable engagement rings involves the quality of the metals and settings used to create the ring. Some markets for low cost rings include rings that are made with poorly alloyed metals which include:
Low grades of silver (not sterling silver) coated with rhodium plating to temporarily improve the look of the band.


Low grades of white gold alloys including 14k, 10k or 9ct white gold alloys that may have been mixed with high amounts of nickel (which can cause allergic reactions). Again, a thin coat of rhodium plating is used to improve the look of the ring, but the rhodium plating will eventually wear off and the ring will turn an unsightly dull yellow tone.


In worst case scenarios, some low cost wedding ring manufacturers create wedding bands made with brass or copper and then plate the ring with a thin layer of silver, gold, platinum or rhodium. Once the thin layer wear off the ring will quickly discolor.
Watch out for inexpensive engagement rings made with poor quality gemstone settings. Look for manufacturers who offer affordable rings made with secure gemstone settings crafted with 18k gold or platinum.
Beware of sellers who offer low cost diamond rings made with diamonds that have been graded and certified by their own laboratories or by gemstone laboratories which have no verifiable history or contact information.

One other concern for inexpensive engagement rings – some cheaper rings are made with unethical blood diamonds or gemstones and metals which have been obtained in methods that are extremely harmful to the environment.
Remember to avoid any type of gold, silver, platinum or carbon plate rings. On every day wear engagement rings, any type of plate will quickly chip and wear away - so if you are searching for two-tone engagement ring styles, stick with rings made with inlay metal features only.


Shopping Tips for Inexpensive Engagement Rings
Plenty of wedding ring companies offer low cost ethical and eco-friendly engagement rings which come with lifetime warranties and exchange or replacement policies. While you are searching for gorgeous discount engagement rings, check for at least a 30-day no-nonsense return policy.
Weigh the pros and cons of rhodium plating before you purchase a rhodium plated engagement ring. Even with a thicker application of rhodium, the plating will wear off in one to two years – a thinner application will wear away in a few months. Continually paying for another rhodium application every few years, or few months, can add up to hundreds of dollars over time.
Affordable diamond rings made with synthetic or simulant diamonds should feature gemstones which have excellent cut and clarity characteristics. Low cost diamond engagement rings made with real diamonds should still come with a grading and certification report by a reputable laboratory such as the GIA, AGS, EGL or IGI.

Double check the materials and metals used to make the ring, including the composition of the metals used in the band and the ethical and eco-friendly policies of the ring maker.


Last but not least, remember that in today's competitive wedding ring market full of durable diamond simulants, brilliant diamond synthetics and affordable natural gemstones, you don't have to settle for anything less than a quality ring with your perfect style!


Do you have comments or questions about inexpensive engagement rings?
Share your questions and comments, or upload pics to share of your fabulous affordable engagement ring find here!

I will post answers to your questions as soon as possible!
Return from Inexpensive Engagement Rings to Affordable Engagement Rings and Wedding Bands

or
Return to Everything Wedding Rings Home