Personalized Wedding Bands
and
Engagement Rings
Ideas and Where to Find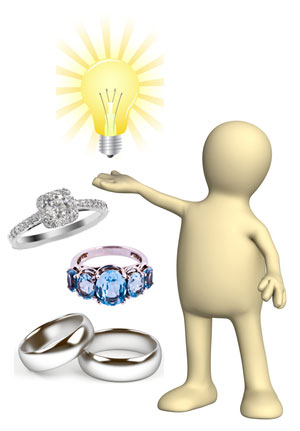 More and more couples are looking for personalized wedding bands with a custom touch. If you and your partner are searching for unique wedding rings, here are some fantastic ideas on how to create one-of-a-kind personalized rings plus info on the top wedding ring designers that specialize in wedding bands and engagement rings crafted with unique expressive features.
And if you have any questions about personalizing your wedding rings, just use the handy comment box at the end of the page to send in your questions or to share pics of your unique personalized ring!
Fun Fast Ideas for Personalized Wedding Rings!
Have the rings engraved with a copy of your fingerprints.
Custom design a ring with a birthstone gemstone.

Have the inside of the band engraved with your own handwritten message.

Create a ring with an outside etching or carving with a design that is special to you and your partner.


Engraved Wedding Rings
Topping the list of ideas for personalizing wedding rings is engraving the inside or outside of your rings. Engraving the inside of wedding rings is an ancient tradition which is popular to this day - wedding and engagement rings are often inscribed with loving lines of poems, the date of the wedding, the couple's initials or names or simply the date they met.
Today, more and more couples are engraving the outside of their rings and another recent trend is the hand engraved wedding band - engraved with your partner's own handwriting. Many wedding ring designers that have design-your-own band options offer this type of service, with this type of personal touch inside engravings often work best as outside engravings in handwriting can sometimes look different than what couples expect (i.e. many of us do not have the best handwriting!).


Or, for a very unique and personal touch - a wedding band can be engraved with a copy of your very own fingerprint. Only a few online jewelers specialize in this service. Titanium Kay, which will laser engrave a cropped image of your fingerprint on the inside of tungsten, titanium and cobalt chrome wedding bands. (Titanium Kay will also laser engrave symbols and personal messages on these types of contemporary wedding band metals too).


Another jewelry company that creates handmade fingerprint wedding rings is Brilliant Earth. Through BE's custom design ring program, couples can choose wedding bands in their band metal - gold, palladium or platinum - and style of choice and have a unique fingerprint engraved on the band. Here are two examples of BE's custom fingerprint wedding bands.

Design Your Wedding Rings
The number one way to personalize your wedding bands is to create custom made wedding rings. Couples can design wedding rings themselves or use the talents of a skilled jeweler to create designs which incorporate a couple's ideas for personal touches.

Fortunately with the wonderful worldwide web, you can find a jeweler or jewelry company which specializes in custom and personalized wedding bands. If no local jeweler is in your area, it is perfectly possible to design your wedding rings through online services too. Plus, now that more and more couples are looking for unique and personalized rings, design services are now much more affordable.
Brilliant Earth's online design team will work with you to perfect the initial design, and then a wax model of the ring prototype is created and photographed for final approval before the ring is created. BE creates some really outstanding custom wedding bands and engagement rings, using eco-friendly metals and conflict-free diamonds too. You can see their gallery of recent custom made (and personalized) wedding bands and engagement rings at this link! Below are just a few examples of custom designed rings BE has created for couples.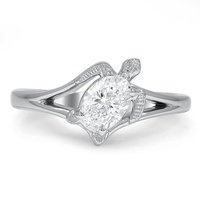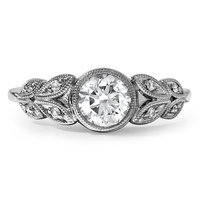 Birthstone Wedding Bands and Engagement Rings
Birthstone wedding bands are another way to personalize your wedding or engagement rings – and non diamond engagement rings and wedding bands are very unique. Birthstone gemstones can be incorporated into engagement rings either as a center stone or side stones accenting a diamond, and birthstones can be channel set into the engagement and wedding band too.
The best birthstones to use for wedding bands are those that will stand up to the daily wear of a wedding or engagement ring which have a 7.0 or higher rating on the Moh's Hardness Scale, like these ones listed below (except for the pearl) which include the modern and traditional birthstones for each month.

For an extra personal touch, add an inside engraving on your wedding band. One ring designer that is famous for incorporating birthstone rings into wedding bands and engagement rings is Gemvara - and at Gemvara you can take specific ring designs and add small changes to the designs, along with engravings, to make the rings truly your own.
To find out more about each gemstone, just click on the birthstone gemstone links below!




Outside Etched or Carved Wedding Rings
Etched and carved wedding rings are the most popular personalized wedding bands today. Etched wedding rings may include symbols with special meanings – for example, Chinese symbols or Celtic knots – or images like astrological signs or hearts.
Etchings or laser engraving on the outside of the wedding band are most often used on hard to carve or engrave materials like stainless steel, titanium or tungsten; whereas carved wedding rings – which come in a beautiful selection of gorgeous leafy, filigree, antique and artistic cut out styles – are most often found on rings created from gold, platinum, palladium or silver.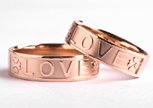 For an added personalized touch on etched wedding bands, some couples write a line of poetry or a message and then have the bands engraved with their message in their own handwriting. Because of the work involved, carved wedding rings are usually priced higher than engraved or etched bands – and etched rings are usually priced a bit higher than engraved rings.
Carved rings must be ordered as they are made – and while it is best to order etchings on rings before they are created, some jewelers offer laser engraving or etching services on rings that have already been made.
Brilliant Earth's custom design program can also work with you on carved or etched wedding rings in metals like gold, platinum or palladium. Below are a few examples of etched and carved custom rings by BE.


Etched Wedding Rings

Carved Wedding Rings



Unique Styled Personalized Wedding Bands
Today, many wedding ring designers are creating uniquely styled wedding rings for couples that are looking for personalized wedding bands. A few examples are wedding rings that incorporate designs which include guitars, the Eiffel tower, cowboy boots, animals, trees, religious symbols and motorcycles. All of the unique designs are blended within the bands' designs to symbolize something about the wedding couple – their hobbies, where they met, or their dreams for the future.
Whatever type of personalized wedding bands you choose, remember that today there are almost no limits on what can be designed or created - especially with handy online wedding ring designers that specialize in engagement rings and wedding bands crafted with your own very unique features. Get in touch with your inner creativity - and have fun designing your personalized engagement rings and wedding bands!


Have comments or questions about personalized wedding bands?
Send in your questions and comments here, share pics of your personalized wedding rings or offer your best tips for personalizing wedding bands here!

I will post answers to your questions as soon as possible!
Return from Personalized Wedding Bands to Unique Wedding Bands
or
Return to Everything Wedding Rings Home