Art Deco Rings
Engagement and Wedding Bands


Art Deco rings are highly valued, and high in demand. Jewelry pieces crafted during this historical design period reflect the growing optimism of the times, the surge of expanded social freedoms, modern technological developments and new never-before-seen artistic movements.
To find out more about these stunning antique rings, and to ensure you are purchasing an authentic ring from the Art Deco design period, use our helpful info below including en vogue styles of the day, popular gemstones and metals plus extra shopping tips.

Fun Fast Facts About
Art Deco Rings!

The channel setting was the most popular type of setting for gemstones during this time.

The treasures discovered in King Tut's tomb in 1922 had a huge impact on Art Deco jewelry styles - including rings.

Platinum and white gold were the two most popular metals used to create Art Deco rings.
If you have questions about Art Deco rings, use our comment box at the end of the page to submit your questions!

Popular Art Deco Ring Styles and Designs
The artistic Art Deco movement is sometimes dated to between 1920 to 1930, but its beginnings started around 1915 and continued into the 30s. While the styles of the time were in full swing between the 1920s and 1930s, and exploded in the mid-1920s thanks to the "Exposition des Arts Decoratifs et Industriels Modernes" held in 1925 in Paris, Art Deco rings may be found dated from 1915 and up to around the mid-1930s.

The artistic designs of the day were heavily eclectic, even daring, and combined geometric patterns and lines with natural themes and shapes. This was the age of the "Flapper" and of travel, exploration, economic booms and discovering new horizons. It seemed as if the whole world was experiencing a celebration of renewal and happiness in these post World War I days - and this sense of new beginnings is captured in Art Deco designs.
Art Nouveau influences from the early 1900s can be seen in many Art Deco styles too - a few in particular include geometric designs combined with ribbon, swirl and flower shapes.
Motifs were also heavily influenced by increased travel, a growing interest in discovering other cultures, and the opening of King Tutankhamen's tomb in 1922. Many Art Deco designs contain Egyptian, African, Oriental and American Indian symbols, designs and patterns.
A bright and bold look was accomplished using eye-catching metal work combined with large diamonds and gemstones to create an explosion of intriguing and often colorful geometric patterns and exotic shapes and patterns.
Common Gemstones and Metals Used to Create Art Deco Rings
For the Art Deco years, yellow gold was out. Platinum, 18k and 14k white gold and sterling silver were in - as were colorful gemstones and stunning diamonds. Art Deco wedding rings were often created with beautiful diamond solitaires framed by handcrafted geometric metalworks, and the Art Deco diamond ring became an instant hit.
Gemstones featured prominently in rings of the day, in addition to diamonds, included emeralds, sapphires, jade, black onyx and rubies. Crystal and mother-of-pearl were favored in ring designs throughout the Art Deco years too - and the channel setting was the most popular type of gemstone setting at this time.

Art Deco diamond rings were often made with stones cut with large top table facets and newer cuts - especially baguettes, triangle cuts and emerald cuts - were used often, but Old World traditional diamond cuts which were made to shimmer in candlelight are sometimes seen in Art Deco rings too.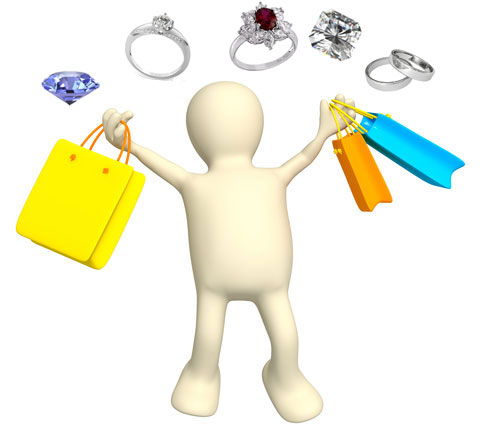 Shopping Tips for Art Deco Rings


Brilliant Earth - BE has a pretty good selection of authentic rings from the Art Deco period, but be forewarned...these antique wedding rings sell out fast! Sizing options are available for most rings.
Examples of Art Deco Rings at Brilliant Earth
See Their Full Collection Here!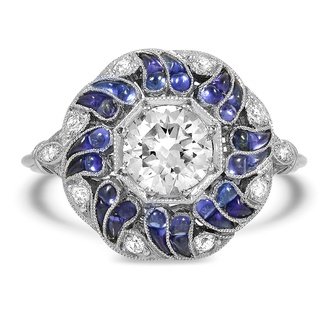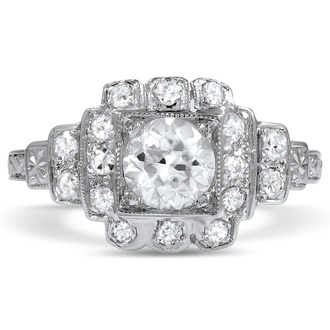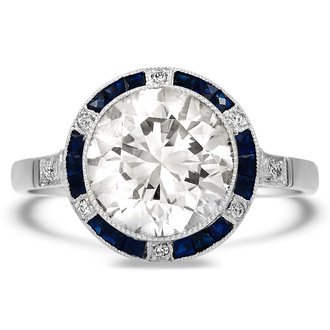 Adin Fine Antique Jewelry - As one of the premier online resources for antique jewelry, Adin has a stunning selection of Art Deco rings including gemstone and diamond rings. And, Adin offers free ring sizing services too! *For a 5% discount on any Adin purchase, use code=Everything-Wedding-Rings, or mention this special when ordering by phone!



Examples of Art Deco Rings At Adin
See Their Full Collection Here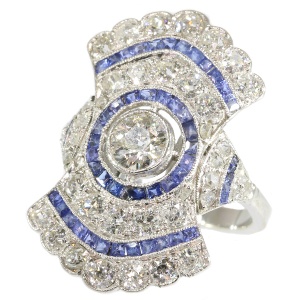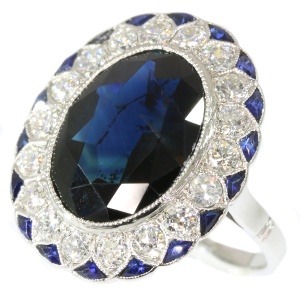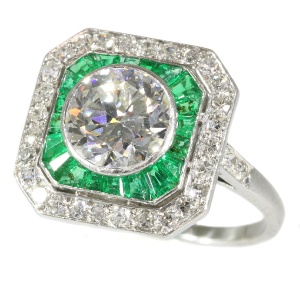 Shopping Tips for Art Deco Rings
When shopping for authentic Art Deco rings, whether online or in person, here are a few important things about rings from this time to keep in mind:
Many true rings from the Art Deco period were handcrafted with the highest standards in mind. Quality pieces contain high grade diamonds with excellent clarity, and rings often display an outstanding finish quality on the inside as well as the outside.
Expect to see rings with a maker's mark and a hallmark stamp - especially if they were made in the USA or Britain. But, many countries did not have hallmarking regulations at this time, so it is possible to find authentic Art Deco rings without any stamps on the band.

Art Deco diamond rings, and rings made with precious gemstones, should come with a report containing info on the stone's grade qualities and carat size.
During the Art Deco period, jewelry pieces with this particular style became so popular that some were mass produced using low quality stones and workmanship. While these rings have their own historical value, they do not necessarily have much monetary value - and shoppers should beware how much they pay for Art Deco rings which were made with low-grade silver and contain non-precious stones - or which do not contain a maker's mark and hallmark stamp, if they are from countries which had hallmark/maker's mark regulations at this time.
A huge revival of Art Deco rings occurred in the 1980s - and many replicas were made at this time. Sadly, these 1980s replicas (and some of them are quite beautiful and made with quality materials) are sometimes sold as real Art Deco jewelry pieces. To be sure you are buying a quality crafted ring from this period, stick with antique retailers who have a verifiable reputation in the antique jewelry biz.
Condition can have a huge impact on the value of the rings. While shoppers should expect to see slight wear on the pieces (for example, some softening around the edges of the rings), high value rings should be in excellent condition with minimal signs of wear and contain original gemstones. Damage to the settings, or missing gemstones, can dramatically lower the value of the rings.
Art Deco wedding rings may often be sized, but it is best to check first before purchasing, and to make sure the sizing can be performed without affecting the value of the ring (for example, if any stamps are removed during the resizing process the value can substantially decrease).


Do you have comments or questions about Art Deco rings?
Send in your questions, share your comments or upload pics and show-off your gorgeous Art Deco ring here!

I will post answers to your questions as soon as possible.

For questions about a ring you own, please send in as much detail about the ring as possible along with clear pictures!
Comments and questions from EWR visitors
Click on the links to see comments and answered questions...
Return from Art Deco Rings to Antique Wedding Rings
or
Return to Everything Wedding Rings Home