Radiant Engagement Rings
Pros and Cons, Best Setting
and More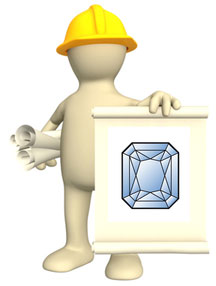 Radiant engagement rings are one of the few engagement styles that can offer the fire and flash of brilliant round diamond rings in a square cut.
To find out if this is the perfect diamond cut for your wedding ring, use this helpful guide which includes info about characteristics of the radiant cut, pros and cons, best settings for radiant cut engagement rings, where to find radiant diamonds and extra valuable shopping tips.
Radiant Cut Fast Fun Facts!
Rates 7th Most Popular Diamond Cut for Engagement Rings
Cut includes 70 facets
Best Setting: 4 Prong, Bezel

Ideal GIA Grades: Clarity = VVS1 to SI2 Color = D to I

Ideal Length to Width Ratio: 1.0 (Perfect Square)

And if you have any questions about radiant engagement rings, just use the handy comment box at the end of the page to send in your questions or to share reviews and pics of your ring!
Characteristics of the Radiant Cut
The radiant cut is a mixed cut, combining the vivid fire and brilliance of the round brilliant with a square shape and trimmed corners. Master diamond cutter Henry Grossbard created this cut in the mid 1970s, and his efforts to blend the best qualities of the round brilliant and the emerald cut resulted in a fancy diamond cut which showcases the highest level of supreme perfection and beauty.




Radiant cut diamond engagement rings have a really big 'wow' factor – even in sizes of less than one carat – and the cut is revered for its amazing degree of intense fire. This fancy diamond cut is very deep, with an average of 70 facets, and it forms an extensive pavilion (the underside of the diamond) which further contributes to the striking fire and flash the radiant diamond is so well known for. 


Pros and Cons of Radiant Engagement Rings
Radiant cut engagement rings are only one of two square shaped styles (the other is princess cut engagement rings) which display a high degree of brilliance and fire. If you are looking for a striking first-class engagement ring, with plenty of flash and fire, this may be your perfect style.
Unlike the princess cut, the radiant cut has trimmed, truncated corners – so any risks of the diamond breaking or chipping are greatly reduced. Trimmed corners also mean that the ring will not have a tendency to catch on clothes or hair.
Radiant engagement rings also look fantastic in a number of styles because the radiant cut is a very versatile cut – it looks stunning in small or large carat sizes, as a solitaire or combined with side stones. And for couples looking for a diamond engagement wedding band which features a complete band of diamonds, radiant diamonds set around the band can achieve a mesmerizing and very eye catching effect.

One other big pro is that the radiant cut is a very forgiving cut. This cut will not magnify inclusions, blemishes or color tints in the diamond – instead the cut actually hides small flaws.
Because the cut will hide small flaws, couples have a wider choice on the type of diamond they can choose for a radiant cut diamond engagement ring and engagement ring prices for this styles.
Although this cut can hide blemishes and color tints, diamond grade recommendations for the radiant include:
I and above on the GIA Color Grade scale or a 3.00 and above on the AGS Color Grade scale.


SI2 and above on the GIA Clarity Grade scale or a 5 and above on the AGS Clarity Grade scale.
Top Radiant-Cut Diamond Wedding Ring and Engagement Ring Picks!
(All available with
matching bands)

Diamonds below these grades may show tints of color or inner inclusions.

What about the cons?
One minor con associated with this type of engagement ring style is that because the radiant cut is such a deep cut, a one carat radiant diamond will not look quite as large as a shallower cut diamond – for example, a one carat emerald cut diamond.
The biggest con to radiant engagement rings though has to do with availability. Only a limited number of jewelry retailers offer a large selection of quality cut radiant diamonds, and it can be difficult to find this type of cut for gemstone engagement rings. (Although, the radiant is a favorite cut for fancy engagement rings crafted with colored diamonds).


Where to Find Radiant Engagement Rings and Loose Diamonds

Our top recommendations for high quality, ethical, eco-friendly and conflict-free radiant engagement rings and loose radiant diamonds include:
Brilliant Earth: Here you can find a wide selection of GIA certified radiant cut diamonds ranging in sizes from less than half a carat to a little over five carats - all rings are handmade in the USA from recycled metals. You can choose from pre-designed radiant bridal sets or loose radiant engagement diamonds. You can also find a wide selection of lab created (also known as lab grown) synthetic radiant diamonds that have the same exact properties as natural diamonds.

Blue Nile: From supreme customer service and creations, here you can find an outstanding selection of GIA certified loose radiant cut diamonds ranging in sizes from less than half a carat all the way up to almost ten carats - which can be purchased on their own or set in a pre-designed Blue Nile ring style! You can also find a very rare selection of natural loose fancy colored radiant diamonds including the hard-to-find pinks such as this one below....


Clean Origin: For lab grown synthetic diamonds that have the same exact qualities as real diamonds, here is your answer to 100% eco-friendly diamonds. In addition to a large selection of pre-designed rings you can also choose from a selection of loose radiant lab grown diamonds and loose colored radiant lab grown diamonds. For fancy colored diamonds on a budget, here is where you can really save on colored diamonds....for example, the natural pink diamond above is over $60,000 dollars while this fancy blue radiant diamond is around $2,300 dollars because it is lab grown (colored natural diamonds of high quality are very rare).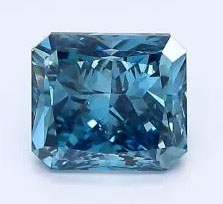 Best Settings for Radiant Engagement Rings
The best setting for radiant cut engagement rings is a 4 pronged setting. This type of setting will securely and safely hold the center stone, and it will maximize light access to the stone which will further enhance the brilliance and fire qualities of the ring.
Bezel settings can also be used on engagement rings with radiant cut diamonds, but this type of closed setting will block some of the light – and the brilliance and fire of the center stone may be slightly affected.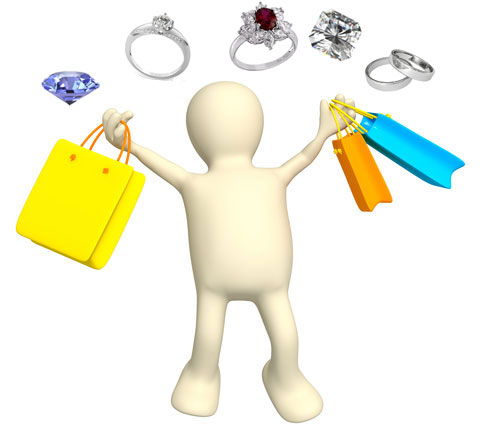 Shopping Tips for Radiant Cut Engagement Rings
The original patent for Henry Grossbard's radiant cut has expired, and now it is possible to find radiant ring styles and diamonds labeled as 'radiant cut' which do not truly reflect the captivating beauty of the original radiant cut. To make sure that you are buying a real radiant cut diamond, and not just a poor imitation, shop wisely:
Look for radiant cut rings through jewelers who provide certificates from reputable laboratories – such as the GIA, AGS, EGL or IGI - on all of their diamond pieces.


If a certificate from another laboratory is offered, use caution. Research the laboratory before you buy to make sure the lab is reputable, legitimate and has no relationship with the retailer.


Keep in mind that the original radiant cut has 70 facets and trimmed corners.
True radiant cuts are available in square to rectangular sizes. A perfect square radiant diamond will have a length-to-width ratio of 1.0.
When the length-to-width ratio is higher than 1.0 the radiant diamond begins to take on a more rectangular shape – a diamond with a 1.2 length-to-width ratio is slightly rectangular while a diamond with a 1.5 length-to-width ratio is very rectangular.
If you are shopping online for an engagement ring, keep the length-to-width ratios in mind if you are searching for a radiant ring that holds a diamond which is either more square or more rectangular in shape.
Estate radiant engagement rings may not come with a certificate, because mounted diamonds cannot be certified. For estate or vintage diamond rings though, the rings should come with an appraisal and a certificate of authentication.


Do you have comments or questions about radiant engagement rings?
Send in your questions and comments, or upload pics of your radiant engagement ring to share here!
Comments and questions from EWR visitors
Click on the links to see comments and answered questions...

Return from Radiant Engagement Rings to Engagement Ring Styles
or
Return to Everything Wedding Rings Home