Affordable Engagement Rings
and
Wedding Bands



If you are searching for affordable engagement rings and wedding rings, look no further!

Here you will find plenty of stylish and stunning options for low cost engagement rings and wedding bands without compromising on quality or looks.
Whether you are looking for discount men's wedding bands, a beautiful set of used wedding rings, affordable gemstone rings or discount diamond rings, with these tips you can find the perfect rings to fit any budget. And if you have any questions about shopping for inexpensive wedding rings, just use our comment box at the end of the page to send in your questions!
Fun Fast Facts About Affordable Engagement Rings
and Wedding Bands!

Contemporary metals including tungsten, titanium and cobalt are the perfect options for affordable wedding bands.

Gemstone engagement rings are captivating low cost alternatives to real diamond rings.
Diamond simulants including moissanite, white sapphire and white topaz are best for affordable traditional diamond engagement ring styles.

Affordable Engagement Rings
The engagement ring is usually what takes up the bulk of a couple's wedding ring budget - so we'll start off with tips on how to find affordable engagement rings and links to our most helpful pages.
So where to begin? Start by setting a budget limit for an engagement ring. Once you know the limitations of the budget you can begin to choose the best options for center stones and metal materials.
The most affordable metals for engagement rings are silver followed by palladium and 14k gold. (Palladium wedding rings are often priced lower than 14k gold because palladium is an extremely light metal).


High Quality Hand-Made Affordable Engagement Rings by Gemvara


Silver engagement rings will need extra TLC but will maintain their condition for a lifetime and more with the right care, and 14k gold engagement rings are quite durable as long as the rings are crafted with excellent workmanship.

Remember too, if you do not want the added maintenance cost of rhodium plate (which must be re-applied to white gold about once a year), stick with rings made with silver, palladium, yellow gold or rose gold.
While tungsten, stainless steel and titanium are extremely affordable metals - unfortunately the selections of engagement ring styles in these metals are quite limited.



To get started on the search for affordable engagement rings
check-out these helpful pages.


Under $500

Engagement Rings Under $500 Dollars
If you are searching for durable and affordable engagement rings under 500 dollars, here you will find gorgeous designs and center stones that will fit your budget plus shopping tips to ensure you find a quality-made ring that will last a lifetime.
Under $1,000

Engagement Rings Under $1000 Dollars
Find engagement rings here, including superb diamond simulants, durable gemstones and real diamond engagement rings, plus recommendations and essential shopping advice for an engagement ring budget between $500 to $1000 dollars.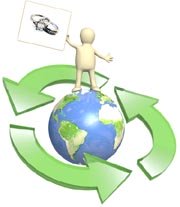 Used Engagement Ring
The used engagement ring market is packed with stunning rings in like new condition. To shop wisely for a used gemstone ring or used diamond ring, take a look at these shopping tips,  precautions and recommendations on the
best places to find used rings.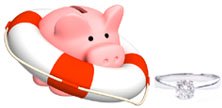 Inexpensive Engagement Rings
Low priced engagement rings for any budget can be found through affordable gemstone engagement rings, inexpensive diamond rings and rings made with man-made diamonds. Here you will find a comprehensive list of choices for exceptional low cost engagement rings.


What about an affordable center stone? The best options include man-made diamonds, smaller real diamonds with slightly lower grades which still look stunning, and affordable colorful gemstones.




Man-Made Diamonds

Laboratory created diamonds are best if you are on a really strict budget but still want a large center stone diamond style - like a classic solitaire ring. Some of the most captivating engagement rings for cheap prices utilize man-made diamonds like moissanite gemstones. Find out here how the different types of man-made diamonds compare (including the very affordable cubic zirconia) to one another and to real diamonds.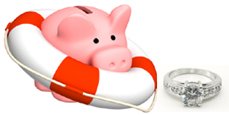 Discount Diamond Engagement Rings

If you have your heart set on a real diamond, with a little know-how about diamond grades you find a stunning diamond to fit your budget.
Use the info on this page to find diamonds with slightly lower cut, color and clarity grades than the costlier premium diamonds with high color, cut and clarity grades. As long as you stick with the diamond grade parameters listed here on these diamond grading charts, you can find affordable diamond engagement rings without compromising on durability, beauty, brilliance and fire.



Gemstone
Engagement Rings

For unique and colorful eye-catching engagement rings, plenty of affordable gemstones can help you to stay within your budget. A few of these include amethyst, aquamarine, blue topaz, citrine, iolite, morganite, pearls, peridot, red and rhodolite garnet, rose quartz and smoky quartz. Find out more about each of these gemstones - including price guides, special care (if any) plus shopping tips - here.


Affordable Wedding Rings
Fortunately for budget wedding ring shoppers, plenty of inexpensive wedding bands made with top-notch workmanship and materials are available - you just need to know where to look.
What to avoid? With so many options out there for durable metals, there is no need to settle for cheaper rings like brass and copper rings with gold or silver plate. Plate rings of any kind (with the exception of rhodium plate over silver or gold) are a particular pet peeve here at Everything Wedding Rings, because plate rings will not last. The plate will quickly wear away, and many of these rings are made so cheaply that they fall apart within weeks.
Remember, when searching for affordable wedding rings (and engagement rings) avoid plate like the plague - this includes silver plated with gold, black ion plate on steel, tungsten or titanium rings and any type of two-tone plate. Any plate layer will quickly chip and wear away, especially on an every day wear wedding band or engagement ring. And with so many quality first-class wedding bands available for very low prices, there is absolutely no need to settle for a plated ring.




Discount Men's Wedding Bands
Today, couples have a lot more choices when it comes to affordable men's wedding bands thanks to innovative wedding band materials that are extremely durable and very affordable. Find low cost, discount men's wedding rings here - including info about tungsten, titanium and stainless steel rings - along with useful shopping tips.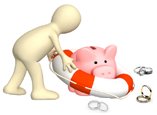 Inexpensive Wedding Rings
If you need help deciding the best inexpensive wedding band metal for your rings, check-out this page which includes comprehensive info about the most inexpensive wedding band metals, their physical characteristics, pros and cons, comparisons and available styles. For a complete run-down on the best materials for affordable wedding rings, this is the best place to start!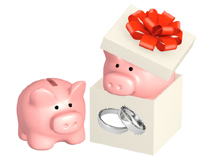 Used Wedding Rings
Gently used wedding rings have first-class looks for very affordable prices - plus the purchase of a used wedding band is one way to reduce your environmental footprint. Check out these helpful tips on where to find used rings and how to make sure you are buying a quality ring for the right price.


Vintage and Antique Wedding Rings

Did you know that antique wedding rings and engagement rings are sometimes quite affordable? Use the info and shopping tips here to find gorgeous antique and vintage rings, low cost diamond vintage wedding ring sets, and types of affordable antique ring styles that will fit your budget from eras including Victorian, Edwardian, Art Deco and Retro design periods.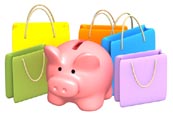 Shopping Tips for Affordable Engagement Rings and Wedding Bands

For exceptional rings that will last a lifetime without breaking the bank, keep these tips in mind while you shop for affordable engagement rings:
Red-hot sales can be a great venue for inexpensive engagement and wedding rings, but use caution and stick with sales that offer guarantees, refunds or at the very least exchanges.
Any diamond ring - even discount diamond engagement rings which hold smaller diamonds - should come with a certificate from a reputable laboratory detailing the grade and carat info on the diamond.
Use caution when purchasing used rings. It is best to stick with used jewelry retailers that offer refunds. Affordable engagement rings and wedding bands available through a private seller should at least come with an original receipt and - if a diamond is in the ring - a diamond certificate.
Last but not least, remember this golden rule of shopping: If the price looks too good to be true, it probably is. With this tip in mind, you can avoid the pitfalls of paying too much for rings made with synthetic gemstones, plate bands or rings which hold simulant diamonds sold as real diamond rings.




I know from my own experiences that shopping on a budget can be a challenge, and so I truly hope that the info here will help couples to find the perfect rings for the right price - rings that will last, and be cherished for, a lifetime!


Do you have questions or comments about affordable engagement rings?
Send in your questions and share your comments about affordable engagement rings here - or upload pics of your fabulous affordable engagement ring!

I will post answers to your questions as soon as possible!
Return from Affordable Engagement Rings and Wedding Bands