18k Gold Wedding Bands
and
Engagement Rings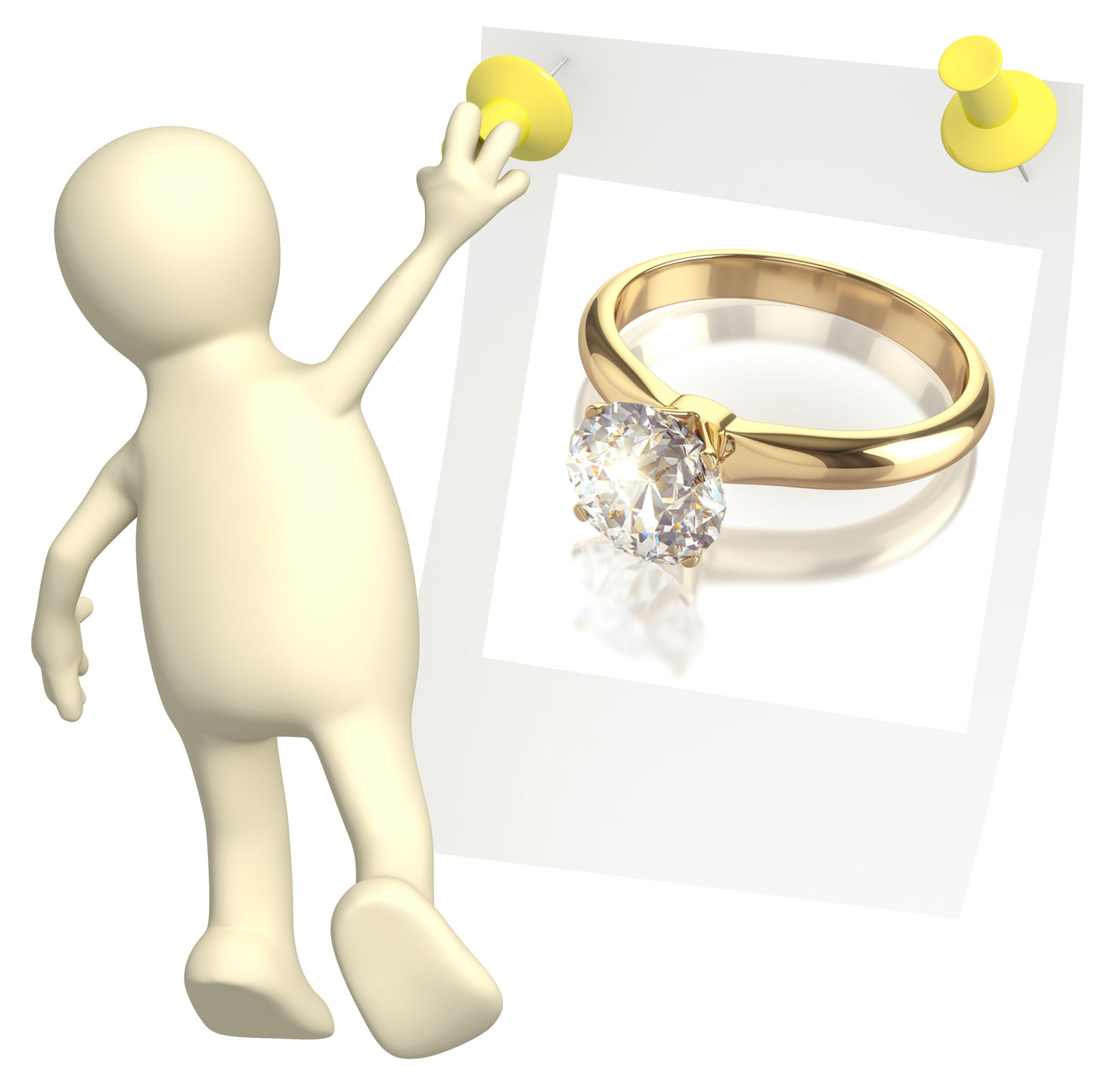 18k gold wedding bands and engagement rings offer a high level of durability needed to last a lifetime with every day wear, and of course 18k gold wedding rings have a classical romantic style which cannot be beat.
To find out more about these exceptional wedding rings, including how 18k gold measures up to palladium, platinum plus considerations for yellow, rose and white 18k gold rings, read on below. And if you have any questions about 18k gold wedding bands or engagement rings, send in your questions through the handy comment box at the end of the page!
Fun Fast Facts About 18k Gold Wedding Rings!
18k gold wedding rings contain 75% pure gold by weight.
18k gold wedding bands and engagement rings are more durable than 14k and 10k gold rings.
Throughout the history of gold wedding rings, 18k gold is the most popular type of gold wedding band alloy.
Comparing 18k Gold Wedding Bands to Platinum and Palladium Rings
So how does an 18k gold wedding ring measure up to platinum and palladium rings?
In terms of durability, 18k gold tends to be slightly less durable than platinum and slightly more durable than palladium. And 18k yellow gold, 18k white gold or 18k rose gold bands tend to have a similar level of durability with 18k white gold displaying the highest resistance to surface scratches.
18k yellow, white and rose gold - plus platinum and palladium - are all resistant to tarnish and the bands (in most cases depending on the design) can be repaired or resized. Typically though, costs for repairs or resizing rings are higher on palladium and platinum wedding bands.
The main differences between these metals are their prices, hypoallergenic qualities and resistance to surface scratches.

To sum up how 18k gold alloys compare to the most popular platinum and palladium wedding ring alloys, take a look at the table below. The HV value in the table is the Vicker's Hardness value, which measures a metal's resistance to scratching.


| | Price | HV Value | Hypoallergenic |
| --- | --- | --- | --- |
| 18K Yellow Gold | Higher | 155-195 | Usually |
| 18k White Gold | High | 225 | *Depends |
| 18k Rose Gold | High | 160/195 | Usually |
| Platinum 950/Ru | Highest | 135 | Yes |
| Palladium 950 | Lowest | 110/120 | Yes |

In most cases, platinum wedding bands are priced the highest - while palladium is priced much lower than 18k gold wedding bands because palladium has an extremely low density (so, less of the metal in weight is needed to craft a ring).
In terms of hypoallergenic qualities, 18k gold wedding ring alloys are usually hypoallergenic as long as they do not contain nickel. Sometimes, zinc is added to these alloys and in rare cases zinc can cause an allergic reaction in some people - but again, this is pretty rare. Nickel may or may not be present in an 18k white gold wedding band, so if you have a nickel allergy or are concerned about a possible nickel allergy, it is best to stick with 18k yellow/rose gold rings or palladium or platinum rings.
As far as resistance to surface scratching, 18k yellow gold has a higher resistance to scratching than platinum - but platinum is still considered more durable than gold. This is because, when platinum is scratched the microscopic bits of platinum just move around - instead of being removed off the ring as in the case of gold. So deep scratches can be repaired on platinum without removing any surface area of the ring but with gold deep scratches can only be repaired by removing layers off the band until the scratch can no longer be seen.
Platinum is also heavier than gold, and can hold up better to dings and knocks.
However, regardless of whether you choose a wedding ring made with 18k gold, platinum or palladium it is important to protect the ring from injury. While every day wear should not affect the ring, it is a good idea to remove the ring before performing any heavy duty activities which could expose the ring to scratches or hard knocks. And when storing the ring, place the ring in a separate soft cotton pouch or box to protect it from contact scratches from any nearby pieces of jewelry.
If you are searching for a super strong ring that can hold up to extreme wear and tear, than a tungsten or titanium wedding band may be a better alternative than an 18k gold wedding band. (Keep in mind though that styles in these heavy duty super strong metals are limited).


Considerations for 18k White Gold Wedding Bands and Engagement Rings
Any white gold wedding band or engagement ring poses a unique consideration because of the rhodium plate which is added to all white gold pieces of jewelry. White gold itself has a soft yellow color, and it is the rhodium plate which gives white gold wedding rings their bright white color and reflective shine.
For an 18k white gold wedding band, the rhodium plate usually needs to be re-plated about every 12 to 36 months. The plate does add extra protection against scratches on the band, but continually plating the ring over a lifetime can add up in terms of cost. The rhodium plate too can be hard on some types of gemstones, which is why if you would like a colorful gemstone engagement ring it is better to stick with an 18k yellow or 18k rose gold ring - or opt for a palladium or platinum gemstone engagement ring instead.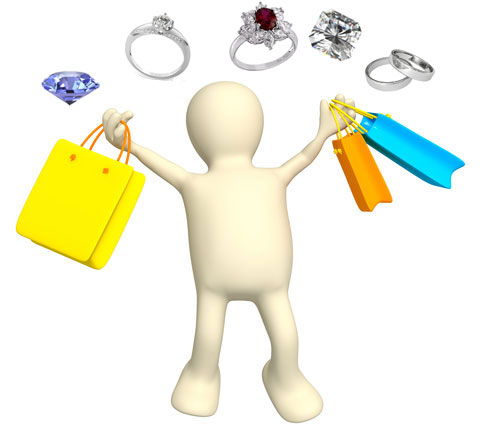 18k Gold Wedding Band and Engagement Ring Shopping Tips
To protect your lifetime investment in a quality 18k gold wedding band and engagement ring, keep these tips in mind while you shop.
According to U.S. hallmarking laws, gold rings do not have to be marked with a hallmark stamp indicating the purity of gold they are crafted with. But, if rings are marked with a hallmark stamp the stamp must be accompanied by a maker's mark. So, look for rings with two stamps in them - a hallmark stamp and a maker's mark.
If you are looking for antique 18k gold wedding rings, stick with retailers who specialize in antique and vintage jewelry sales. Any antique diamond engagement rings or wedding bands too should come with an appraisal stating info about diamond cut, clarity and color grades plus estimated carat weight.
A new diamond 18k gold engagement ring or wedding band should come with a diamond certification - even if the diamond is small. Quality-made rings usually are crafted with diamonds certified by one of the four top reputable diamond certification companies in the world: the Gemological Institute of America, the American Gem Society, the International Gemological Institute and the European Gemological Laboratory.
Avoid any rings with any type of plate on the design, including two-tone plate. Any plate on an every day wear wedding ring will quickly chip and fade away in just a few short months. Instead, for two-tone features or extra colors on the ring stick with inlay features only or rings made with different colors of solid 18k gold.
While gold is an okay metal for setting diamonds and gemstones, if you want an extra strong setting opt for a platinum setting - particularly for larger diamonds or gemstones. Ideally, because wedding and engagement rings are exposed to more wear than average pieces of jewelry, it is best to stick with platinum settings. (A platinum setting too will add a little pop of color on 18k yellow or rose gold engagement rings and wedding bands).
If you are shopping on a budget, a great tip to keep in mind for a diamond 18k gold engagement ring is that a yellow gold ring will mask any slight yellow color tint on a diamond. Diamonds which show any color tint are much more affordable than those which do not - so you can opt for a bigger diamond, or a diamond with a higher clarity grade, and a light soft yellow tint for a more affordable price.

For an 18k pink gold wedding ring, it is important to remember that a 10k and 14k rose gold wedding ring may also range in color from light blush pink to a more copper red. To make sure you are purchasing an 18k pink gold wedding ring - look for a band that contains a hallmark and maker's mark stamp.
Last but not least, stick with retailers who offer at least a 30-day refund on your purchase of an 18k gold wedding band and engagement ring - or an exchange/guarantee policy if the ring is a handmade commissioned ring.
Questions or comments about 18K gold wedding bands or engagement rings?
Send in your questions or comments here, or upload pics of your rings to share with our viewers!
Return from 18k Gold Wedding Bands and Engagement Rings to Gold Wedding Bands

or
Return to Everything Wedding Rings Home