Heart Shaped Engagement Rings
and
Your Guide to Heart Cut Diamonds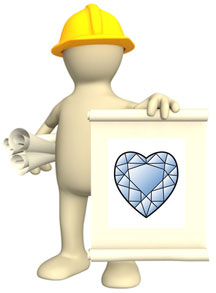 Heart shaped engagement rings are enduring symbols of love and romance, and the heart diamond cut features plenty of dazzling fire and flash.

If you have fallen in love with a heart wedding ring style, find out everything you'll want to know about this type of gemstone and diamond shape including pros and cons, best settings, top recommendations on where to find heart diamond rings and gemstone bands plus essential shopping tips. 
Heart Cut Fast Fun Facts!
Rates 9th Most Popular Diamond Cut for Engagement Rings
Cut includes 57 - 59 facets
Best Setting: 3 Prong and Bezel

Ideal GIA Grades: Clarity = VVS1 to VS2 Color = D to G
Ideal Length to Width Ratio: 0.9 to 1.0

And if you have any questions about heart shaped diamonds, or gemstone rings, just use the handy comment section at the end of the page to send them in - you can also share reviews and pics of your beautiful ring here too!
Characteristics of the Heart Shaped Cut
Experiments with heart shaped diamond rings began over 100 years ago, but this unique fancy diamond shape was not created until the use of computer models and laser cutting tools became available. Today, professional cutters can now craft an outstanding superior heart shaped diamond or gemstone with extremely high fire and brilliance qualities.

How is the heart shape created?
The heart actually starts out as a pear cut - which is another type of fancy cut that has a remarkable degree of fire - and then the cut is modified at the top (a cleft is created) to create a magnificent heart.
Most heart shape diamonds and gemstones have 58 facets, but some have 57 or 59 facets depending on the overall size and shape of the heart.
The best heart cuts which achieve a traditional heart shape have a length-to-width ratio of 0.90 to 1.0.

Heart shapes with a length-to-width ratio of around 0.75 to 0.85 will look a bit like short chubby hearts, and hearts with a length to width ratio of 1.10 to 1.25 or higher will look too elongated (tall and thin hearts).
Smaller cuts will result in higher brilliance and fire qualities (generally less than 2 carats in size), and larger diamond heart cuts will have slightly lower flash and fire qualities compared to the smaller carat sizes.


Pros and Cons of Heart Shaped Engagement Rings
Plenty of pros come with fancy engagement rings in the charming heart style.
Even though the heart shape is timeless, the heart shape cut on an engagement ring is still quite unique.
This type of engagement ring will look absolutely stunning in small to large sizes - and you can find heart diamond rings and gemstone rings in a wide price range to suit your budget.
Heart engagement rings look quite lovely in a number of styles - from simple solitaires to engraved and even Celtic bands. And because this type of cut is challenging, and quite unique, heart wedding rings often increase in value with time.
This shape also looks splendid in colorful gemstones, and the pink heart diamond ring - crafted with pink sapphires and watermelon tourmaline - is a particular favorite these days with couples looking for enchanting engagement ring styles. 

And the Cons?

The main cons associated with heart shaped engagement rings include availability and setting issues.
Heart shaped diamonds and gemstones which are not set properly (see best settings below) can sometimes catch on clothing and even hair – and because high quality heart shaped cuts are so difficult to achieve, not very many heart shaped rings are available which feature gemstone carat sizes of over 2.0 carats. It can also be challenging to find heart diamonds which feature the very best qualities of this cut - but fortunately, you can find EWR's top recommendations for this engagement ring style below!
The heart diamond cut will also magnify any flaws or color tints on a diamond, and this is why top grade diamonds are best for the heart shape. Additionally, fair to poor diamond cuts can result in a bow-tie effect which will cause a shadow in the center of the diamond - so to make sure that your ring is made with a supreme heart diamond, stick with these GIA grade parameters:
Color: Flawless to VS2

Clarity: D to G
And use the shopping recommendations and tips below to make sure you find a heart diamond ring which features a quality cut diamond.

Best Settings for Heart Shaped Engagement Rings
The two best settings for heart shaped engagement rings are the bezel setting and the 3-prong setting. The bezel setting will wrap around the entire heart shaped gemstone - this type of setting provides the highest amount of security, but it can block out a bit of light access to the diamond.
The best 3-prong diamond setting will include two prongs on each upper lobe of the heart and one V shaped prong which covers the bottom V of the heart. This type of setting is also quite secure, and it will let plenty of light in to the diamond which will maximize fire and brilliance qualities.
For larger carat heart diamonds and gemstones, a 5-prong setting is also an excellent choice.


Where to Find Heart Shaped Engagement Rings
For heart wedding rings, and heart shaped loose diamonds, our top recommendations where you will find outstanding workmanship and customer service plus rings made with high ethical and eco-friendly standards include:

Brilliant Earth: BE has a wide selection of loose GIA heart diamonds from around half a carat in size to a little over 4 carats and priced from $1,000 dollars to over $60,000 dollars. You can select a pre-designed engagement ring which can be fitted with a heart diamond, or you can choose the build your own engagement ring option for a totally unique heart wedding ring! BE also has a selection of loose lab created synthetic heart diamonds to choose from.


Blue Nile: Here you'll find one of the most expansive selections of GIA certified heart shaped diamonds from 0.23 to over 5 carats in size and with prices ranging (just for the diamonds) from $270 dollars to over $500,000 dollars. You can choose an engagement ring style that can be set with a heart diamond, or you can use the user-friendly design your own engagement ring option to create your ring.
Gemvara: If you are looking for a pink heart diamond ring, or a colorful gemstone engagement ring, look no further than Gemvara where you'll find a captivating selection of Claddagh engagement rings plus an impressive selection of high grade gemstones including blue topaz, sapphire, amethyst, ruby, emerald, garnet, aquamarine, moissanite, morganite and more which are available in a heart cut. Most of Gemvara's heart style rings - including the Claddagh and One Heart rings - come with matching bands too.

Clean Origin: For lab grown synthetic diamonds, which have the exact same characteristics and physical properties as natural diamonds, Clean Origin has a lovely selection of loose lab grown diamonds and engagement rings which can be fitted with lab heart shaped diamonds.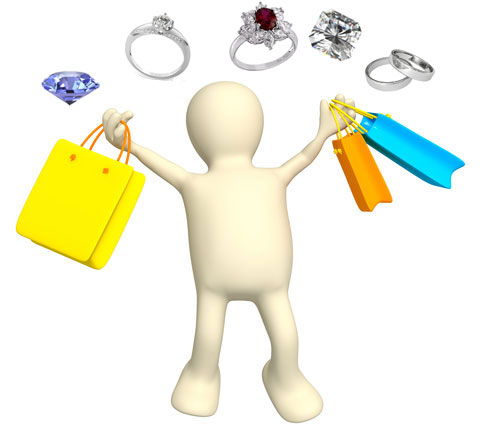 Shopping Tips for Heart Shaped Engagement Rings
Wherever you decide to shop for your ring, keep these tips in mind to make sure you find a fabulous ring with a gorgeous center heart stone.
Start by sticking with heart diamond rings that have been crafted with diamonds certified by one of the top diamond certification laboratories in the world - either the GIA, AGL, EGL or IGI.

Because it takes a highly qualified cutter, and an exceptional diamond or gemstone, to create a superior heart shaped effect, be sure to shop for your heart shaped engagement rings through a reputable and experienced retailer - and stay within the diamond parameters listed above for heart diamond rings. 
Look for styles that are made with the best settings for the heart shaped cut - and remember a little bit of fire and brilliance will need to be sacrificed if you want a larger carat heart diamond on the ring. If you are looking for a large carat heart diamond ring with plenty of flash and shine though, a style made with channel set diamonds around the band will help to magnify the overall brilliance of the ring.


Do you have comments or questions about heart shaped engagement rings?
Send in your questions and comments, or upload and share pics of your heart engagement ring here!
Comments and questions from EWR visitors
Click on the links to see comments and answered questions...

Created heart shaped ruby ring? Not rated yet
What about a created heart shaped ruby? Are they easier to find, less expensive and just as well set? Hello, Heart shaped created rubies are …
Return from Heart Shaped Engagement Rings to Engagement Ring Styles
or
Return to Everything Wedding Rings Home