Engagement Rings
Under 1000 Dollars


Stunning engagement rings under 1000 dollars are possible!

Just use our handy guide below which includes valuable info on the best quality materials and metals for inexpensive rings, the secrets to locating affordable diamond engagement rings, plus extra shopping tips that will help you to find the perfect ring to last a lifetime.

And if you have any questions, or would like to show pics of your fabulous affordable engagement ring, just go to the comments at the end of the page!

Shopping Tips for Engagement Rings
Under 1000 Dollars!

The top metals for rings in this price range include palladium and 14k gold.

The brilliant round, the marquise, the princess and the radiant cut are the best diamond cuts for lower priced natural diamond rings.

Colorful and affordable gemstone engagement rings are a beautiful alternative to traditional diamond rings.
Best Metals for Affordable Engagement Rings

The top metals for engagement rings in the under 1000 dollars price range are palladium, 14k yellow gold, 14k white gold and 14k rose gold. These metals are extremely durable and will wear well with time.

Palladium, 14k yellow gold and 14k rose gold also have the added benefit of not requiring Rhodium Plating - unlike 14k white gold which must have the rhodium plate reapplied on average about once a year.

Because palladium is now a more popular wedding ring material, prices for palladium rings have decreased in recent years - in fact, palladium wedding rings are often priced a bit lower than 14k gold rings.

10k gold is an option, but shoppers need to be careful with this material as many rings made with 10k gold are not crafted with the best workmanship - 10k gold rings are also often very thin and can crack or bend under pressure.
Sterling silver is also a lower cost wedding band metal, while not as strong as palladium or 14k gold, sterling silver rings can last a lifetime with the right care - and, by choosing a silver band you can opt for a larger center stone or a stone with a more complex cut.

Rings made with stronger and less expensive metals like titanium, tungsten and stainless steel are quite limited in styles because the metals are so incredibly strong. Engagement ring styles in these types of metals are especially limited (however, for couples looking for Discount Men's Wedding Bands, these metals are a terrific option!).
Unfortunately, rings made with platinum and 18k gold are usually well over the under 1000 dollar price range.




Best Stones for Engagement Rings Under 1000 Dollars
If you are searching for traditional engagement rings under 1000 dollars with a center stone that is larger than half a carat, the best choice is to stick with simulated diamond engagement rings.

Plenty of enchanting natural gemstones are available for reasonable prices too - if you would like to opt for a colorful engagement ring. But if you are set on an affordable real diamond engagement ring, skip on down to the next section which provides steps on how to find engagement rings with quality and inexpensive natural diamonds.
White synthetic diamonds which have the same exact physical properties as natural diamonds are priced on average the same, if not more than natural diamonds.
Moissanite is considered to be a diamond simulant, but it is actually a gemstone. Moissanite engagement rings are often priced higher than $1,000 dollars, but it is possible to find a selection of these rings in your budget, especially when combined with sterling silver, palladium, 14k rose gold or 14k yellow gold metals.

Cubic zirconia is the least expensive of all diamond simulants, but it has a very low durability rating - and with an engagement ring budget of under 1000 dollars, there are a lot more viable stone options that will look much better and last much longer.

Check out Man-made Diamonds, to find out more about diamond simulants and synthetics.

Natural gemstones which are a fantastic option for colorful engagement rings include:
Aquamarine
Amethyst
Blue Topaz

Citrine
Garnet - a fantastic ruby alternative
Morganite

Peridot
Pearls
Smoky Quartz - a perfect chocolate diamond alternative
White Sapphire - a stunning alternative to diamonds, particularly for smaller side stones on the band.

Take a look at Gemstone Engagement Rings to discover the qualities of individual natural gemstones.
*For affordable moissanite and natural gemstone engagement rings priced at under $1,000 dollars, EWR highly recommends Gemvara. Here, using the filter options, you can easily find rings in your budget range - and Gemvara rings are backed by a guarantee, can be re-sized if your initial ring does not fit and these rings are made with the highest standards, plus you can switch around metals and gemstones on rings to adjust the look and price.


How to Find Affordable Diamond Engagement Rings Under 1000 Dollars

Is it possible to find gorgeous affordable diamond engagement rings under 1000 dollars? Absolutely! Just follow the steps below, and keep the diamond grade parameters we've listed here in mind while shopping:
For inexpensive engagement rings made with real quality diamonds, the highest carat you can go up to is about 0.50 - with an average of about 0.40 carat. A brilliant round diamond of 0.50 carat is about 5 millimeters across or one-fifth of an inch across. A natural diamond engagement ring in this price and carat size range won't be large, but it will be a decent enough size to still be very visually appealing and to look great on hands of all sizes.
1. Start with a company - like Blue Nile - that has a large selection of loose diamonds which you can easily choose from using grade parameters. Begin by selecting a simple wedding band style in 14k gold. The band price should not exceed $400 dollars because you'll need to leave at least $600 for the diamond.
*Blue Nile also maintains Ready-to-Ship Engagement Rings that are already paired with a diamond and setting - although many of the rings here are priced well over $1,000 dollars, there are a few that can usually be found for $1,000 dollars or less.

2. Choose the diamond cut next. Four types of diamond cuts are perfect for hiding small imperfections and flaws in less expensive diamonds: the brilliant round cut, the princess cut, the radiant cut and the marquise cut. Cuts which should be avoided because they actually highlight small imperfections include the Asscher, cushion, emerald, oval and pear cuts.



The brilliant round diamond will give you the most flash and fire - which can be an added benefit in a smaller carat diamond. The brilliant will also hide clarity and color imperfections which will be present in lower priced diamonds.

The radiant cut diamond is a flaw camouflage pro. Smaller carat radiant diamonds look larger too because of the shallow cut. The radiant also has truncated corners which are less prone to chipping.

The princess cut diamond will give you the second most flash and fire, and like the radiant cut it is an adept camouflager of small flaws. The sharp corners though should be in a secure and protective setting.

The marquise cut is a beautiful option for a unique diamond engagement ring - and like the radiant cut, this shallow cut carries most of its weight on the top so smaller carat marquise diamonds look larger. The marquise cut will also hide small flaws in color and clarity.

3. Pick your diamond using the Gemological Institute of America (GIA) grade parameters below - these parameters will ensure that you find an affordable diamond without going so far down on the grade scale that the diamond's look and integrity is compromised. *Diamonds that have really low clarity, cut and color grades will have gray/yellow color tints, poor light reflectivity and may be at risk for cracking, chipping or breaking.
Color: E - J




Clarity: VVS1 - SI2




Cut: Very Good - Good

You can also shop for composite diamond rings, these types of rings are made with numerous tiny diamonds that are set to form a shape. Composite diamond rings are an excellent option for a larger diamond ring for an affordable price - just shop wisely and be sure to choose rings made with quality metals and good workmanship.



One other option for affordable diamond engagement rings under 1000 dollars is to locate authentic antique or vintage engagement rings crafted with real diamonds. Two of my favorite authentic antique and vintage retailers include Brilliant Earth.  You can also find antique, vintage and estate rings at Adin Fine Antique Jewelry in the under 1000 price range, plus as a special gift to our customers Adin will give you a 5% discount on your purchase, just use the code=Everything-Wedding-Rings when you order online or mention this special when purchasing over the phone!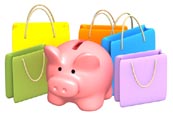 Shopping Tips for Engagement Rings Under 1000 Dollars
Shoppers on a budget need to use extra caution to avoid purchasing lower quality rings that won't last. Remember, just because you are searching for an affordable engagement ring doesn't mean you have to compromise on quality.
Take the time to read the fine print on a ring's description – particularly when looking at the gemstones and diamonds the rings are made with and the details on the band's metal. Look out for bands which may be gold plated copper or silver, and keep an eye out for super cheap gemstones and diamonds which could be lower quality stones or even poor quality simulants.
Stay away from any type of plate (except rhodium plate), as the plate will quickly wear away and chip in a matter of months if not weeks - this includes rose and yellow gold plated over silver.

Even small diamonds should come with a certificate from a reputable laboratory such as the Gemological Institute of America (GIA) or the American Gem Society (AGS).
Stick with retailers and jewelers who offer at least a 30-day no-nonsense refund policy – even if you are buying the ring during a red hot sale, a refund policy should still be available.
Sadly, many pieces of inexpensive jewelry are made with metals, diamonds and gemstones which came from unethical and un-environmentally friendly sources. To make sure that your affordable engagement ring is made with ethical and eco-friendly materials and employment standards, research the policies about the materials and metals of the jewelers/retailers you are interested in buying from.
Gemstone and diamond settings - even on inexpensive engagement rings under 1000 dollars - should be made with gold, palladium or platinum. Settings made with silver will eventually lose their shape (and the gemstones or diamonds they hold).
While EWR recommends eBay for used wedding rings, shop with caution: make sure the seller offers a refund policy and if the ring is a diamond ring it should come with a certification from a reputable laboratory - preferable the GIA, AGS, EGL or IGI. When buying any used ring, have the ring assessed by a local jeweler to make sure the ring is authentic.
Additionally, stay away from sites like ebay, Etsy or Ruby Lane if you are looking for vintage or antique wedding rings. Too many sellers on this sites are listing rings as vintage or antique when they are definitely not.

I truly hope that this information is helpful for budget engagement ring shoppers - and I wish all of my viewers the very best in finding the perfect engagement rings under 1000 dollars that will be cherished for many years to come!


Return from Engagement Rings Under 1000 Dollars to Engagement Ring Styles
or
Return to Everything Wedding Rings Home