Wooden Wedding Rings



Wooden wedding rings are a fine display of natural beauty, and for couples searching for eco-friendly rings wooden wedding bands are the perfect option. Read on to find out more about rings made with wood - including pros and cons of wood wedding rings, best woods for rings, special care, plus essential shopping tips.
And if you have any questions about wood rings, or you would like to send in reviews or pics of your favorite wood wedding rings - just use the handy comment box at the end of the page.
Fun Fast Facts About
Wooden Wedding Rings!
Wood rings can be 'engraved' with a wood burning tool.
Many wooden wedding bands are made with the bentwood process.
The most durable wooden wedding rings are crafted from hardwoods.

A finish is often applied to wood rings to improve their durability and to bring out the grain patterns of the wood.

Pros and Cons of Wooden Wedding Rings
In addition to eco-friendly characteristics - and a whole lot of gorgeousness - wood wedding rings can be formed into a variety of styles using a number of colorful hardwoods. They can include plain wood bands, braided patterns, and colorful inlay designs. Wood engagement rings and bands can even be set with gemstones and center diamonds.
Wood rings are also hypoallergenic in most cases (depending on what type of finish is used on the rings) and are a great option for people who suffer from metal allergies.
If you are searching for unique wedding rings too, hand-carved wood rings each have their own one-of-a-kind characteristics. No two are exactly alike!
Wood rings can be crafted in matched sets, and may have added customized features on the rings like a wood burn engraving on the inside or outside of the bands.

Wooden wedding bands are also quite low on the scale when it comes to heat and electrical conductivity properties. So, for those who work around electricity and are concerned about the dangers of a metal ring - a wooden ring is a terrific option.

Last but definitely not least, wooden wedding rings are a fabulous choice for couples searching for inexpensive wedding rings designed with high quality workmanship.

What about the cons of wooden wedding bands?
The biggest con to these enchanting rings is that they will require special care to remain in good condition for years to come (see special care tips below). Wooden wedding rings cannot be resized either - but the good news is that they are affordable to replace if your ring size changes down the road.
The environmental and ethical benefits of wood rings can be lost if the rings are made with gold, platinum, gemstones or diamonds that have not been obtained through ethical or eco-friendly resources - and if the rings are made with woods that have not been obtained through sustainable means.
Best Woods for Wooden Wedding Rings
The best woods for rings are hardwoods. These include oak, ash, hickory, birch, sandalwood, eucalyptus, maple, apple-wood, aspen, cherry, dogwood, elm, poplar, and walnut. Each of these woods have beautiful grain designs - and even unique special meanings - which may help couples choose the perfect wood for their rings.
Endangered woods that deserve a note of caution for couples looking for eco-friendly wood rings include: Brazil-wood, Spanish Cedar, Madagascar Ebony, mahogany, rosewood and sandalwood. If you find a ring made with any of these woods, please make sure the wood has been collected through sustainable means (like from branches which have fallen on the ground).
Many rings made of wood are also called 'bentwood' rings - but this is actually a process that is used to bend and form wood rather than a type of wood itself. (In most cases the wood is steamed until it softens and then it is gently shaped - then locked down so it will dry in the shape it has been formed in).

Special Care for Wooden Wedding Rings
While special care instructions may depend on the type of wooden ring purchased, and how it was made and finished, as a general rule these special care recommendations should be followed for wooden wedding bands:
Remove the rings before showering, bathing or swimming.
Remove the rings before performing any activities which could expose the rings to chemicals, abrasives or hard knocks.
While most wooden rings can withstand regular hand-washing, they should not be worn when hands will be exposed to moisture for long periods of time - for example, when washing dishes.
Be sure to have a new finish applied as needed to protect the wood.
Remove wooden wedding bands before placing cosmetics - like hand lotion, hair gel etc. - on your hands.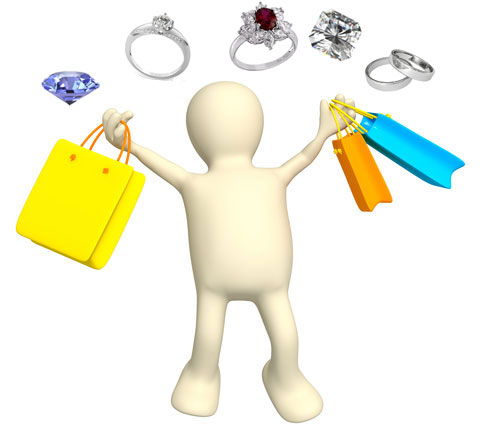 Shopping Tips for Wooden Wedding Rings
Because wooden rings cannot be resized, it is important to ensure the correct ring sizes are obtained. The best way to do that is to have a professional jeweler take the ring sizes - twice, two weeks apart - late in the afternoon or in the evening.
Many small businesses that specialize in wood rings offer extra services including re-finishing services, exchange/replacement policies and more. Check for these policies before you settle on where to buy a wood ring.
Handmade wood rings often take anywhere from 6 to 8 weeks to make. To be on the safe side, try to order the rings at least 4 to 6 months before the wedding ceremony.
If you are vegan, ask about the finishing product used on the rings as some rings may be finished with products that contain ingredients derived from animals or insects.

Some people who specialize in crafting rings made of wood can use wood that has a sentimental value (for example, a piece of hardwood from a park where a couple met), and may even incorporate objects - like seashells - into the design of the rings. The possibilities are endless, so take your time and really consider what special features or designs you may want in a wood ring!
Do you have comments or questions about wooden wedding rings?
Send in your comments and questions, or share pics of your beautiful natural wooden wedding bands here!

I will post answers to your questions as soon as possible!
Comments and questions from EWR visitors
Click on the links to see comments and answered questions...

Mixed Materials for Wood Wedding Rings?

I've always wanted a wooden wedding ring. I particularly liked the idea of having a platinum ring with a strip of wood in the centre. Having done some …
Return from Wooden Wedding Rings to Everything Wedding Rings Home