Marquise Engagement Rings
and
Your Guide to Marquise Diamonds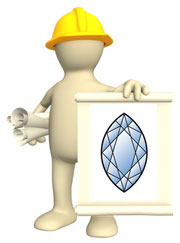 Marquise engagement rings are available in a splendid selection of alluring styles including antique, vintage, classic and contemporary designs. To find out if this gorgeous diamond shape is perfect for your ring, take a look at the info below.
Here you'll discover pros and cons of marquise diamonds and gemstones, best settings for marquise wedding rings, where to find amazing marquise rings and valuable shopping tips. And if you have any questions about marquise engagement rings, just use the handy comment box at the end of the page!
Marquise Cut
Fast Fun Facts!
Rates 5th Most Popular Diamond Cut for Engagement Rings
Cut includes 55 - 58 facets
Best Setting: 6 Prong, Bezel

Ideal GIA Grades: Clarity = Flawless to VS2 Color = D to I

Ideal Length to Width Ratio: 1.75 to 2.15

Characteristics of the Marquise Cut
As one of the oldest modified diamond cuts, the marquise cut was created - so the story goes - in the mid 1700's when King Louise XIV requested a diamond shape that would complement the enticing smile of his mistress Jeanne Antoinette Poisson, the Marquise de Pompadour.



Also known as the 'Navette Cut ' the marquise cut is an elongated oval cut which usually contains between 55 to 58 facets. The modified brilliant marquise is one of the shallowest fancy diamond cuts too.
Symmetrical marquise cut diamonds and gemstones will have a length that is twice the size of the width, but many types of length to width ratios are used to achieve marquise shapes that are shorter or longer than the standard shape.


Pros and Cons of Marquise Engagement Rings
One of the biggest pros to marquise diamond engagement rings is that this shape in particular looks so flattering on hands of all sizes. The elongated marquise shape is exceptionally complementary on slender hands with long fingers - but this engagement ring style can also have a slimming effect and will make shorter fingers look longer and slightly thinner.

Another benefit to this type of diamond cut is that because the cut is so shallow, most of the weight of the diamond is carried on top. This means that a smaller carat diamond will look larger in a marquise cut as opposed to other types of cuts with deep pavilions - like the round brilliant cut or the princess cut.
So for couples on a budget, marquise cut diamond rings will offer an impression of a larger carat diamond for a more affordable price.
Marquise diamonds have a pretty high amount of fire and brilliance too, which is further maximized in an ideal cut.
The marquise can also hide some color tints and very minor inclusions, and so there is a little more leeway in terms of diamond grades when choosing a diamond for your engagement ring.
Even though some inclusions and color tints can be masked with this fancy cut, it is best to stay within these diamond grades for marquise diamonds:
Color: D to I on the GIA color scale


Clarity: Flawless to VS2 on the GIA clarity scale

Marquise style engagement rings look simply stunning in almost any style too, from antique and vintage styles to classic simple engagement rings. And the marquise cut not only looks fabulous on diamonds - but it is quite delicious on colorful gemstones too. Just a few gemstones perfect for engagement rings which look ravishing in the marquise cut include sapphires, emeralds, rubies, aquamarines, tourmalines and blue topaz stones.
And the cons?
The biggest con to the marquise cut is a type of visual impression known as the 'bow tie effect.' All marquise diamond rings will have some type of bow tie effect - which is also seen in almost every type of fancy diamond shape.
The bow tie is a shadow, in the shape of a bow tie, located in the middle of the diamond (it usually only appears if you are looking straight down at the diamond). The shadow occurs when light escapes out of the bottom of the diamond instead of being reflected back to the viewer.
But, an ideal to excellent diamond cut will dramatically minimize the bow tie effect - while a poor cut can result in a pretty large and quite noticeable bow tie shadow.


Best Setting for Marquise Diamond Rings and Gemstone Rings
The absolutely best setting for marquise cut diamonds and gemstones is a 6-prong setting - one prong at the top, one at the bottom and two prongs on each side.
Another setting which can be used on the marquise shape is a bezel setting which will wrap around the entire stone - but this setting can reduce the overall fire and brilliance of diamonds because it blocks a bit of light.

Diamond Halo settings and diamonds on the band will secure the marquise diamond and help to add additional sparkle and shine to the ring.

Any other type of setting may leave the pointed ends of a marquise cut gemstone or diamond vulnerable to chipping or breaking. Although for very small carat marquise diamonds of less than half a carat, a 4-prong setting may provide enough security for the diamonds.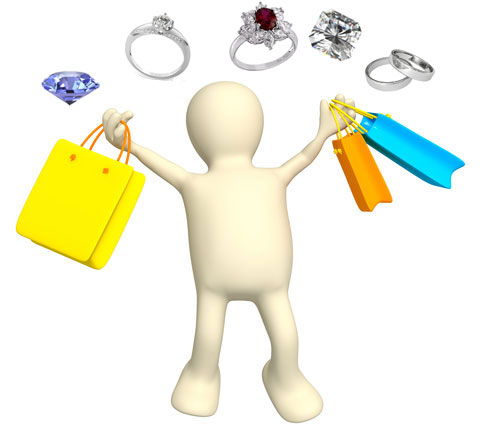 Where to Find Marquise Engagement Rings and Wedding Sets

While the marquise cut is a versatile cut, it can sometimes be a challenge to find jewelry boutiques and retailers that carry a wide selection of marquise engagement rings and wedding bands and loose marquise diamonds or lab created marquise diamonds. Fortunately, you can find a beautiful selection of marquise rings crafted with high ethical and eco-friendly standards - and superior workmanship - at.......

Brilliant Earth: As you can see from our favorite featured picks on this page, BE carries a magnificent collection of handmade in the USA marquise diamond rings, and wedding ring sets. At BE you can also find a pretty large selection of loose marquise diamonds in small to extra large carat sizes - and you can choose the custom design your own engagement ring option for a one-of-kind engagement ring too. In addition to natural diamonds, BE also carries a selection of synthetic diamonds available in the marquise cut.

Gemvara: Looking for marquise gemstone engagement rings? Gemvara has an extensive selection of marquise gemstone engagement rings, and about a dozen or so styles of beautiful marquise diamond engagement rings.
Blue Nile: Here you'll find a collection of engagement rings that can be set with a marquise cut diamond plus the largest online collection of loose marquise diamonds...from less than 0.25 carats all the way up to more than 16 carats in size!!!! You can select an engagement ring style which can be fitted with a marquise diamond of your choice, or choose the design your own engagement ring option. Blue Nile also carries rare natural color marquise diamonds which can be set in a ring design.

Ritani: One of the few jewelers that carry rare and extensive selections of loose lab created marquise diamonds which can be set in rings, along with lovely style choices for pre-set marquise diamond wedding rings.

Adin Fine Antique Jewelry: For authentic vintage or antique marquise engagement rings, Adin is the place to go. Here you can often find marquise shaped Victorian rings and vintage, estate marquise diamond rings too. Plus, if you use the  code=Everything Wedding Rings on Adin's online shopping check-out - or mention this special when ordering by phone, you'll receive a 5% discount on any Adin purchase!


Shopping Tips for Marquise Engagement Rings

Wherever you decide to shop for your marquise wedding ring, keep these tips in mind to ensure you find a stellar ring with a quality cut diamond.
Stick with rings made with marquise diamonds that have been certified by one of the top diamond certification laboratories in the world: the GIA, AGS, EGL or IGI.

Remember the diamond grade parameters listed above, as going below those parameters will result in a diamond that may show color tints or inclusions.
Look for ideal cut marquise diamonds and highly rated cuts on marquise gemstones to ensure that the engagement ring will have a maximum amount of brilliance and fire while minimizing any type of bow tie effect.
Most diamond laboratories do not issue a cut grade on marquise diamonds - instead the cut is assessed separately, often by the retailer. This is another reason why it is important to go with retailers or jewelers with an excellent reputation and that specialize in marquise diamond rings. To make sure your diamond will not have a noticeable bow tie effect, it is essential that the diamond is analyzed and issued a cut grade by a competent professional. 

The ideal length to width ratio for a marquise diamond, or gemstone, is 1.75 up to about 2.15. As the length to width ratio goes below 1.75 the marquise shape will become shorter and chubbier - and as it goes over 2.15 the shape will become longer and thinner.
It's all a matter of personal preference, but if you are looking for a classic marquise shape the 1.75 to 2.15 length to width ratio on the stone is best.
And that's it! Now you're ready to search for fabulous marquise engagement rings - and if you have any questions that have not been answered here, or if you would like to share reviews or pics of your ring, just use the comment page below!


Do you have comments or questions about marquise engagement rings?
Send in your questions and comments, or upload pics to share of your amazing marquise wedding ring here!

I will post answers to your questions as soon as possible!
Return from Marquise Engagement Rings to Engagement Ring Styles
or
Return to Everything Wedding Rings Home