Real Alexandrite Ring?
by Ruth
(Dover, Delaware)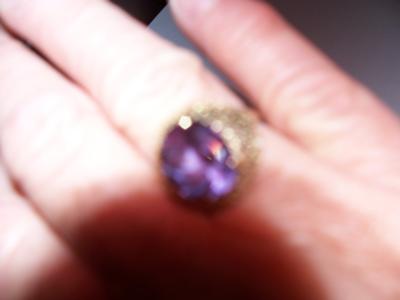 I have a beautiful ring purchased in the Mediterranean during the early 70's, it is a greenish blue 100% in the daylight and 100% purple indoors. I have seen it a bright ruby red only once in my life under incandescent lighting. It is bigger than a carat and in a very nice setting of 14 carat gold. I'm always afraid to let a jeweler look at it. Is it possible that this is a real alexandrite ring?



Hi Ruth,
It is not possible to determine whether or not your alexandrite ring may be real through a photo and description alone, but I hope this information can help you to determine if your alexandrite may be real and steps you can take to find out for sure.
Alexandrite is a rare and highly valued gemstone, and it always has been. The value of a fine alexandrite gemstone larger than one carat starts at around $50,000 dollars and quickly increases with size. Because your alexandrite gemstone exhibits a true color change, if it were real alexandrite then it would probably be considered a 'fine' alexandrite - but I suspect that your ring may be made with a synthetic or created alexandrite gem.

The laboratory processes used to create synthetic alexandrite (crystal pulling and flux methods) were patented in the early 1970's but in the early 1900's experiments were already producing some types of alexandrite imitations – though not of the quality of the synthetic alexandrite used in the crystal pulling and flux procedures.
Three clues in your description lead me to believe that your alexandrite ring may be synthetic:
1. Even in the early 70's, alexandrite was a highly valued gemstone – so unless you purchased the ring through a high end jewelry shop, and paid a high price for the ring (tens of thousands of dollars) then chances are that your gemstone is not real.
2. Natural alexandrite very rarely exhibits a perfect color change (unlike synthetic alexandrite) – and a plus carat size alexandrite with pure color change characteristics is exceedingly rare.
3. You mentioned the ring is made with 14K gold – real alexandrite is so highly valued that jewelry made with authentic alexandrite gems are usually only made with the finest metals such as 22K gold, sometimes 18K gold, or platinum.
Of course, there may be a chance that the alexandrite gemstone in your ring is real – but the only way you will find out is by taking your ring to a certified gemologist. I understand your hesitation and fears with taking a possibly very precious and highly valued ring to a jeweler, but it is the only way you will ever know for sure if your alexandrite ring is real or not.
If you decide to have your ring examined by a gemologist, take the ring in just for an evaluation of authenticity – not for an appraisal. Choose a gemologist who has either been certified by the American Gem Society (AGS) or have your ring examined by a gemologist who has been educated through the Gemological Institute of America (GIA); you may also want to consider taking your ring to the GIA facilities in New York, New York (which is located 168 miles from Dover).
I performed a little research to find certified gemologists near you. In Wilmington DE the A. Carl Doubet Jr. Jewelers, Continental Jewelers Inc. and Helzberg Diamonds all employ AGS jewelers (or they did at the time of this response).
You may want to call these companies to see if you can make an appointment with their certified gemologist. If you are ever headed to New York, New York, take your ring with you! One of the premier Gemological Institute of America's laboratories is located on Fifth Avenue. The GIA will not provide you with an appraisal, but you can find out if your ring is real and if so what the quality of the cut and color is.
I hope this information has helped – do contact us again if you have any additional questions.
Thank-you,
Suzanne Gardner
Everything Wedding Rings