Unique Wedding Bands
and
Engagement Rings



Searching for unique wedding bands? Below you will find different types of one-of-a-kind engagement and wedding rings, where to look for these rings, and info about each of the different styles, designs, materials, and metals which are available to finally find the unique wedding rings you've been looking for.

And if you have any questions about unusual wedding bands, or would like to send in comments, reviews or pics of your favorite engagement or wedding ring - just use the handy comment section at the end of the page!

Curved Wedding Bands

With swirls, loops, and intricate metal works, curved wedding bands and engagement rings can be custom created for a unique look. If you are looking for something other than a plain band, a curvaceous wedding band might offer the right fit.



Turkish Puzzle Rings

Puzzle rings are a historical mystery, but these eye catching unique wedding bands have been emerging from the shadows in recent years. Even better, they can be customized to order, and the 6 band puzzle ring and 8 band puzzle ring have an especially one-of-a-kind look and style.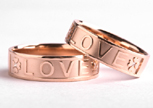 Personalized Wedding Bands

Personalized engagement rings and wedding bands may be the answer for couples looking for unique wedding bands or matching unique wedding ring sets which are a representation of their everlasting love. Here are some ways in which you can personalize and customize your wedding bands including simple and affordable personalization suggestions.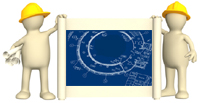 Design Your Own Wedding Ring

The number one way to have truly unique wedding rings? Design your own! Nothing beats the feeling of wearing a ring you and your partner helped to design, and here you will find helpful tips for working with ring designers to create rings that will last a lifetime.


Knife Edge Wedding Bands

Knife edge engagement rings and wedding bands have a unique, streamlined and very contemporary look. If you are searching for modern unique wedding bands, knife edge rings definitely stand out without compromising on comfort.

Wedding Ring Tattoos

Tattoo wedding rings are not for everyone but then again, that's what makes them so unique. For these very unusual wedding bands, find out here what patterns work best on finger tattoos plus tips about how to locate the best tattoo artist for the job. Or, for more info, go straight to my Handy Tattoo Wedding Ring Guide e-book which includes a revealing and insightful interview on tattoo wedding rings with the "Godmother of Tattoo" Shanghai Kate Hellenbrand. Just click on the book image!


Last but not least! Unique Diamond Shapes can be the answer to unusual wedding rings and engagement rings with the traditional center diamond. Instead of choosing the ever popular brilliant round, or the famous princess diamond, cut take a look at some of the more unusual diamond shapes below.
That wraps up EWR's list of unique wedding bands and engagement rings - if you have any suggestions for unusual wedding rings, or questions, comments, reviews etc., just use the comment form below!
Do you have questions, comments or reviews about unique wedding bands?
Send in your questions, comments and reviews, or share pics of your unique wedding rings here!

I will post answers to your questions as soon as possible!
Return from Unique Wedding Bands and Engagement Rings