Men's Gold Wedding Bands


Men's gold wedding bands are still some of the most popular choices for men's wedding rings, even with competition from new contemporary metal bands like tungsten, titanium and cobalt chrome.

To find the perfect gold band that will last a lifetime, use the info below.
Here you will find comparisons between 18k, 14k and 10k men's wedding rings, pros and cons of white and yellow gold wedding bands plus essential shopping tips.
Fun Fast Facts About Men's Gold Wedding Rings!
Men did not regularly begin to wear gold wedding bands until around World War II.
Men's diamond and gold wedding bands are fast becoming one of the most popular men's wedding band styles.
A rose gold band is perfect for men looking for unique yet classic wedding ring styles.
And if you have any questions about men's gold wedding bands, just use the handy comment box at the end of the page to send in your questions!

Pros and Cons of Men's Gold Wedding Bands
What are the major pros of men's gold wedding rings?
Because gold is so highly malleable, men's gold rings are available in an almost endless selection of styles - unlike wedding bands made with harder metals like tungsten and titanium - including highly intricate and engraved styles which cannot be achieved in other types of wedding band materials.
For couples who are searching for matching wedding ring sets, gold is a perfect option too because of the large selection of women's and men's wedding bands available in this metal.

White, rose and yellow gold bands also shine with a distinct inner warmth which is entirely unique.
Most types of gold wedding bands can be resized (unlike titanium, tungsten and stainless steel rings). Repairs for scratches and dings are also possible and priced much lower than repairs for palladium or platinum rings.
Men's gold wedding bands have quite a nice weight to them as well - only platinum and iridium rings are heavier. The gentle weight of a gold wedding ring on the finger is a lovely reminder of the bond you share with another person, and you will quickly become accustomed to the feel of the ring
Men's gold wedding rings are also quite affordable - especially men's 14k gold wedding bands. They are not priced as low as tungsten or titanium rings, but they are a great alternative to the higher priced platinum bands.
The con's of men's gold wedding rings?
White gold wedding bands will need to have a rhodium plate re-applied to the bands periodically to maintain the white mirror-like color and shine on the bands. For every day wear wedding bands, the cost of re-applying the rhodium plate can add up over the lifetime of the ring. Men's palladium wedding bands are a terrific and affordable alternative to white gold wedding rings.

Rings made with white gold may also contain nickel, which can cause allergic reactions in individuals allergic to this metal. However, some white gold rings are made without nickel - so if you have a nickel allergy it is possible to find a nickel-free white gold wedding band.
Gold has very high heat and electrical conductivity properties too. If this is a concern, ring metals with extremely low heat and electrical conductivity properties include titanium and stainless steel.


Comparing 18k, 14k and 10k Mens Gold Wedding Bands
The content of gold in 18k, 14k and 10k wedding bands include:
18 karat gold is 75% pure gold (by weight).

14 karat gold is 58.3% pure gold (by weight).

10 karat gold is 41.6% pure gold (by weight).
If you are searching for a durable men's gold wedding band, an 18k ring is definitely the best choice. Rings made with 18k gold wear very well with time (plenty of antique 18k gold rings from the 1800s have remained in excellent condition) plus are resistant to tarnish.
Your next best option in terms of durability is 14k gold rings. Because of the higher gold content, 14k gold wedding bands will wear much better than 10k gold rings over the lifetime of the ring. Gold bands made with 14k gold too have a medium resistance to tarnish.
Men's wedding bands made with 10k gold often have the least amount of durability. While 10k gold - depending on the alloy - can have a higher resistance to scratching than other gold alloys, unfortunately 10k gold rings are more brittle. They have higher risks for breaking, chipping and denting and they tend to thin out through the years with every day wear - 10k gold rings will also develop tarnish and require a periodic professional cleaning.
To see how the different gold alloys can affect a wedding band's resistance to scratching, take a look at the table below which shows the Vicker's Hardness (HV) values for the types of gold wedding ring alloys.
| | Rose/Pink Gold | Yellow Gold | White Gold |
| --- | --- | --- | --- |
| 18K | 160/195 | 155 | 225 |
| 14K | 125 | 140 | 165 |
| 10K | 115 | 145 | 190 |

While the Vicker's Hardness is just one aspect to overall durability, if scratching is a concern than men's white gold wedding bands make with 18k gold offer the highest level of scratch resistance followed by 18k men's rose gold wedding bands. White gold tends to have a higher level of scratch resistance due to the increased amount of zinc in the alloys - the rhodium plate over white gold too will increase its scratch resistance.
And although yellow gold bands may be a bit more susceptible to scratching, the scratches can be easily buffed out.


Best Styles for Men's Gold Wedding Rings
The leading styles for men's gold wedding bands include the #1 plain gold comfort fit bands followed by flat bands with or without grooved detailing.
A new up and coming style that is rising among the ranks of popular bands are men's gold and diamond rings. Favorite designs in this style include bands made with one channel set center stone diamond or a ring of smaller channel set diamonds around the band - and men's black diamond rings.
Couples searching for unique men's wedding rings may enjoy two tone gold wedding bands, Celtic wedding bands, men's rose gold wedding bands and rings made with tension set diamonds, hammered features or colorful gemstones.
If you decide on a two tone gold wedding ring, stick with inlay designs only. Any plate on a wedding band used to create a two tone look will quickly chip and wear away within a matter of months.
And if you would like a wedding band with colorful gemstones, rose gold or yellow gold bands are best with gemstones. Most gemstones - except diamonds - will eventually begin to lose their radiance if they repeatedly go through the rhodium plate process necessary on white gold bands.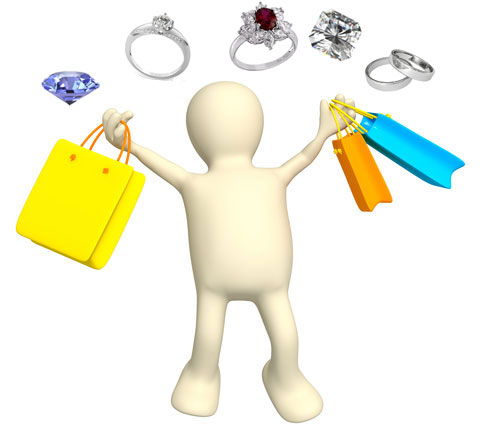 Shopping Tips for Men's Gold Wedding Bands

To find quality men's gold wedding bands that will still look great years from now, keep these tips in mind while you shop.
While 10k gold wedding bands are much more affordable than 14k or 18k gold rings, unfortunately these types of wedding bands do pose durability problems particularly for every day wear rings. If you are shopping for a wedding ring on a tight budget, it may be best to go with a sterling silver, titanium, tungsten, stainless steel or cobalt chrome band instead.
It terms of millimeter (mm) width of the band, for most men a mm width of 5 to 6 is perfect on small to large hands. For men with exceptionally large hands, or finger sizes, a mm width of 8 to 10 will compliment the hand perfectly without looking over or under sized.
Men's gold and diamond rings, even those made with small diamonds, should come with a certificate from a reputable laboratory (preferably the GIA, AGS, EGL or IGI) which states the grade values of the diamonds.
To determine an accurate ring size, it is best to have a professional jeweler measure the finger's ring size two times - late in the day and at least 2 weeks apart.
Last but not least, make sure your ring has at least a 30-day refund policy, or an exchange policy if the ring is commissioned or hand-made.


Do you have comments or questions about men's gold wedding bands?
Send in your questions and comments about men's gold wedding rings, or upload pics of your wedding bands to share here!
Return from Men's Gold Wedding Bands to Gold Wedding Rings
or
Return to Everything Wedding Rings Home