Tension Set Engagement Rings
and
The Best Metals and Gemstones for Tension Bands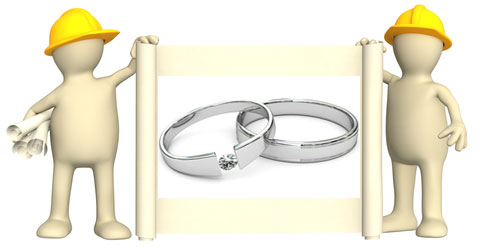 Tension set engagement rings are a very unusual wedding ring style, certain to attract a second look.
But while a well made tension wedding ring will last for a lifetime, and beyond, couples need to shop carefully for rings crafted with this type of setting. To find out more about the tension setting including pros and cons, best metals and gemstones that work with this style and materials to avoid, plus alternatives to tension ring styles, just check-out the info below.
Tension Setting
Fast Fun Facts

The first tension setting was initially developed in the 1960s.

A tension setting can exert 12,000 pounds of pressure per square inch!
The process used to create tension settings is known as spring-loading.

And if you have any questions about tension set engagement rings, or you would like to send in reviews or pics of your unique engagement ring, just use the comment box at the end of this page!

About Tension Band Settings
Tension diamond rings and wedding bands have only been around since the 1990s.  The very first tension setting was originally developed in the 1960s but was not used much in ring styles due to problems with the original design. It was not until the 1990 when designers figured out how to create strong and lasting tension rings by improving upon the original setting.
Today's tension ring uses the pressure of compression to hold a gemstone in place. No traditional metal setting is required, and the gemstone is poised in midair. When strong metals and gemstones are used to create these rings, 12,000 pounds of pressure per square inch, and sometimes more, is exerted on the gem.
Because of the new engagement ring styles and quality settings that are now available, tension set rings have quite a niche market with couples looking for unusual wedding rings.
While tension set engagement rings are very captivating, these rings should only be created using extremely strong metals and gemstones - and unfortunately there are a ton of beautiful tension rings on the market that do not meet these standards.


The Best Metals and Gemstones for Quality Tension Bands
Gemstones that are used to create tension rings need extremely strong properties to hold up to the pressure exerted on them by the setting.
As a general rule, any gemstone used in a tension ring needs to have at least a 9.0 rating on the Moh's Hardness Scale.
Gemstones with a 9.0 hardness rating and above include diamonds, rubies and sapphires. One type of diamond simulant too - moissanite - is also strong enough for a quality tension set ring.
The gemstones used in a tension setting also need to have a high clarity grade because too many inner inclusions can reduce the overall strength of the gemstone and increase risks for cracking. 
For tension set diamond rings, the diamonds should have a GIA clarity grade of VS2 and above. And all gemstones should have an excellent to good clarity rating.
Gemstones which are commonly seen in tension set rings that should not be used for this type of setting include: cubic zirconia, aquamarine, peridot, smoky quartz, topaz, emerald and amethyst.
*Synthetic diamonds can be used to create tension set diamond rings because synthetics have the exact same properties as real diamonds. But, diamond simulants (except for moissanite) should not be used for this type of ring setting.


What are the ideal metals for tension set engagement rings?

The absolutely best #1 metal used to create tension set engagement rings is titanium. This metal is strong enough to craft durable and long lasting tension rings. The other major pro with titanium is because it is so strong the styles can be leaner and lighter. Not so much metal is needed to ensure that the pressure on the gem holds.
Stainless steel is also a good metal for tension set rings, but sadly because the metal is so affordable it is difficult to find quality tension set diamond rings made with steel (instead, steel tension rings are often made with cubic zirconia and poor workmanship and will not last).
Platinum, gold and silver may also be used for tension settings - but because these metals are softer the rings will be a little more bulky than what you would find with a titanium tension set ring.
Now that you know what types of gemstones and metals to stick with for tension bands, here are the pros and cons you can expect from tension set engagement rings.


Tension Set Ring Pros
These rings are custom made to fit the wearer's finger and are available in a beautiful selection of contemporary styles.
Quality tension set rings will last a lifetime and beyond without the need for repairs unlike most prong set rings.
Gemstones in these settings are exposed to more light because no metal around the gemstone blocks the light, and so they display the maximum amount of brilliance and fire (which is one reason why tension set diamond rings are becoming more popular).
Tension rings can also hold a carat size of approximately 0.10 carats to 8.0 carats!


Tension Set Ring Cons
One of the biggest cons to tension engagement rings is that, in most cases, they cannot be resized. Some jewelers who specialize in tension wedding rings offer resizing services if the rings are returned to them, but it is a time consuming and sometimes costly process.
While tension set diamond rings and gemstones rings will maximize the amount of fire and brilliance of the center stone, smaller carat gemstones can look even smaller in a tension set style - this is especially the case when softer metals are used to craft tension bands because the bands in these softer metals need to be pretty thick to create enough pressure. Titanium tension ring styles - because they are thinner - will minimize this effect.
Last but not least are reports of diamonds and gemstones falling out of a tension set ring. But, a quality tension band will only lose its pressure on the stone if it comes under very extreme pressure from an outside source.
In most cases, these reports are from cheap imitation tension bands that were made with poor workmanship and/or with gemstones, low clarity diamonds and diamond simulants that should have never been used for a tension setting in the first place.


Alternative Settings to Tension Bands
If you're not sure if a tension set engagement ring is the right style for your ring, there are a number of ring settings that also maximize the amount of light which enters and reflects from the center stone - increasing brilliance and fire qualities.
A few of these settings include the prong, basket and trellis setting.

For a classic engagement ring style, the 4-prong setting is definitely the most popular - and this type of setting allows plenty of light access to the diamond.
The basket setting can be used to mimic a tension set ring - so from the top it looks like a tension setting but in reality there is a metal basket holding the center gemstone in place.
The trellis setting is an increasingly popular setting for engagement ring styles - and because the trellis lifts the gemstones up, plenty of light can get to the stones...plus, this type of setting also makes cleaning gemstones and diamonds a breeze.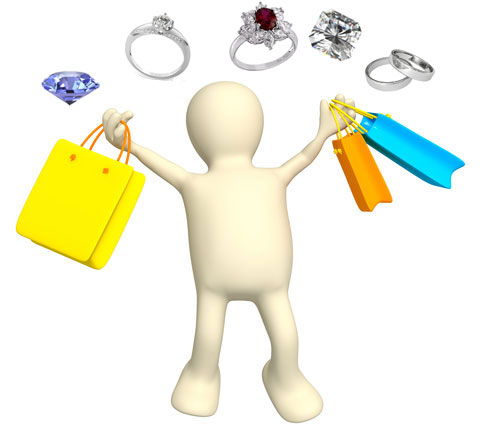 Shopping Tips for Tension Set Engagement Rings
To find a quality tension set engagement ring made with superior workmanship, remember to stay with the right metals and gemstones for this ring:
Natural Diamonds, Synthetic Diamonds


Rubies

Sapphires

Moissanite

Titanium

Platinum

Gold

Silver
For tension set diamond rings, make sure the diamond comes with a certificate from a reputable laboratory - like the GIA, AGS, EGL or IGI - and that the diamond has a clarity grade of at least VS2.

Recommendations for Quality Tension Set Engagement Rings

Highly reputable engagement and wedding ring designers that specialize in tension set rings include:

Edward Mirell is a top titanium designer wedding ring company that specializes in titanium tension set styles, currently these rings are only available through companies that sell Edward Mirell jewelry, check out EM's website to see if any retailers near you carry these rings. You can also find a selection of Edward Mirell tension set rings on Ebay.

Steven Kretcher is a designer that has a beautiful selection of diamond tension styles in platinum. Because the rings are in platinum though, they are a bit bulkier than what you will find in titanium styles.

Niessing carries a selection of gold, platinum and steel tension rings set rings with diamonds and synthetic gemstones. Style range from wide men's rings to thick circle rings with over a dozen styles to choose from.


Do you have comments or questions about tension set wedding rings?
Send in your questions and comments, or share pics of your gorgeous tension set ring here!

I will post answers to your questions as soon as possible!
Comments and questions from EWR visitors
Click on the links to see comments and answered questions...

Tension Set Damage to the Stone ? Not rated yet
Hello, I was excited to buy a GIA certified D,IF diamond with a platinum tension setting until I talked to one well-known jeweler in the Bay Area. I …
Return from the Tension Set Engagement Rings to Unique Wedding Bands

or

Return to Everything Wedding Rings Home