Eco Friendly Wedding Rings
and
Engagement Rings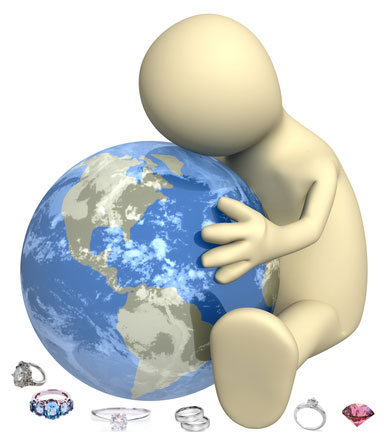 Eco friendly wedding rings are steadily increasing in popularity in recent years with couples who want to celebrate their relationship in an ethical and conscientious style.

To find wedding and engagement rings that will be the perfect symbols of your lasting love, use this handy guide below including tips and resources on where to find gorgeous, quality and truly earth friendly wedding rings. And if you have any questions about earth friendly rings, just use the comment box at the end of the page!
Fun Fast Facts About
Eco Friendly Rings!
The most eco friendly wedding rings couples can buy are used wedding rings.
Couples searching for unique eco friendly rings may fall in love with wood wedding rings.
One eco friendly gold ring can save the environment from hundreds of pounds of environmental waste.

# 1 Eco Friendly Rings
As any type of mining will have some kind of impact on the environment, the number one way to go green with your wedding rings is to purchase Used Wedding Rings.
These eco friendly wedding rings can come from estate sales, antique dealers, personal sales, and even thrift shops. The selections and styles of previously owned rings are endless, and with a little research and time you'll be sure to find exceptional rings that will be treasured for a lifetime. (Fortunately too, many antique and estate rings may be sized up or down).

Keep in mind though, that it is important to shop savvy when purchasing a gently used wedding ring. A return policy should be available, and rings which contain diamonds should have a certificate from a reputable certification company like the Gemological Society of America. Diamond antique rings or vintage rings which have not previously been certified should come with an appraisal by an unbiased reputable third party (for example, an appraisal by a certified American Gem Society appraiser).
See Antique Wedding Rings for more info about antique engagement rings and wedding rings including Victorian, Edwardian and Art Deco rings.

# 2 Eco Friendly Rings
If you would like eco friendly wedding rings created just for you and your partner, recycled metals is the way to go. Some couples like to use jewelry they already own and have the jewelry melted down and then crafted into rings; however, only specialized jewelers have the ability to do this, so it might take some searching around to find a local jeweler who can accomplish this task.
Another choice is to purchase environmentally friendly wedding rings from a company which crafts the rings out of recycled metals, used gemstones, and fair trade gemstones.
For eco friendly diamond rings, excellent options include Man-Made Diamonds such as synthetic laboratory created diamonds and diamond simulants. Rings crafted with man-made diamonds, and recycled metals, will provide you with the most eco friendly choice for new diamond wedding rings.


# 3 Eco Friendly Rings
Look for companies which use fair trade labor practices in addition to low impact mining methods which do not produce as much waste as traditional mines. Keep in mind though, that any new ring using recently mined metals is going to have some cost to the environment. Take a look at the No Dirty Gold site as well to see how popular jewelry companies measure up to low-impact green jewelry standards and to check if a retailer you are interested in has a passing grade for eco friendly ethics.

Wedding Ring Metals and Environmental Impacts
By far, the metals which have the highest environmental cost are gold, palladium, and platinum. One ounce of mined gold can produce over 20 tons of waste; palladium and platinum mines produce extremely large amounts of waste as well. Around the world every country is dealing with hazardous wastes left over from these mines, including the United States. If you want an eco friendly gold, platinum, or palladium ring, consider purchasing used wedding rings or recycled wedding rings.
Tungsten and titanium mining methods also have an impact on the environment, but how much of an impact depends on the mining practices and extraction methods that are used. As a rule, tungsten and titanium metals that are mined in developed countries have a lower environmental impact due to enforced regulation standards and laws. If you are interested in tungsten or titanium rings, ask about the origin of the metals used to create the rings.
Like tungsten and titanium, there is an environmental cost to silver mining, but how much depends on the practices of the mine. Fortunately, there are tons of sterling silver on the market today, and rings crafted out of recycled sterling silver are a cinch to find.
The lowest impact wedding rings materials are Stainless Steel and Wood Rings. Pure wooden rings are by far the most environmentally friendly, but they do require some TLC to remain in good condition for years to come.

*Another important consideration for eco-friendly wedding rings is white gold which must be rhodium plated to retain its white color. Most wedding rings need a new application of rhodium every 1 to 2 years, but there is no guarantee that the rhodium used is recycled or ethically sourced. For this reason, recycled platinum, palladium and silver are best for white metal rings as they do not require a rhodium plate.


Recommendations for Eco Friendly Wedding Rings
For handcrafted rings using recycled metals, and resources for authentic antique and vintage rings, here are a few of our top recommendations:
Brilliant Earth: Brilliant Earth has one of the most extensive selections of eco friendly wedding rings crafted in the USA with 100% recycled metals. Not only do they have an impressive variety of eco friendly wedding rings, but they also maintain a grand collection of real vintage and antique engagement and wedding rings available online plus a large selection of synthetic colorless and fancy laboratory created diamonds, moissanite rings and lab created synthetic gemstones. Last but not least, you can work with BE's team of expert designers to create your own eco-friendly wedding ring!

Adin Fine Antique Jewelry: Adin has one of the largest collections of authentic antique jewelry, wedding rings and engagement rings online - and they offer free ring sizing services too! If you are looking for a beautiful gently used antique wedding ring made with diamonds or colorful gemstones, Adin is definitely the place to start. And as a bonus for our visitors, Adin is offering a 5% discount on all purchases - just use code=Everything Wedding Rings to take advantage of this special on online purchases or mention this special when ordering your ring over the phone!

Kerstin Laibach: Kerstin Laibach works primarily in Germany and the UK, but she accepts orders from all over the world. Kerstin handcrafts all of her exquisite jewelry pieces - including wedding, engagement and commitment rings - with the highest eco friendly ethics in mind. She even goes the extra step to make sure her rings are created with vegan friendly materials.

Gemvara: Gemvara uses 95% recycled content in all palladium, platinum and sterling silver rings and recycled gold in all yellow and rose gold wedding rings. Here too you can find a beautiful selection of moissanite engagement rings.
Etsy: Home to many jewelers who run their own small businesses, it is possible to find eco jewelry makers who use recycled metals for their crafts - you can also find wood rings and used wedding rings on Etsy but remember to shop with caution (EWR does not recommend Etsy for antique or vintage rings as there are too many sellers on this site that do not sell authentic antique/vintage rings).

For more information on eco friendly wedding rings, check out the www.fairjewelry.org website, a popular blog about ethical jewelry practices and resources.

Recommendations for Diamond Simulant and Synthetic Wedding Rings
For a Cubic Zirconia simulant ring, Ebay has a great selection of Stainless Steel Cubic Zirconia Rings.

Brilliant Earth and Gemvara both have a large selection of Moissanite Gemstone Rings, to find out more about the qualities of this synthetic gemstone take a look at our What is Moissanite? page.
For synthetic lab created diamonds (which have the same exact qualities as natural diamonds) Brilliant Earth is EWR's top choice for colorless and fancy lab created diamonds.

Examples of Fancy Lab Created Synthetic Diamonds by Brilliant Earth


For more information on eco friendly wedding rings, check out the www.fairjewelry.org website, a popular blog about ethical jewelry practices and resources.


*A Note About Searching for Eco Friendly Wedding Rings
Here at Everything Wedding Rings, I am continually searching for retailers which offer truly earth friendly rings made with quality craftsmanship. Repeatedly, I have found wedding and engagement ring companies which heavily promote their "green rings" and eco-friendly products, only to find upon further research that their products are not green at all. Just slapping a green banner on something and calling it green, doesn't necessarily make it so. I would urge couples to really research any company to make sure their rings are low-impact and eco-friendly.
To show an example of my experiences, here is a transcript from a customer service online chat with a company that has an entire page on their website claiming that their jewelry pieces are green - I wanted to speak with customer service to confirm, and here were the shocking results from that chat. (P.S. I took out the name of the company, because I do not want to promote them in any way!).
You are now chatting with "Mike"
Mike: How may I assist you?
Suzanne: Are all jewelry pieces on ***** made from recycled metals?
Mike: No, our precious metals are ordered from a 3rd party casting company, which only uses raw metals.
Suzanne: On the website, it says that ***** offers green jewelry?
Mike: Metals used in green jewelry are not mined destructively as jewelry made with new gold, silver and other precious metals is.
Suzanne: Yes, I understand that. My question though hasn't really been answered. On the website it says one of the reasons to use ***** is because the company is a "Green Jewelry Manufacturer" that uses recycled metals in the rings. If **** uses a 3rd party for casting with raw metals, then where does the green jewelry aspect come in?
Mike: I will be right with you.
Mike: I'm sorry for the delay. I am currently on the phone and don't want to keep you on hold for too long. If you don't mind holding, then you can stay online. Otherwise feel free to call us at ********.
Suzanne: I can hold, thanks.
Mike: The green jewelry that we offer is in the jewelry manufacturing process which utilizes eco-friendly machinery.
Suzanne: So, only the machinery is eco-friendly?
Mike: Yes, our factory is eco-friendly
Suzanne: Well, someone in the company needs to look at the mis-information on the site about green jewelry. It mentioned specifically that the metals and gemstones are recycled - not only is the information misleading, but it is obviously completely incorrect. Thank-you.
Can you believe that? I was - and still am - completely floored at how this company is conducting itself and misrepresenting itself as a "green jewelry" retailer for eco friendly wedding rings, plus had the audacity to actually say on their site that they offered jewelry made with recycled metals and gemstones. It just goes to show, that extra diligence is needed to find truly eco friendly wedding rings and engagement rings.


Do you have comments or questions about eco-friendly wedding rings?
Send in your comments and questions about eco-friendly wedding rings, or upload pics of your gorgeous earth friendly wedding rings to share here!

I will post answers to your questions as soon as possible!
Comments and questions from EWR visitors
Click on the links to see comments and answered questions...

Ethical Wedding Bands in Berlin?

Hi, is anyone in your organization aware of a jeweler that sells ethical wedding bands in Berlin? That would be a huge help. Thank you - Stephen …
Return from Eco Friendly Wedding Rings to Everything Wedding Rings Home