Georgian or Victorian ring?
by Mia
(USA)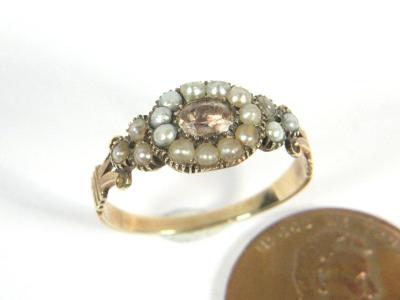 Victorian Ring?
Hello again. I thank you for your very informative comments regarding my last submission.

I have just received a ring as a Valentine's gift from my husband. He was told by the antique dealer that it is late Georgian, c1820.

It is pearls and a foil backed topaz set in gold. No markings. As you can see, I love antique jewelry and as for my wedding ring, it is the jewelry of preference for me. I love wondering about the woman who had it originally, who was she? what was her life? I love thinking that my ring was in the world at a time when those who knew Jane Austen, or lived through the Napoleonic era were in the world. I love the sense of continuity and connection to the past.

So this new gift is lovely; but more information would be most welcome.


Hi Mia,
What a gorgeous ring! And I really admire your deep appreciation for antique rings – I always wonder too when I hold antique jewelry about the history of the jewelry and the people who once wore it.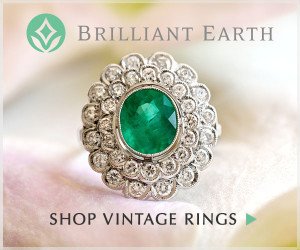 The ring has all the right characteristics to be a late era Georgian ring – particularly the style, pearls and the foil back. Topaz was more popular during the early Victorian age, but this style is not early Victorian, and of course the use of specific gemstones often overlapped between the eras.
Early to mid era Georgian rings have a pitted and rough look because the metal alloys were hand hammered, but after the invention of machine presses for alloys (after the 1750s) the metal in the rings took on a smoother and cleaner appearance – which is probably one of the reasons the ring was dated to the late Georgian era.
The only concern I have about the ring is its stellar appearance – it seems to be in remarkable condition. Most of the foil backings on Georgian rings have worn away or have been professionally restored through a somewhat painstaking process. It is possible, because of its mint appearance, that the ring could have been made at a later date (mid-Victorian age or even later) or it could be a replica.
In the late-Victorian age, cluster styles in particular came back as a "revival" of the Georgian cluster ring designs - much like Art Deco styles became quite the rage again during the 1980s.
If the ring was purchased from a reputable antique retailer, than I wouldn't worry about it being a replica - but is possible that the ring could be a late-Victorian ring too, although if the antique retailer is very experienced than I would go with the original assessment. But keep in mind that Georgian rings are very rare, and rings which survived in mint condition even rarer, so if you are interested in pre-Victorian rings be especially cautious about where you are purchasing them.
Hope this info helps!
Suzanne Gardner
Everything Wedding Rings