Used Engagement Ring
Tips, Resources and
Recommendations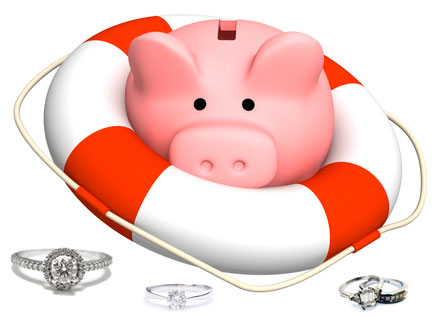 With a used engagement ring, you can find a magnificent ring for the perfect price. Fortunately, there is a huge market for gently owned gorgeous discount engagement rings, and couples searching for affordable wedding rings may enjoy an abundant selection of stunning styles and reasonable prices.
Before you buy though, check out these tips and recommended resources that will help you to find the ideal ring for your style and your budget. And if you have any questions, or would like to offer comments and reviews, just go to the handy comment box at the end of the page!

The Best Place to Find a Used Engagement Ring
Where is the best place to go to find gently used engagement rings in excellent condition? There are actually a few resources which are pretty good for used diamond rings and pre-owned engagement rings including:
1. Local Pawn Shops and Jewelry Stores

Couples will need to use caution though shopping for used rings through these resources, but the shopping tips below will help you to shop wisely.

2. Used Rings Online

Two excellent recommendations for used rings online are  E-Bay and IDoNowIDon't.com and Etsy - these online resources are also a great forum if you would like to sell a used engagement ring too (plus they offer third party transaction protection for both buyers and sellers). E-bay in particular is a great resource for used designer rings. As with local pawn shops and jewelry stores, take the essential shopping tips below to heart to make sure you find premium rings for the right price.

3. Antique, Vintage and Estate Wedding Rings

Stunning unique antique, vintage and estate wedding rings are widely available, but couples need to use particular caution when shopping for used rings through these resources. This is because diamond certifications can only be issued for loose diamonds, and so diamond antique, vintage and even estate rings which were not certified before must instead come with an appraisal and a certification of authentication.
While EWR recommends eBay for used wedding rings, EWR does not recommend sites like Etsy or Ebay for antique or vintage rings. This is because too many shops on these sites have been found that sell reproductions as real antique or vintage rings which are priced way over their value.

Purchasing a used diamond ring without a reputable appraisal and certification of authentication is not a good idea. Especially for antique and vintage rings - there are just too many low-cost replicas out there which can easily be mistaken for the real thing.

That being said, the best online resources that EWR highly recommends for genuine antique, vintage and estate wedding rings are:


Brilliant Earth

At BE you can find an extensive selection of antique, estate and modern used rings, and this is one of the only jewelers that consistently carry Retro vintage wedding ring sets. A word of advice though, BE's previously owned rings sell fast, often within just a week or two of their initial listing. If you see a ring you love - jump on it! Rings can be returned within 30 days as long as they were not resized or engraved. Here a few examples of recent BE previously owned ring selections.

Adin is well known in professional antique circles. Not only does Adin maintain an extensive selection of antique, vintage and estate rings - including rare rings from the Georgian era - but this amazing online antique resource also performs antique jewelry restorations and free ring sizing services (when the rings can be resized).
As a special gift to our visitors, Adin will give you a 5% discount on any purchase, just use code=Everything-Wedding-Rings at checkout, or mention EWR when ordering over the phone, to receive your discount! Below is an example of an affordable used antique ring available at Adin, you can also see our favorite Adin picks at this page.


Used Engagement Ring Pros and Cons

The main pro for used rings? Saving a bundle of $$$ on the purchase of an engagement ring made with superior craftsmanship and materials. Other pros include:
Used rings are one way you can reduce your wedding ring environmental footprint.


With so many styles, designs and prices couples can find a quality engagement ring that suits their budget and tastes.


Many engagement rings which are used are sold with the option of purchasing a matching wedding band.


For gorgeous discount engagement rings crafted by well known designers, a used find can offer a stellar affordable solution!


What About the Cons of Purchasing Used Rings?

Shoppers for previously owned engagement rings must be savvy to avoid any type of scams and to avoid overpaying for a used ring.
Some used rings cannot be resized because of the type of metal in the band or intricate designs which may be engraved onto the band.
If you are interested in a used ring that is not the right size, be sure to ask the seller if the ring is resizable - and remember that rings with channel set diamonds around the entire band can be impossible to resize. It is possible though - if you truly have fallen in love with a ring that is not the right size, or you cannot afford to resize it at this time, a ring guard (also known as a ring bumper) can allow you to wear the ring safely and comfortably.

Information on the exact alloy used to make the band may be lacking. This can be a concern for those with nickel allergies - if you do have a nickel allergy, a used platinum ring or a used palladium or silver ring is best for white metal wedding rings.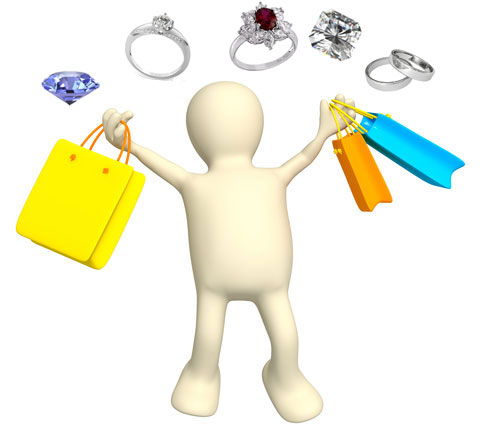 Used Engagement Ring Shopping Tips and Precautions

Before you purchase a used ring, keep these helpful tips in mind:
Remember, used rings with gemstones, particularly used diamond rings, should come with a certification report on the stones from a reputable laboratory. The only exception is for antique or vintage diamond engagement rings - which should come with an appraisal.
Stick with used diamond rings sold with certifications from reputable laboratories only. The four top diamond certification laboratories include:
The Gemological Institute of America (GIA)

The American Gem Society (AGS)

The International Gemological Institute (IGI)
The European Gemological Laboratory (EGL)
Ideally, a used ring with a GIA certificate is best as this is the most highly respected of all diamond certification labs.
Remember that used antique, vintage or estate rings are often not available with diamond certifications. In these cases, an appraisal or certificate of authenticity is a must.

Beware of ring sellers who are offering 'lab reports' from their own laboratories or from laboratories which have no history or contact number. While it may be tempting to purchase a used ring that holds a big diamond for a low price, unless the ring has a certificate from one of the 4 approved certification laboratories look elsewhere.

Never purchase a used ring from a seller who does not have a phone number and address – do not rely on an email address for the sole means of contact (unless you are using the services of a third party that protects your purchase). And verify contact info before you buy.

Avoid purchasing a used ring from a seller who does not offer a no-nonsense refund policy. Even used rings should come with a refund policy.

Take time to research the seller - especially if you purchase online. Look for feedback reviews on the Internet which are posted on separate review or consumer websites.
Ask a local jeweler to examine the ring after you have purchased it to verify the quality of the gemstone's setting and the value of the ring. If you find out that you have overpaid for a used ring, return it with your refund.
Ask as many questions about the ring as possible too if exact details are not provided in the ring's listing. For example:
"What type of metal is the band made from?"
"Has the band been plated with rhodium?"
"Is the band made from solid metal or has it received a coating?" (For example, a coating of thin gold over silver)
"Does the metal alloy in the band contain any nickel?"
"Has the inside of the band been engraved?"
"Are there any scratches on the band or damage to the ring?"
"How old is the ring?"
"Can the ring be resized?"
"What is the condition of the ring?"


Alternative to Used Engagement Rings

If you are unable to find a used engagement ring to suit your style for the right price, consider purchasing a sterling silver engagement ring (although silver requires some special care to prevent scratching) and substituting the engagement gemstone with cheaper man-made diamonds or affordable, stunning and durable gemstones which are perfect for engagement rings.
Good luck on your search for a used engagement ring, and use the form below if you have any questions, comments or reviews!


Do you have comments or questions about used engagement rings?
Send in your comments and questions, or share pics of your amazing used engagement ring find here!

I will post the answers to your questions as soon as possible!
Comments and questions from EWR visitors
Click on the links to see comments and answered questions...

I would like to share a fake Not rated yet
This was in a box of jewelery my wife had inherited. At first I thought it was just another engagement ring with an average 1/2 to 3/4K stone. It wasn't …

Return from Used Engagement Ring Tips to Affordable Engagement Rings
or