Cubic Zirconia Wedding Sets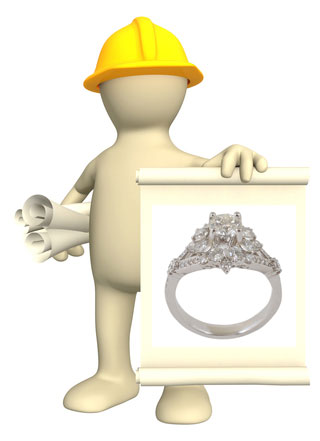 Cubic zirconia wedding sets may be the perfect choice for couples looking for affordable wedding rings made with low cost and ethical diamond substitutes.
Without a doubt, the cz wedding ring market is booming – but the rise in sales for cz rings have led to some tricky marketing tactics which shoppers need to be aware of.
Fun Fast Facts About CZ Wedding Sets!
CZ rings tend to look more authentic when the center stone is less than 2 carats in size.
CZ rings made with brass or copper should be avoided completely - as the plating over the rings will quickly wear away.
The best band materials for CZ wedding rings are sterling silver and stainless steel.
Check out the info below to find out more about cz wedding rings and warnings about some cz rings on the market, or to learn more about cz check out What is Cubic Zirconia? And if you have any questions about cubic zirconia wedding rings, just use the handy comment box at the end of the page to send in your questions!

What to Look for To Find Quality CZ Wedding Ring Sets
Just because you are searching for an affordable, ethical, wedding ring does not mean you have to sacrifice quality. To be sure that you are buying quality cubic zirconia wedding sets, look for rings that meet these standards:
Cubic zirconia stones that have been securely set. The stones should not wobble or move at all.


Cubic zirconia rings made with sterling silver or stainless steel bands.


CZ rings which come with at least a 30-day refund or exchange.

For the best cz wedding ring styles too – if you want a ring that closely resembles a diamond - shop for the less elaborate larger carat cz rings because sometimes the larger carat CZs look somewhat artificial once they are on your finger.

Instead, search for cz rings made with smaller and more carefully cut cz stones. Although – if you want a bling wedding ring definitely go for the larger cz carats, but keep in mind that cz stones look less like diamonds the bigger they get.

Cubic Zirconia Wedding Ring Warnings
Two major issues have arisen with cubic zirconia wedding rings – the 'grade' which is used to market cz stones and low quality metals which are used to make cheap cz wedding bands:
A number of cz rings are for sale online made with brass and copper bands plated with rhodium, platinum, gold or silver. These plates are extremely thin - less than the width of a human hair - and will wear away in a matter of weeks to a few months on every day wear rings.

When the plate wears away the ring will quickly tarnish and it may turn your finger green. If nickel is included in the ring alloy, an allergic reaction can occur in individuals with nickel allergies.
With so many alternatives available – you shouldn't settle for a cheap copper or brass ring – instead, stick with a sterling silver cubic zirconia ring or stainless steel ring with cubic zirconia.
A stainless steel cz ring is by far much more durable than a sterling silver cubic zirconia ring. Stainless steel looks a lot like palladium - or if polished to a high sheen - like platinum. But, stainless steel is extremely light - so a steel cubic zirconia ring will not have nearly the weight of a sterling silver cz ring. And, stainless steel rings cannot be exposed to chlorinated water.
If you are searching for cubic zirconia wedding sets, you will probably see "Grade A CZ", "Grade AAA CZ" and "Grade AAAAA CZ."
Supposedly, grade A cz stones are the lowest grade of stones – which may easily cloud and chip or look vastly different from a diamond – the 3A cz stones are middle of the road and the 5A cz stones are marketed as the absolute best. (Although, some companies market their cubic zirconia stones as Top Grade A stones).
Top Cubic Zirconia Wedding Ring Set Picks by Jeulia!

But through a lot of research (and plenty of phone calls!) I discovered that there are no laws or industry standards for cz stone grades – and the "Grade" of cz stones just started popping up recently on many Internet sites which sell cz rings or provide information about cz.
Upon talking to a representative from a high end cubic zirconia jewelry store which does not advertise any grade to their product, I discovered that the whole cz grade thing is essentially a marketing tactic. Even worse, companies may call their stones anything they want – because no industry standards exist for these grades.
While some companies market their products as 5A cubic zirconium in good faith because they control their own laboratories and offer hand polished hand cut stones, other companies may not be so honest about the quality of their cz stones.
So – instead of looking for a grade of cz, just stick with the tips above and search for cubic zirconia wedding sets which feature cz rings made with sterling silver or stainless steel bands and which come with a refund or exchange policy.


CZ Wedding Band Metals and Rhodium Plating
Many companies are offering Rhodium Plating on cubic zirconia rings made with sterling silver. The rhodium will strengthen the silver band, and add a slightly whiter tone to the band, but rhodium plating will wear off with time. Re-plating the rings with a thick enough rhodium layer needed for wedding bands can cost upwards of $100 dollars or more – and over time these costs can add up.
Added to the costs of rhodium plating, cubic zirconia stones are not hard enough to withstand the rhodium plate process over and over again without showing wear and tear - eventually, re-plating a cubic zirconia ring can cause the cz stones to cloud up.

Shoppers on a strict budget may want to stick with a sterling silver band – which is beautiful in its own right – and forgo the rhodium plating or look for cubic zirconia wedding sets made with stainless steel. If the cubic zirconia wedding ring sets are sterling silver with rhodium plating, it is fine to just let the rhodium plate gradually wear away and then forgo renewing the plate - with a sterling silver band, the rings will look just as nice without the rhodium plate, but only a little less reflective.
What about a gold cz wedding ring or a cz platinum wedding ring? While gold and platinum are both durable metals, the bands will last far longer than the cubic zirconia stone - which for every day wear wedding rings will eventually need to be replaced. If you can spring for a gold or platinum band, a ring made with moissanite may offer a more lasting and durable solution for a reasonable price.


Special Care for Cubic Zirconia Wedding Sets
Cubic zirconia has a tendency to absorb oils and scratch under severe pressure – in time, cz which has taken on oils and scratches will begin to look dull and cloudy. To preserve the stones in your cubic zirconia wedding sets for as long as possible follow these tips:
Always remove your rings before you perform any activities which may scratch your rings or expose them to chemicals such as showering, swimming, washing dishes or cleaning.


Never expose cz rings to bleach or chlorine.


Remove your rings before you apply hand lotion. If you use hair spray or mousse in your hair, it is best to put your rings on after you have styled your hair.


Clean your cz rings with a regular jewelry cleaner and a soft toothbrush on a regular basis to prevent oils and dirt from accumulating on the stone.


Have your cubic zirconia wedding sets cleaned and polished by a professional jeweler to restore the natural luster and shine on the cz stone and the wedding ring band when needed (keep in mind though, that a jeweler cannot restore the shine and sparkle on a cz stone which has already clouded up, but a jeweler can replace the cz stone with a new one).


Alternatives to Cubic Zirconia Wedding Sets
Most couples turn to cz rings because they are on a strict budget - and in the end they may end up paying more if they buy rings that are created with poor settings and cheap wedding band materials that scratch and bend with time.
Fortunately, there are affordable alternatives to cz - if couples are willing to go for a ring made with a gemstone instead of a diamond simulant.
Affordable wedding and engagement ring alternatives which will last much longer than cz and are usually made with quality materials and workmanship include: amethyst, aquamarine, black onyx, citrine, garnet, iolite, peridot, smoky quartz and tourmaline.
All of these gemstones are very affordable, and they will last longer than cz because they will not cloud up with time. Plus, colorful wedding bands and engagement rings are the a la mode style for today's wedding rings.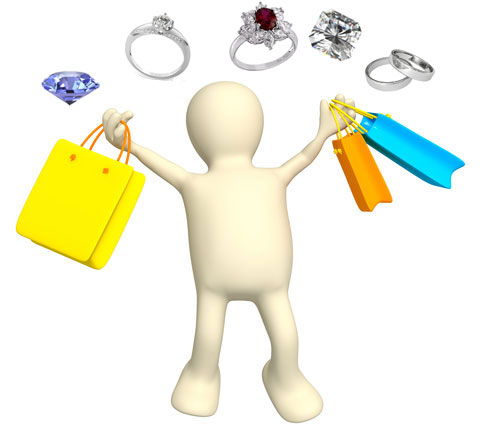 Shopping Tips for Cubic Zirconia Wedding Sets
Remember to avoid plate like the plague! This includes gold, platinum and sterling silver plate over brass or copper rings. Likewise, any gold or platinum plate over a sterling silver ring (or any other type of band) is quickly going to wear off - so, paying extra for a sterling silver cubic zirconia ring with gold or platinum plate just doesn't make sense.
The only exception to plate on cubic zirconia wedding ring sets is if the rings are sterling silver bands which have been rhodium plated. In this case, it is okay to just let the rhodium plate wear away with time.
If you have a budget of over $100 dollars to spend on a wedding ring set, it might be best to go with an affordable gemstone ring, or another type of simulant such as moissanite. Remember that cubic zirconia will not last a lifetime with every day wear - for wedding rings, cubic zirconia usually begins to cloud up and scratch in about 2 years.
Cubic zirconia rings which sell for hundreds of dollars (some high-end cubic zirconia rings are actually priced $500 dollars and above!) because they are set in higher karat gold or platinum bands do not make much sense either because of the durability issues with cz gemstones - unless you plan on replacing the cz stones down the road with real diamonds or a more durable diamond simulant.
I wish all my readers the best with finding the perfect cubic zirconia wedding sets, and remember - if you have questions, comments, reviews or pics to share just send them in below!
Comments or questions about cubic zirconia wedding sets?
Share your comments, send in your questions or upload pics of your cubic zirconia wedding rings here!

I will post answers to your questions as soon as possible!
Comments and questions from EWR visitors
Polishing and Replating CZ Ring Not rated yet
My CZ ring needs to be cleaned polished and rhodium plated. It's white gold, I've had it for over 3 years and it's just now starting to lose it's luster. …
Return from Cubic Zirconia Wedding Sets to Man Made Diamond Rings
or
Return to Everything Wedding Rings Home