Loose Aquamarine Value and Ring Setting
by Ellena
(Phoenix, Arizona)
I received as a present a loose 1.7 ct aquamarine that I want to mount on a white gold ring. I have no idea of the stone's value but in the certificate it states that: the saturation is moderate to moderate strong, the color is clear blue in violet (darker than what I have seen before, not any sign of green and the certificate states it is not heated), tone 4-5 moderate, emerald cut (it states very good cut) and the clarity is type 1 vvs.

It is very difficult for me to photograph it as it shines and reflects the light back and I am not able to take a picture of it. Oh, I forgot, I am not sure if the retail replacement value means anything but it says in the certificate that it is $1100.

Do you have any idea if the stone holds a real good value?

What is the best mounting style to use (bezel, prongs etc.) because a jeweler I went to said it is not a strong stone and I might chip it easily and it might be best to make a pendant out of it (I really prefer a ring).



Hi Ellena,
It sounds like you received a beautiful specimen of aquamarine!
The Gemological Institute of America clarity grade for Type 1 gemstones (which include aquamarine) of VVS means that the gemstone is very, very slightly included – which is a very important grade in a quality aquamarine.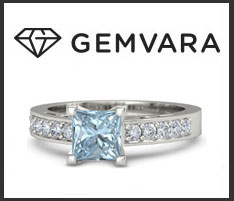 The value of aquamarine is heavily dependent on clarity, followed by cut and color. Carat has little effect on the price of an aquamarine gemstone because this type of gemstone is often found in large carat sizes.
It is difficult to provide any type of concrete estimate on the value of an aquamarine gemstone because prices for this gemstone can fluctuate widely depending on the clarity, color and cut characteristics of the stone. Aquamarines which have moderate cut, clarity and color can sell for as little as around $35 dollars a carat – as a rough estimate.
However, if your aquamarine has a superb cut, clarity and color – then the value can rise dramatically. Particularly if your aquamarine is one of the highly valued cat's eye or star aquamarines which have superior light reflective qualities.
If the appraisal certificate provides the replacement value for the aquamarine at $1100 dollars, then I would go by that price – as long as the certificate was provided by an independent appraisal company (although that could be difficult to determine if the aquamarine was a present). Replacement values can be a little misleading though, because whether or not you could get that price for the aquamarine if you sold it would depend on current market values and consumer interest.
To find out more info about your aquamarine, or to see if the certificate which came with the gemstone is accurate, you could send it to the Gemological Institute of America for a report (which is different from an appraisal and will not provide a value on the stone, but will provide info on the stone's cut, color and clarity characteristics).
Aquamarine is a strong gemstone, with a hardness rating of 7.5 to 8.0, but the edges on an emerald cut gemstone can break (even on an emerald cut diamond) if they are exposed to hard knocks or blows. The best type of setting for an emerald cut gemstone is a 4 prong or 6 prong setting – the prong setting will protect the edges of the emerald cut and securely hold the gemstone for safe everyday ring wear. To improve the durability of the setting you may want to have the gemstone set with platinum prongs instead of white gold prongs.
I hope this info is helpful – do write back if you have any more questions!
Suzanne Gardner
Everything Wedding Rings