Cushion Cut Engagement Rings
and
Your Cushion Diamond Guide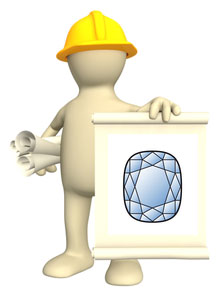 Cushion cut engagement rings are treasured for their beautiful warm glow and enchanting charm.

To find out if this classic vintage style ring is just what you are looking for, use our helpful guide below which includes characteristics of the cut, pros and cons, best settings and extra valuable shopping tips that will ensure you find the perfect ring for your engagement.
And if you have any questions about cushion cut diamond rings or gemstone rings, just use the handy comment box at the end of the page to send in your questions or to share reviews and pics of your fabulous ring!
Cushion Cut Fast Fun Facts!
Rates 10th Most Popular Diamond Cut for Engagement Rings
Cut includes 60 facets
Best Setting: 4 Prong
Ideal GIA Grades: Clarity = VVS1 to VS2 Color = D to G
Ideal Length to Width Ratio: 1.0 (Perfect Square) or 1.25 (Rectangular Shape)

Characteristics of the Cushion Cut Diamond
The cushion cut is one of the oldest types of fancy diamond cuts – well over 300 years old – and cushion cut diamond rings were one of the most popular styles from the early 1800s to the early 1900s. The soft edges of the cut have the ability to capture and reflect a rainbow of candlelight colors, and this cut was originally created to shimmer with an inner incandescence.

Today, the cushion diamond is a top favorite with couples looking for vintage style engagement rings.
This fancy cut diamond may be in a more rectangular or square shape, with an average number of 60 facets. Because of the soft pillow like shape the cut yields, the cushion cut is sometimes called the pillow cut.
Cushion cut diamonds and gemstones with a length-to-width ratio of 1.0 create a perfect square pillow – ratios higher than 1.0 are more rectangular while ratios of 1.25 have the slightly rectangular shape which mimics the shape of the original antique cushion cut.


Pros and Cons of Cushion Cut Engagement Rings
Cushion cut diamonds and gemstones have their own unique and elegant style which is very reminiscent of days gone by. Cushion cut engagement rings are also perfect for every day wear because the rounded edges of the cut are not prone to chipping or catching on clothes or hair.
While cushion cut rings were once hard to come by, except through antique jewelers and estate sales, the cushion cut style is once again becoming quite fashionable. As a result of its increased popularity, cushion rings in various styles and sizes are now more widely available (see recommendations below to find  jewelers which carry high quality cushion cut engagement rings).
The biggest con of the cushion diamond has to do with the fire and brilliance of the cut. Pillow cuts were originally made to sparkle and shimmer under the flickering flames of candlelight, and the fire and brilliance of this cut is slightly more subdued compared to other types of fancy diamond shapes and the round brilliant cut.
Instead, the cushion is beloved for its ability to disperse light – an effect which sometimes creates a soft captivating kaleidoscope rainbow of colors.
While newer advances in the cushion cut have increased the brilliance of the cut, the cushion diamond will never achieve the stunning flashy effect of the Round Brilliant or – for example – the Princess or the Asscher Cut diamonds. If you are looking for a ring with serious eye catching bling, this may not be the right type of cut for your diamond engagement ring.

The cushion cut has large facets too – and larger facet sizes will highlight any inclusions or blemishes in a diamond or gemstone, and the cut will also draw attention to any slight tints of color in a diamond particularly in sizes over 1.0 carat.
Because of these characteristics, it is best to choose cushion cut engagement rings created with a diamond within these diamond grades:
Cushion Cut Engagement Ring Picks! (All available with matching bands)

A GIA clarity grade of VS2 and above - or a 6 and above on the AGS clarity grade scale.


A GIA color diamond grade of G and above - or a 0.5 and above on the AGS color grade scale.

You can choose values that are slightly lower on smaller diamonds, because any flaws will not be so apparent, but on larger carat sizes especially - as you reach 1 carat and higher - try to stick within these parameters.


Best Settings for Cushion Cut Engagement Rings
The absolute best setting for a cushion cut diamond ring (and gemstone ring) is a 4 prong setting. This type of setting will securely hold and protect cushion cut gems without blocking the light – so this setting will maximize the brilliance and fire qualities of the cut.
6 prong settings, and double claw prong settings, are sometimes used to hold longer, larger or more rectangular shaped cushion cut diamonds and gemstones – but for the most part a 4 prong setting is enough to secure the gem.
Contemporary cushion cut styles sometimes use a bezel setting which wraps around the entire gem, but this type of setting can block the light from entering a diamond – reducing the brilliance of the stone. If you enjoy modern engagement ring styles keep in mind that the bezel setting on a cut like the cushion, that already sacrifices a bit of brilliance and fire, will not display an intense level of sparkle and flash.
Bezel settings do however look fantastic on cushion cut gemstones like Sapphires, Aquamarines, Rubies and Citrine.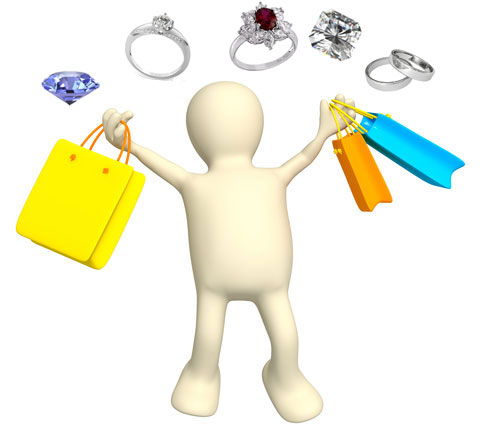 Shopping Tips for Cushion Cut Engagement Rings
To find quality cushion cut engagement rings, stick with rings that come with certified diamonds which come with a report from a top diamond certification laboratory. The best and most highly respected laboratories for diamond certification include the GIA, AGS, EGL or IGI. 

Because cushion cut diamonds will magnify any flaws, keep the grade parameters listed above in mind when you are shopping for a cushion cut diamond ring.
As mounted diamonds cannot be certified, if you are searching for antique for vintage style engagement rings with a cushion diamond, look for rings that come with appraisal reports and/or certificates of authentication.

Brilliant Earth: This highly environmentally friendly jewelry boutique has a large selection of GIA certified loose cushion cut diamonds and lab created diamonds in sizes from less than a carat to a little over four carats along with a captivating selection of cushion diamond ring styles.

All BE rings are handmade in the USA and available in band metals which include platinum and 18K white and yellow gold and 14k rose gold (palladium is also available by special request). BE is also the best place for custom made cushion cut diamond rings through BE's online design team.

Blue Nile: Here you will find a large selection of loose cushion cut diamonds ranging in small to extra large sizes which can be set in pre-designed engagement ring styles. Blue Nile also has a select collection of cushion cut engagement rings from their studio designers and rare natural colored loose cushion diamonds.


Gemvara: A selection of gorgeous GIA certified cushion cut diamond rings are available through Gemvara, and this is definitely the place to visit if you are looking for a cushion cut gemstone engagement ring. Gemvara has a large selection of cushion cut gemstones including cushion cut sapphires, rubies, aquamarines, citrines, amethyst, blue topaz, garnet and iolite. Band metals are available in sterling silver, platinum, 18k/14k white, yellow and rose gold. Cushion engagement rings may be customized with a variety of gemstones.


Clean Origin: If you are searching for a lab created cushion diamond or wedding ring, this jewelry company specializes solely in lab created diamonds which have the same exact qualities as natural diamonds. You can also find loose lab created cushion diamonds and loose fancy colored lab created cushion diamonds.

Adin Fine Antique Jewelry: Adin has one of the largest online selections of antique, vintage and estate jewelry pieces, and occasionally carry cushion cut diamond rings. Most rings are also resized for free here, and come with certificates of authentication, plus you can receive a 5% Discount on any Adin purchase with code=Everything-Wedding-Rings!
Do you have questions or comments about cushion cut engagement rings?
Send us your questions or comments, or upload pics of your cushion cut engagement ring here to share with our readers!
What Other Visitors Have Said
Click below to see contributions from other visitors to this page...

Return from Cushion Cut Engagement Rings to Engagement Ring Styles
or
Return to Everything Wedding Rings Home