Pear Shaped Engagement Rings
And
Your Guide to This Unique Fancy Cut Diamond


Pear shaped engagement rings are made with a flattering and eye catching teardrop stone that is very complimentary to small and slender hands. Pear styles elongate fingers and add a classic touch of grace to both contemporary and traditional engagement ring designs.
To see if the pear cut is the perfect style for your wedding ring, take a look at the info below including pros and cons of pear shaped diamond rings, best settings for pear diamonds and gemstones plus extra valuable shopping tips.

Pear Cut Fast Fun Facts!
Rates 8th Most Popular Diamond Cut for Engagement Rings
Cut includes 58 facets
Best Setting: 6 Prong
Ideal GIA Grades: Clarity = VVS1 to VS2 Color = D to G
Ideal Length to Width Ratio: 1.50 to 1.75

And if you have any questions about pear engagement rings, just use the comment box at the end of the page to send in your questions or to share reviews and pics of your engagement ring!

Characteristics of the Pear Cut
The pear cut is a modified brilliant cut (also known as a fancy diamond shape), and a cross between the round brilliant cut and the marquise cut. Most pear diamonds and gemstones contain an average of 58 facets, but some have more or less depending on how the pavilion (underside) of the stone is cut.




The symmetry of the pear shape will depend on the length-to-width ratio of the stone.
Ideal pear shaped cuts have a length-to-width ratio of between 1.50 and 1.75.


Cuts with a ratio of less than 1.50 will begin to look like chubby (short and wide) teardrops.


Pear diamonds with a ratio of over 1.75 will begin to look like skinny (thin and long) teardrops.


Pros and Cons of Pear Shaped Engagement Rings
With combined techniques used to create the round brilliant and the marquise cut, a finely cut pear diamond or gemstone will have a high degree of brilliance and fire – more so than many other types of fancy cut stones. It is the beautiful shape of the pear, and its resulting flash and sparkle, which has kept this type of cut at the top of the list for unique fancy engagement rings for some time. 
Pear shaped engagement rings also suit a variety of styles. The versatile pear shape looks fantastic as a solitaire ring, but it also looks quite elegant when set with side stones (as in the 3-stone pear diamond ring).
Plus, rings with pear cut diamonds or gemstones can be worn either pointed towards the wrist or away from the wrist depending on the wearer's preference.
Cons to the pear shape include a bow-tie effect and the tendency to show even slight tints of color in pear cut diamonds.
The bow-tie effect causes a small shadow, in the shape of a bow-tie, to appear on the upper part of the pear's lobe. Quality cut pear diamonds and gemstones will minimize the effect of a bow-tie shadow, but in poorly cut pear stones the effect can be quite noticeable.
Because the pear cut will show any tints of color on diamonds, couples looking for pear shaped engagement rings should stick with diamonds that have excellent color grades.
Either a G or higher on the GIA color grade scale or a 1.5 or higher on the AGS color grade scale (these values are at the top of the near colorless scale). But keep in mind that diamonds with near colorless grades come with a higher price tag.

Best Settings for the Pear Shaped Cut
The absolute best setting for a pear cut diamond ring is a 6 prong setting: two prongs on each side of the pear's lobe and a top bottom prong. The lower prong should completely protect the delicate and vulnerable 'V' on the pointed end of the pear. If the point is left exposed on a pear shaped diamond ring or a pear gemstone ring, the stone can catch on hair and clothes and has increased risks for chipping.
The next best setting for pear diamonds is a 5 prong setting - this setting just has one less prong on the widest portion of the top of the diamond and is sometimes used on smaller carat stones. 
With the somewhat delicate pointed tip of the pear diamond, whatever setting you choose make sure that there is a V-prong protecting the tip.

Halo diamond settings will also provide added protection to pear shaped rings, plus smooth out the bottom V on the pear cut (in case you are worried about the pointed pear bottom snagging on clothing).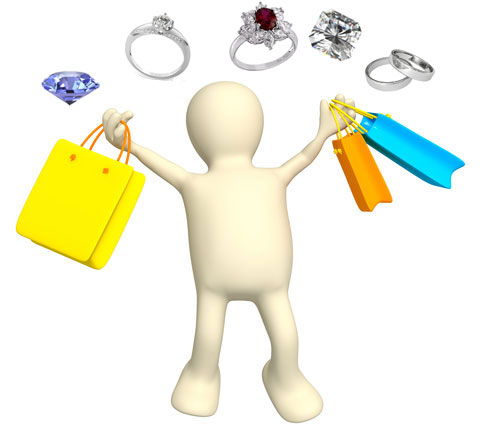 Pear Engagement Rings Shopping Tips
Begin your search for the perfect pear wedding ring by sticking with reputable jewelry boutiques and retailers which specialize in rings crafted with certified diamonds.
The top certification laboratories for diamonds include the GIA, AGS, EGL or IGI.
Your pear shaped engagement ring should come with a complete laboratory report which contains info on the stone's clarity and color grades plus the carat weight and a detailed map of the diamond.

Check the length-to-width ratio before you buy a loose pear diamond or a pear cut diamond ring (especially if you are shopping for your engagement ring online). Stick with ratios of 1.50 to 1.75, and make sure the cut is even: look for diamonds which exhibit equal lobes and symmetry throughout the pear shape.
Keep in mind the pear's tendency to enhance even the slightest tints of color in diamonds. If you want to be sure that your diamond will have the highest amount of brilliance and fire, and no tints of color, look for diamonds on the higher 'near colorless' grade scales.
If you are looking for antique or vintage pear shaped engagement rings, the rings should come with an appraisal and/or certificate of authentication. (This is because mounted diamonds cannot go through the certification process).
And if you have any questions that need to be answered before you can find the perfect pear cut diamond ring or gemstone engagement ring, just use our handy comments and questions box below!


Do you have questions or comments about pear shaped engagement rings?
Send in your questions and comments, or upload pics of your pear wedding rings to share here!
Comments and questions from EWR visitors
Click on the links to see comments and answered questions...

Bow-Tie Effect On Pear Diamond Not rated yet
Dear EWR Team! I would like to kindly your expert opinion. I am thinking about to order a pear-shape diamond and I asked to send me photo from the candidate. …
Popularity of the Pear Shaped Ring Not rated yet
Is the pear shaped ring less popular these days? Hello, The pear cut for diamonds and gemstones has never been one of the most popular shapes …
Return from Pear Shaped Engagement Rings to Engagement Ring Styles
or
Return to Everything Wedding Rings Home