The
History of Wedding
Rings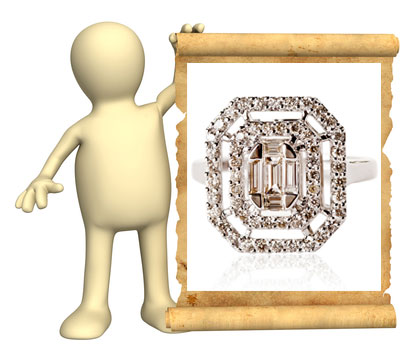 Find the fascinating history of wedding rings and identification tips for authentic antique wedding rings and vintage engagement rings from specific eras here. We've got a complete run down on the six main design styles of the times behind wedding and engagement rings starting from the Georgian era. And if you have any questions about wedding ring history, just scroll to the end of the page and send in your questions!
Fun Fast Facts About
Wedding Ring History!

Platinum rings became widely available during the Edwardian Era
Palladium rings debuted in the 1940s when platinum was utilized for the War Effort.
Rings from the Victorian Period often lack a hallmark stamp because they were not required by the British government during the 19th century.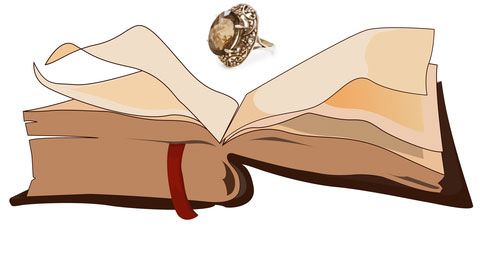 History of Wedding Rings and Engagement Rings Traditions

The exact beginning of the wedding ring tradition remains a mystery, but archaeological evidence of wedding rings has been found dating back thousands of years ago to ancient Egyptian times.
Cultures around the world developed their own wedding ring traditions - fiancees were given rings as a promise of betrothal, to signify a commitment to the marriage contract and even as an exchange of wealth.
Early wedding bands were often quite simple and crafted out of iron or bronze. Gold and silver wedding bands were only available to the upper classes and royalty for quite some time - and it wasn't until numerous gold mines were discovered around the world during the 19th century that gold wedding bands became widely available.
The use of diamonds in wedding rings did not appear until around the end of 15th century - and their first appearance occurred again among royalty and the nobility. These diamond wedding bands were most often used as betrothal rings - given to the fiancee when the official engagement was announced or the terms of the engagement were contractually agreed to.
Because gold and silver diamond bands were very precious a "keeper" ring was placed over the top of the betrothal ring to ensure the betrothal ring was not lost or did not accidentally slip off without notice.
The official "engagement ring" did not arrive on the scene until the late 1800s - and it was the discovery of the South African diamond mines combined with a huge influx of newly mined gold which led to the availability of gold and diamond engagement rings. Since that time, the betrothal ring became the engagement ring and the keeper ring became the wedding band.

Men's wedding bands did not become a regular tradition until around World War II - but in some cultures men wear plain bands on their ring finger when they became engaged. The tradition of men's engagement rings has made rare appearances throughout time, but recently is becoming increasingly popular.
Specific styles, metals and materials and specific history of wedding rings design eras starting with the Georgian era are covered below!
The Georgian Ring: 1714 – 1830

An authentic Georgian Ring is definitely a rare find, and rings crafted before this era are even rarer.
Jewelry metals used in the Georgian era were usually 18 karat gold - although 10, 15 and 22 karat gold were sometimes used too even though lesser karat alloys were technically not legal to sell. In some cases silver, and particularly silver plated over 18K gold, was also used to create Georgian Rings and settings for diamonds and gemstones in the rings.
The styles of the time were Greek inspired designs. Many of these antique wedding bands were shaped with intricate metal work designs including acorns, doves, flowers, leaves, scrolls, and wheat stalks. Additional rings of the time were mourning rings, locket rings, and the poesy ring.
*An important date in the history of wedding rings occurred in this era. Before 1750, all rings were created with hand-hammered alloys and sand casting methods. After this date, machines were invented to cut out the hard work needed to create alloys by hand.
Gemstones of the time included emeralds, rubies, sapphires, sometimes pearls and in rare cases small diamonds (large diamonds would not become widely available until the late Victorian era). Gemstones were set in silver, and stones were given simple old world cuts such as the table and rose cut.
Additional decorations made with royal blue glass, coral, mother of pearl, and shell were also used to create rings from the Georgian era.
Why are rings before the Georgian era so difficult to find? Because pure metals before this time were hard to come by, and very rare. Metal jewelry pieces were often reserved for royalty or the nobility and upper classes only - and many of these pieces were later melted down to create new more modern jewelry brooches, rings, earrings and hat pins. Rings crafted before the Georgian era which have survived in good condition are often found only in museums and private collections.

One of the few online resources for authentic Georgian jewelry including rings is Adin Antique Jewelry, located in Belgium this antique jewelry store specializes in antique collections of all types of jewelry - they also offer appraisal and restoration services and ship worldwide. Click on the link to see a current collection of Adin's Georgian Jewelry. (P.S. If you decide to purchase any items from Adin, mention code=Everything-Wedding-Rings to receive a 5% discount!).

Rings from this era were most often crafted from gold and silver.
Before 1854, rings were created usually with 18 karat gold; after this date, the manufacture of 15 karat, 12 karat, and 9/10 karat gold became legal. (This is an important date in the history of wedding rings for antique wedding ring shoppers to keep in mind).
The different Victorian style eras defined many significant changes in the history of wedding rings:
Early Victorian Period wedding rings that were created between 1837 and 1860 had a large, bright, bold, and lively style. Popular designs included the Victorian snake ring and rings which had Celtic designs. The use of gemstones (brightly colored ones at that) was the a la mode style of the time.
Before the South African diamond mines were opened in 1870, diamonds were still quite rare. Diamonds on Victorian wedding rings before this time were usually quite small and cut using the rose-cut style, and they were often set in clusters to form a larger ring.
Gemstones of this period included amethyst, chalcedony, garnet, ruby, and topaz. It was also popular to create engagement rings using the bride's birthstone.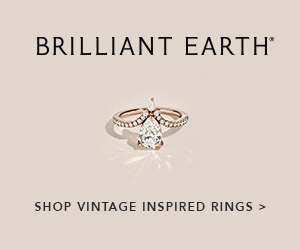 Mid-Victorian Period rings, (1860 - 1885) began to take on a different tone. Silver was used more often to create rings, and the different types of gold karats that were now allowed on the market became very popular, especially the rose gold rings. (Shoppers looking for antique gold rose rings should look for rings created during this time.)
Popular gemstones and designs during the Mid-Victorian period included opals, crystals, emeralds, pearls, black glass, and the ruby.
New styles for this era included designs that featured acorns, hearts, bees, birds, stars, and daisies.


During the Late Victorian Period from 1890 – 1901 wedding and engagement rings went through big changes with the diamond rush, the use of platinum for ring settings, and the shift from hand-crafted rings to rings that were mass produced using machines.
Favored jewelry gemstones of the Late Victorian Period included aquamarine, emeralds, periodot, rubies, diamonds, opals, turquoise, chrysoberyl and sapphires.

Styles of the Late Victorian Period were a light and airy extension of the Mid-Victorian designs and included stars, bows, feathers, moons, oak leaves, knots, flowers roses, horseshoes and birds and Egyptian motifs.

*Important History of Wedding Rings Date: This is the first time that platinum was widely used for gemstone and diamond settings instead of silver.
*Another Important History of Wedding Rings Date: This was also the period of time when the solitaire diamond engagement ring made its first debut.


Art Nouveau rings are defined by their imitation of natural themes and symmetrical lines. Rings of this era were most often crafted out of gold, particularly 14 karat white and yellow gold, but also silver and sometimes platinum.

This is the era when fired enamel processes took off, and many Art Nouveau rings featured an almost stained glass appearance due to the new enamel works that became available.
Popular motifs during this time included flowers, animals, and insects. Large diamonds were not popular in the design of rings from the Art Nouveau period.
Gemstones such as agate, amber, amethyst, emerald, synthetic rubies, small diamonds, garnet, opals, and seed pearls were most often used for ring designs from this time period.


Edwardian rings were often very delicate, light, lacy, and feminine pieces. While gold was used to craft rings from this era, Edwardian jewelry, and especially rings, are most often recognized by the use of platinum and diamonds (particularly large diamonds) and stunning filigree work.

*Important History of Wedding Rings Date: This is the first era when platinum rings (not just settings) became widely available.
Popular motifs of the Edwardian design era included garlands, leaves, bows, moon and stars, flowers, hearts and shamrocks.

Gemstones popular during this era were amethysts, aquamarines, black opals, emeralds, garnet, pearls, rubies, sapphires, and peridot.
Art Deco Rings, much like their name, were sharp pieces that featured geometric designs and strict linear styles created from the artistic cubism styles of the day.
Motifs of the Art Deco jewelry design period were highly colorful artistic combinations of floral and feather designs combined with abstract Egyptian, Oriental and sometimes African style patterns.

Diamonds were the most popular gemstones used in Art Deco rings; additional gemstones included black opal, coral, emeralds, jade, mother-of-pearl, rubies, sapphires, and quartz crystals. Platinum was the main metal used to create Art Deco Rings, but white gold and sterling silver were sometimes used as well.
*Because Art Deco rings were crafted during the Edwardian Period, sometimes Art Deco rings are also called Edwardian Period rings.

Art Deco engagement and wedding rings, much like their name suggests, are truly pieces of art - unique rings that can be cherished and admired for future generations to come!

Retro Rings reflected the times of World War II, and as a result rings from this period are also very notable in the history of wedding rings. This is the period of time when platinum disappeared from use during the early 1940s, and white gold mixed with silver and palladium alloys came into commercial use for the creation of rings.

This is also a time when matching bridal sets were seen more often in jewelry stores.

Gold made a big comeback as well, in addition to gold alloys used to create rose gold.
The main style feature of Retro rings is symmetry meets asymmetry, as result of a combination of Edwardian and Art Deco influences. Motifs were also extremely patriotic and often included flags or blue and red gemstones combined with white diamonds. American Indian designs plus scrolls, shells, birds and flowers were also quite popular.

The most widely used gemstones during the Retro period were rubies, but amethyst, aquamarine, citrine, large and small diamonds, moonstones, and pearls were used as well. Many of the gemstone pieces from this era were very bold and dramatic, and in direct contrast to the delicate Edwardian period styles.
New History of Wedding Rings: 1950's Antique Wedding Rings
Only recently have jewelry pieces from the 1950's received recognition for their unique style and now 'antique' status in the halls of the history of wedding rings.
It was during this age that the DeBeers Company advertised the slogan "Diamonds are Forever," and it was during the post World War II boom when the middle class were able to afford luxurious wedding and engagement rings. The DeBeers slogan was a hit, and the 1950's Post-War Modern era wedding rings are usually defined by their large diamonds and use of large diamond clusters.
Popular designs of this period are the opposite of the Art Deco style and include twisted ropes, braided styles, and curvaceous lines; styles of leaves, flowers, stars, bees, and butterflies were also popular. Yellow gold became the metal of choice, but platinum came back into use after the war.

Some 1950's rings are composed of platinum or white gold, and many jewelry pieces from this era combined diamonds with gemstones. This was also the time when rhodium plating became widely used commercially for white gold and silver rings.
Now that you are familiar with the history of wedding rings, check out antique wedding rings for more info and additional tips if you are interested in purchasing an antique or vintage wedding ring!
Do you have comments or questions about the history of wedding rings?
Send in your questions or comments about the history of wedding rings here!

I will post answers to your questions as soon as possible!
Comments and questions from EWR visitors
Click on the links to see comments and answered questions...

Ring with Thailand Stamp and Age of Ring?

I am trying to find out if a ring I have seen is vintage or new. It is sterling, but stamped Thailand. My gut tells me Thailand means new. Do you agree? …
What Era Is This Ring? Not rated yet
What a wonderful site I'm so glad I found it. I have purchased this ring,it's still not in my possession anxiously awaiting for it to arrive. But I am …
Antique Rose Gold Wedding Ring Not rated yet
I was married this past August 27th, and I would love to talk with someone about my antique wedding band and maybe get an appraisal. We found it in …
Return from the History of Wedding Rings to Antique Wedding Rings
or
Return to Everything Wedding Rings Home