Titanium Wedding Bands
and
Black Titanium Rings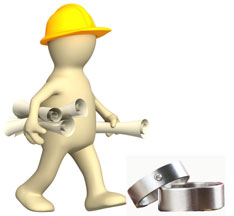 Titanium wedding bands are quickly rising in popularity due to titanium's high degree of strength, lustrous and luxurious look, lightweight properties and affordable prices.
To find titanium wedding rings that will truly last a lifetime, take a look at the handy guide below.
Here you will find info on the best titanium grade for rings, pros and cons of rings made with this highly durable metal, what type of black titanium rings to look for plus extra shopping tips.
Fun Fast Facts Titanium Wedding Bands!
Titanium is the lightest wedding band metal.
Titanium rings are not scratch proof, but they are highly resistant to scratches and dents.
Titanium wedding rings are hypoallergenic.
And if you have any questions about titanium wedding bands which are not answered here, send in your questions through the comment box at the end of the page!
What Exactly is Titanium?
Titanium is a chemical element classified as a transition metal on the periodic table. It is the 7th most abundant metal on earth, and titanium metal has even been found in some types of meteorites - it is also believed that titanium is present on our sun too. The color of the metal is a very light white/gray, and the finish of the metal can be changed through polishing, brushing and other methods.

One of the most fascinating things about titanium is that it has the highest strength-to-weight ratio of all the transition metals. This means that even though titanium has a very low density - and is light in weight - it is extremely strong too.
Titanium has a density of 4.11 while tungsten has a density of 19.25. A titanium wedding band will literally feel light as a feather on your finger even in high mm styles. 
What Type of Titanium is Best for Titanium Wedding Bands?
The properties of titanium can be changed by mixing it with other metals to create alloys - heat and finishing treatments too can affect the durability of titanium. Titanium metals are divided into grades - from Grade 1 to Grade 4.
Grade 1 is the softest form of titanium, and Grade 4 is the hardest form of titanium.
For the purposes of titanium wedding rings, the best type of titanium is Commercially Pure (CP) Grade titanium which is 99% pure. CP titanium is available in Grades 1 through 4, but for wedding rings Grades 2 to 4 CP is best. While these rings are extremely strong and scratch resistant, they can still be removed with regular cutting tools in the event of an emergency.
Most CP Grade 2 to 4 titanium rings may also be resized (although some cannot be sized due to the design of the ring) and engraved either with traditional engraving tools or with laser engraving methods.
What about Aircraft Grade Titanium Rings?
There are a ton of titanium wedding rings on the market made from aircraft grade titanium rings - but there are a few things you should know about these rings:
Aircraft grade titanium is 90% pure titanium by weight and alloyed with 6% aluminum and 4% vanadium to increase the natural strength of titanium metal even more.
The World Titanium Council does not endorse these types of rings, especially for a titanium wedding band, because they are so strong that they cannot be removed easily in an emergency nor can they be removed using regular ring cutting tools.
It is also impossible to resize, repair or engrave aircraft grade titanium rings.

Because CP Grade 2 to 4 titanium wedding bands are extremely strong in their own right and are high quality rings, and because aircraft grade titanium rings come with some safety risks, Everything Wedding Rings does not recommend rings made with aircraft grade titanium.
Top Titanium
Wedding Band Picks

What are Black Titanium Rings?
Black titanium wedding rings are created by either treating the titanium through a process which transforms the color of the metal (like with silicon dioxide and heat) or by applying a black plate. Black plate may be applied through a number of processes including ion applications and heat/glue treatments.
While there are a number of stunning black titanium wedding bands available, the problem is that few of these bands are actually created through a treatment process which transforms the entire color of the bands.
Black titanium rings which have ion black plate, or just a color plate, applied to the surface of the titanium will not last. The black coating will eventually wear away - and while ion treatments are more durable than a standard plate, the ion surface will eventually chip and wear away too. If you are shopping for a black titanium wedding band, remember:

Real black titanium rings always involves a treatment of the entire metal and not just a coating - ion or otherwise - over the surface.
True black titanium rings can be sometimes be difficult to find - avoid purchasing any black titanium rings that use terms like 'black plate' or 'plating'.

Pros and Cons of Titanium Wedding Bands
Titanium wedding rings have the durability and strength to stand-up to lifelong wear and tear. These rings are 100% hypoallergenic (titanium is so bio-compatible that it is even used to create artificial joint replacements) and resistant to corrosion and tarnish - titanium will even stay resistant to tarnish even if exposed to salt water.

Titanium is also a very poor conductor of heat and electricity - so if the ring is exposed to heat it will not become hot. And while titanium is extremely strong, it is also very light in weight.
Titanium wedding rings are also available in a wide range of prices - from quality rings that are extremely affordable to rings with high-end designer price tags.

Last but definitely not least, titanium wedding bands are crafted with a low-environmental-impact metal.

Now for the cons.
Because titanium rings are so strong, resizing and repairing the rings can be expensive. The strength of titanium can also be a hindrance when it comes to available styles of titanium rings - particularly titanium engagement rings.
While titanium may be inlaid with metals, and transformed into very contemporary smooth designs, it is extremely difficult (if not impossible) to style titanium into any type of intricate design. For this reason, styles of titanium engagement rings are very limited - you will not find traditional engagement ring styles available (at this time) in titanium. However, there are some ladies titanium rings crafted in modern styles - for women who want to go with a unique and edgy type of engagement ring and band look.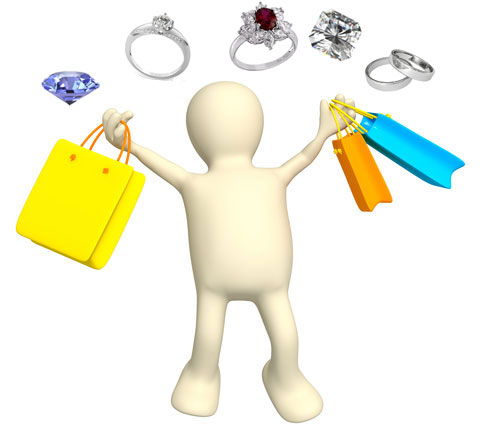 Shopping Tips for Titanium Wedding Bands
Stick with titanium wedding rings which have been crafted with the Commercially Pure titanium Grade 2 - 4 metals. If you are shopping for black titanium wedding rings, check the info about the rings and make sure the rings have not been transformed to a black color through ion plate - or any other type of plate.
If you are interested in titanium wedding bands which are created with designs which feature other types of metals, make sure the metal features are inlay only - this means that a solid strip of metal has been inlaid into the ring's design. Avoid rings which merely have another metal plate to mimic an inlay design, as the plate will quickly wear off and chip away with time.
Keep in mind that the inlay designs made with metals - like gold or silver - are not as durable as titanium. If scratches occur on the metals, they can often be buffed out - but these rings will need to be treated with a little more care than a solid titanium ring.
Stick with retailers that offer at least a 30-day refund policy and with retailers that guarantee their work. Check to see if the rings can be resized, and if they cannot due to the ring's design see if there is a lifetime exchange policy that will allow you to exchange the ring if your finger size changes in the future.

Avoid titanium rings made with cubic zirconia as these types of rings do not hold over time.

For the mm width of the band: for most men, a width of 6 to 8 mm looks great and wears well, however for men with really large hands a ring width of 8 to 10 mm usually looks best and more balanced - and a width of 4 to 6 mm is usually perfect for women's titanium rings.
Do you have questions or comments about a titanium wedding band?
Send in your titanium wedding band questions or share your comments here! You can upload pics of titanium rings here too : )

I will post answers to your questions as soon as possible!
Comments and questions from EWR visitors
Click below to see contributions from other visitors to this page...

Titanium Wedding Band Size Not rated yet
Could you please tell me if you would take the same size in a titanium wedding band as you would in a gold wedding band, or should it be larger or smaller? …
Return from Titanium Wedding Bands to Everything Wedding Rings Home