Benitoite Gemstones: Rare and Remarkable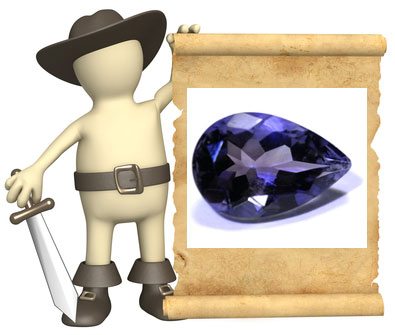 Benitoite is a unique, stunning and rare gem. As the state gemstone of California, it is prized for a pure deep, dark, blue color and its ability to disperse light to create flash and fire qualities which are similar to a diamond.
This captivating stone is even sometimes confused with sapphire, but it has a higher degree of flash and fire than sapphire. Though it can be hard to find, the qualities of this blue gemstone are ideal for unique engagement or wedding rings.
Benitoite Fast Fun Facts!

Birthstone Month? None

Durability: Very Good

Meaning: Blessings and Fortune

Flash Factor: Good
Special Care: some
Price $$: Moderate

Availability: Rare
Find out more about 'Benito' gems below including properties, price guides, special care and shopping tips. And if you have any questions that are not answered here, send them in through the comment box at the end of the page!
Properties
One of the most challenging aspects to creating a fine ring featuring this stone is the rarity of the gem. As most pieces discovered are very small, there are few gemstones of this size that are one carat or larger; many rings feature multiple clusters of the bright blue gem instead of one large stone.
Durability = Very Good
Hardness = 6.0 – 6.5
Refractive Index = 1.76 – 1.80
Specific Gravity = 3.60 – 3.68


Gemstone Meaning
This gemstone was named for the "Benito" area in California where it was first discovered. The term "Benito" means blessed, and as a result those who are lucky enough to own a fine specimen of this gemstone should considered themselves fortunate and blessed.

Enhancements
At this time natural benitoite gemstones are not enhanced or treated.


Special Care
With a hardness rating of 6.0 – 6.5, this durable blue gemstone does need some special care. It should only be cleaned with a soft cloth that is free of dust and fine debris. Cleaning methods using heat, ultrasonic machines, and chemicals should be avoided. In time, like other types of gemstones it may need a professional cleaning and polish to restore its natural luster. Care should be taken to avoid scratches.
Because exposure to heat, ultrasonic machines and chemicals can damage the gemstone, white gold with rhodium plate should be avoided - as the re-plating process could damage the stone. Instead, stick with platinum, palladium or red/yellow gold.

This gemstone is currently mined in California, Arkansas, and Japan, although most gem quality stones are only found in California.


Price Guide
Current prices are on average $3,000 per carat. Smaller carat sizes come out to an average of $700 per carat; the cost per carat rises dramatically according to its size since one carat or above gemstones are rare.
Prized benitoite gemstones have the characteristic deep dark blue associated with this gem, in addition to depth, fire, and brilliance.
Cut is also important to the overall value of the gemstones, as is the absence of any inclusions or blemishes.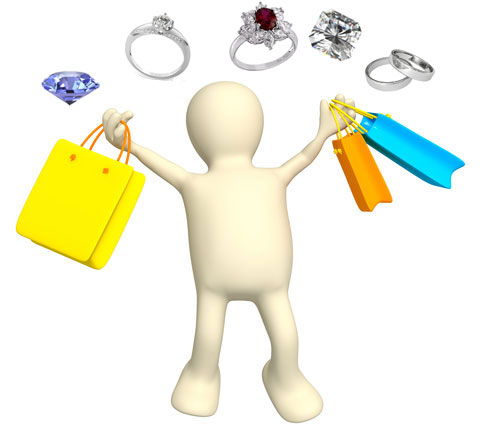 Gemstone Shopping Tips
Synthetic gemstones of this kind have been grown in laboratory settings, but only in very minute quantities. On today's market, no synthetic exists but buyers still need to beware (while not common, some disreputable sellers try to sell colored cut glass as authentic gemstones).
Ebay generally has a selection of cut faceted loose benitoite gemstones, these stones can be sent to designers like Brilliant Earth's Custom Wedding Ring Designers to be set in an engagement or wedding ring - as a general gemstone ring rule the best metals to use are those which will not require a rhodium plate such as palladium, platinum, yellow gold or rose gold.
A limited selection of benitoite rings and gemstones can also be found on Etsy.
Forrest Gemstones also has a small selection of faceted benitoite gems, and may be a source to send rough benitoite for custom cutting.
To ensure that you are purchasing a genuine gemstone, pay attention to price, seller reputation, and a light fluorescence test:


This gemstone is priced higher than many other types of gemstones due to its rarity. If anyone tries to sell you a 'Benito' gem for a too-good-to-be-true price it probably is not the real thing.


Real benitoite will always display fluorescence under a UV light; many gem hunters use this characteristic to find Benito gems on the ground in areas where the gems have been discovered.


Always purchase your gem through a retailer who offers a refund policy - a jeweler in your area can test the gem for fluorescence, or if you have a UV light (or black light) at home you can perform this test yourself.


Research the seller or retailer - use online resources to check for reputation, comments or reviews and make sure the seller/retailer is legit.


These gemstones are not readily available already set in a gemstone ring, if you would like an engagement ring or wedding ring featuring the famed "Benito" gem, you will probably need to purchase the stone rough - or for fun, try finding benitoite on one of the gemstone vacation tours offered in California - and have the stone cut.
If you have a rough benitoite gem that needs to be cut and fit into a ring, make sure that you only take the gem to a jeweler who has experience working with this gem.


Do you have questions or comments about benitoite gemstones?
Send in your questions or comments here or upload pics to share images of your beautiful benitoite gems or ring!

I will post answers to your questions as soon as possible!
Comments and questions from EWR visitors
How to Sell Benitoite Stones? Not rated yet
I live in Santa Clara county, I have accumulated a rather large collection of huge specimens & stones, and I am looking to sell them off. How do you recommend …

Return from Benitoite Gemstones to Gemstone Engagement Rings
or