Diamond Buying Tips
for Loose Stones and Diamond Wedding Rings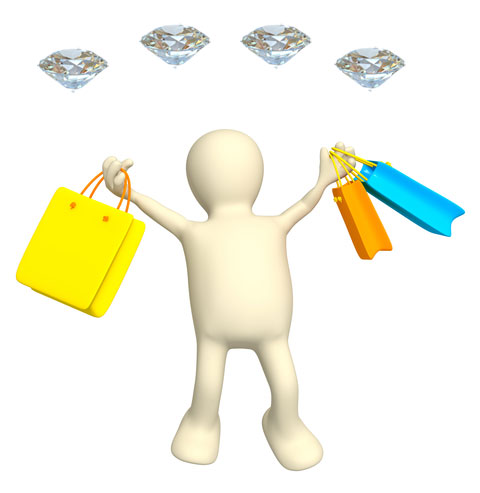 These diamond buying tips include need-to-know information provided in many of the diamond education pages on Everything Wedding Rings.
Before you buy a loose diamond, or a quality diamond ring, take a look at these tips to make sure you are purchasing a truly spectacular diamond for the right price.
Here you will find diamond grade parameters to stick to along with valuable shopping info about diamond cuts, certifications and diamond shapes.

Fun Fast Tips for Buying Diamonds and Quality Diamond Rings!
Stick with diamonds which have been certified by the GIA, AGS, IGI or EGL.

Antique or estate diamond rings with no certification should come with a reputable appraisal.

GIA certified diamonds with a color grade of D-I will not show any color tints to the untrained eye.
And if you have any questions about buying a diamond or a diamond ring which are not answered here, just use the handy comment box at the end of the page to send in your questions!
Search for Ideal Loose Diamonds at Blue Nile!


Start with Certified Diamonds
The #1 of all diamond buying tips to keep in mind is to buy certified diamonds only. If you are buying a loose diamond, or any piece of diamond jewelry, make sure the diamond is certified. Ideally too, the diamond certification should be provided by one of the four top gemological laboratories in the world:
The Gemological Institute of America (GIA) - considered the best in the biz.
The American Gem Society (AGS)
The International Gemological Institute (IGI)

The European Gemological Laboratory (EGL)

Premium diamond wedding rings and engagement rings too are crafted with diamonds which are certified by one of these laboratories.
The only exception to this recommendation is if you are buying a diamond antique engagement or wedding ring, an estate ring or a gently used ring that contains a diamond which has not been previously certified.
Because diamonds which are already mounted cannot go through the grading and certification process, these rings should come with an appraisal conducted by an unbiased third party who has no relationship to the seller.
The best diamond ring appraisals by far are those which have been issued by a certified American Gem Society gemologist appraiser. When you shop for diamond rings that are not made with certified diamonds, a reputable appraisal and a certificate of authenticity will ensure that you are purchasing a first rate diamond and that the ring is reasonably priced.


The Best Diamond Grades
As a general guideline to go by, the best AGS and GIA diamond grade parameters to stay with whether you are shopping for loose diamonds or a diamond ring are:


Diamond Color

GIA = D to I

AGS = Zero to 3.49


Diamond Clarity
GIA = IF to SI2

AGS = Zero to 5


Diamond Cut
GIA = Excellent to Good

AGS = Ideal to 4

Diamonds which go beyond these grades will have noticeable color tints, diminished brilliance and fire and visually apparent inclusions. Diamonds too which have low clarity ratings may also have durability risks due to inner fissures or cracks. To see diamond grading charts for GIA and AGS diamonds, take a look at EWR's page about Diamond Cut Clarity and Color Charts.

For some types of diamond cuts, only the highest grade diamonds are recommended because certain types of shapes - like emerald diamonds - can highlight even the slightest flaw. Other types of diamond cuts - including the brilliant round - have a little more give and can actually hide small flaws. But, even with diamond cuts that are more forgiving it is still best to stay within the grade parameters listed above.

To find out more about the best diamond grades for specific diamond cuts and shapes, check-out Engagement Ring Styles.


Additional Diamond Buying Tips
Plenty of reputable diamond retailers sell certified diamonds. Unless you are buying an antique or gently used ring crafted with a diamond that has not been certified, there is no reason not to buy a certified diamond. GIA certified diamonds, and those available through the three other recommended laboratories, are widely available in an almost limitless selection of cuts, shapes and carat sizes.
Stick with retailers that offer at least a 30-day refund policy - both for loose diamonds and quality diamond rings.
If you are on a strict budget, a more affordable diamond with a slight color tint is an option - the color tint can be hidden or minimized if the diamond is set in a yellow gold ring.
Diamonds which have the maximum amount of fire and brilliance include: brilliant round, princess, radiant, and Asscher diamonds. If you are looking for a unique diamond with plenty of flash too, a pear diamond will fulfill both of these qualities.
Diamonds which have lower fire and brilliance qualities, but are favored for their antique-like style include cushion and emerald diamonds.
It is estimated that anywhere between 1 to 15% of the diamonds on today's market still fall under the category of conflict diamonds. To find out how to ensure your diamonds are conflict-free, check out this page on non-conflict diamonds.

And last on this list of diamond buying tips, but definitely not least, is that while large center stone diamonds are quite stunning, they can overwhelm smaller more delicate hands.
Consider the size of the hands and fingers of the person who will be wearing the diamond. For smaller hands diamonds from anywhere around 0.40 to 1 carat look lovely, while for those with larger hands 0.80 to 2.5 carat diamonds will suit wonderfully too. The perfect diamond will compliment the hand without looking bulky or over sized (bling lovers - disregard this advice!).


Questions or Comments about Diamond Buying Tips?

Do you have comments or questions about buying diamonds?
Send us your questions or comments here - I will post answers to your questions as soon as possible!
Return from Diamond Buying Tips to Diamond Wedding Rings
or