The Victorian Wedding Ring
and
Victorian Engagement Rings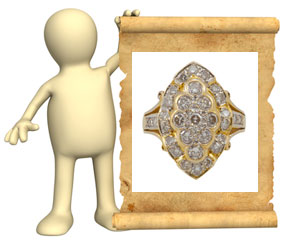 The styles of the Victorian wedding ring and engagement ring were defined by the reign of Queen Victoria from 1837 - 1901 and her everlasting affection for her beloved husband Albert. Victoria too had a great influence on the jewelry styles of the time, and it was her great love of diamonds that led to a revolution in diamond rings.

To find out more about these stunning antique rings including the metals and gemstones of the era plus tips on where to find authentic Victorian wedding rings, check out our helpful info below. If you have any questions about Victorian engagement rings or wedding rings that are not answered here, just send in your questions at the end of the page!
Fun Fast Facts About Victorian Era Rings!

The solitaire engagement ring first debuted in the Late Victorian era.

Many rings crafted during this Industrial Revolution era were mass produced.

Rose gold became a popular metal during the Mid-Victorian era.

Fake replicas of authentic precious Victorian rings were produced during this era.



The Victorian era is separated into three distinct times - which all have their own unique styles and history. These are the Early Victorian period, the Mid-Victorian period and the Late Victorian period.
Two very important changes to the metals and diamond gemstones used to create wedding rings and engagement rings occurred during the Victorian eras.
The first was the introduction of lower karat gold alloys; before 1854, precious rings were created mainly with 22k or 18k gold (75% pure gold alloyed with copper, silver, nickel, or a mixture of these metals) and silver, but after 1854 the gold standards changed and rings created with 15k gold, 12k gold, and 9k gold became legal on the market.
The second important change was the opening of the South African diamond mines in 1870; before 1870 diamonds were quite rare and most diamond rings contained clusters of small diamonds, but after 1870 when the South African mines opened large diamonds became available for use in wedding rings and engagement rings.



Early Victorian Wedding Rings: 1837-1860
Early Victorian engagement rings and wedding rings are recognizable by their bright colors and large size, use of gemstones, and bold designs which included snakes (a sign of eternal love) and Celtic type designs. For this age, ostentatious and over-the-top styles and designs ruled the day.

Early Victorian wedding rings symbolized the heydays of the early reign of Queen Victoria and her marriage to Albert. The Victorian snake ring became extremely popular during Queen Victoria's first years of marriage because Albert had given her a snake and emerald engagement ring. Whatever Queen Victoria wore soon became 'all the rage', and from this time on the Victorian snake ring enjoyed years of popularity.
Gemstones of this early period included amethyst, bloodstone, chalcedony, garnet, moss agate, ruby, smoky quartz, and topaz. It was also popular to create engagement rings using the bride's birthstone.
Rings often included multiple gemstones and other types of materials such as coral, ivory, tortoise shell, and seed pears. In some cases, inlaid images were placed under a gemstone.
Diamond rings frequently included small clusters of diamonds or small diamonds which framed circular or square shaped gemstones. The most popular diamond cuts of the day were the new "brilliant" cut and the old world rose cut.
Ring metals of the time included 22k and 18k gold, rose gold, pinchbeck (a gold imitation made with copper and zinc) and in later years 9k, 12k and 15k gold.
Popular motifs included natural themes like butterflies, clover, garlands, daisies, doves, Gothic symbols and letters plus snakes.
It was during the 1840s too that jewelry manufacturing really took off in the United States. Antique wedding ring shoppers should remember that even though rings from this time are over 150 years ago they are quite sophisticated in their metal and filigree work and quality of settings.




Mid-Victorian Wedding Rings: 1860 - 1885

During the Mid-Victorian period, ring styles began to take on a different tone. Albert passed away in 1861, and memorial rings (also known as mourning rings) became very popular again (they were initially quite popular during the Georgian era). Silver was more affordable, and the different types of gold karats increased in popularity.
Victorian engagement rings and wedding rings from this middle era are made from silver and various gold karat alloys (18k, 15k, 14k, 12k, and 9k). Rose gold rings created from gold alloyed with copper also became very popular during this time.
Couples looking for rose gold antique wedding rings should use the Mid-Victorian era as a starting point for their search.
Popular gemstones and designs during the Mid-Victorian period included opals, crystals, emeralds, diamonds, pearls, black glass, jet, and the ruby.
Design styles became less ornate and much more sophisticated. Rings were made by handcrafting, some die casting and gold wire work. Popular jewelry design motifs included acorns, hearts, bees, birds, stars, insects, shells, some flowers and geometrical shapes.
It is also during the Mid-Victorian era when the gold strike occurred in California in 1849, when the 1854 gold stamp law was passed in the United States and when the major diamond discovery in South Africa occurred in 1867. Due to advances in rail and transportation, this was also a great time of movement. As a result, many antique wedding rings and engagement rings crafted at this time made their way to different countries from their initial country of origin, and there was a marked increase in the use of gold and diamonds in jewelry - and rings - around the world.




Late Victorian Wedding Rings: 1890 - 1901
Wedding rings from the Late Victorian period are defined in a large part by their use of diamonds, cluster and marquise boat shapes, use of pearls and light airy styles which were an inspiration for rings made in the upcoming Edwardian period.



Victorian engagement rings went through big changes with the diamond rush, the use of platinum for ring settings, and the shift from handcrafted rings to rings that were mass produced using machines. Here is the era when handcrafted rings went from a mainstay to a mere novelty, and many of the age old techniques of metal work were lost to history - some for over a century, and others seem to have been lost for good.
The Late Victorian era was also when the solitaire diamond engagement ring made its first debut and quickly became popular by the mid-1890s. Platinum became widely used for gemstone, and especially diamond, settings for the first time too, replacing gold and silver settings.
Common motifs and jewelry themes prevalent during the Late Victorian period were bows and ribbons, lace-type filigree, stars, feathers, double hearts, crowns, doves, oak leaves, grape clusters and Egyptian designs.
Popular gemstones used in Victorian wedding rings and engagement rings, in addition to diamonds and pearls included aquamarine, peridot, rubies, sapphires, opals, amethyst, chrysoberyl, turquoise and emeralds.
Rings were made with metals including 18k, 15k 12k and 9k yellow gold, rose gold, silver and platinum became the preferred metal for diamond and gemstone settings in luxury pieces.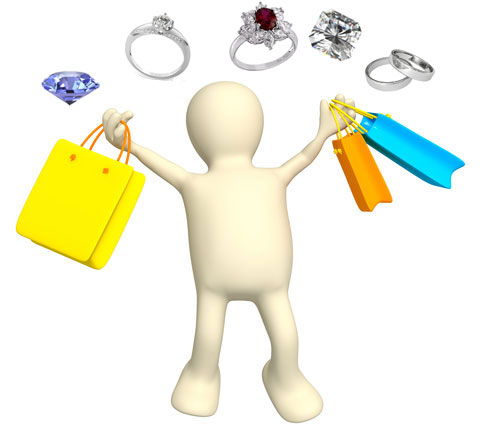 Shopping Tips for Victorian Wedding Rings and Victorian Engagement Rings
Where to find real Victorian rings:
Brilliant Earth has recently amassed quite an impressive selection of Victorian rings too. Previously, the collection of rings at BE were focused more on Art Deco, Nouveau and Retro rings - but now BE maintains a selection of genuine Victorian rings. (Keep in mind though, rings listed with Adin and Brilliant Earth tend to sell fast. While they work to continually maintain a selection of antique, vintage and estate rings, if you find a favorite it is best to reserve it as soon as possible!).


One of the most trusted resources for authentic Victorian rings online is Adin Fine Antique Jewelry. Adin maintains an impressive selection of rings from this era including Victorian snake rings, men's Victorian rings - even Victorian poison rings. And, Adin offers free ring sizing on most antique rings too! Plus, as a special bonus to our visitors, Adin is offering a 5% discount on jewelry purchases with the code=Everything-Wedding-Rings, just type in the code when you buy or mention this code if ordering by phone. You can see our favorite Adin Victorian rings plus antique, vintage and estate ring finds here.


Extra Shopping Tips for Victorian Engagement Rings and Wedding Bands
Couples searching for antique Victorian engagement rings and wedding rings - in person or online - need to be aware of a few issues which can affect the hunt for authentic antique wedding rings:
1. Fake Victorian ring replicas were produced even during the Victorian period. These replicas were made out of sub-standard materials and continued to be produced well into the 1900s. Victorian replicas became extremely popular again in the 1960s and then in the 1980s. Replicas are still produced today and it is not uncommon to see these replicas sold as "authentic" Victorian rings.
2. One defining characteristic of antique Victorian wedding rings - particularly those from the Early to Mid Victorian periods - is a lack of hallmark or maker's mark. These marks were not required by the British government until the later part of the 19th century, however they were required on rings made in the U.S. from 1854 on. One problem is that even though hallmarks and maker's marks were not required in some countries, they were still sometimes included on the rings - and replicas can contain fake stamps on the ring band. Fake replica stamps often have blurred edges and lack detail, but it takes an experienced antique evaluator to tell the difference.
The best step you can take to ensure that your ring is a real antique ring is to purchase your ring from a reputable antique dealer/jeweler who has a long history dealing in antique jewelry and in particular in antique rings.
Keep in mind too that rings from this era often look in like-new condition, while replicas and fakes often feature sub-standard work and scratches or pits to try to imitate an "antique" look.
If you are trying to find antique Victorian wedding rings or engagement rings through estate or private sales, remember the metals and materials of the day - particularly the use of platinum settings only in the Late Victorian period (before that, silver or silver over gold was used) and the prominent use of 18k, 15k, 12k and 9k yellow gold and rose gold.
Any antique wedding rings for sale which contain diamonds or valuable gemstones should come with a complete report on the stones too. A diamond certification is not usually available with antique rings, because the diamonds must be removed from their mounting before they can go through the certification process. Instead, an estimation of the diamond/gemstone carat weight and clarity grades should come with the ring.


Do you have comments or questions about Victorian wedding rings?
Send in your questions and comments, or share pics of your antique Victorian ring here!

I will post answers to your questions as soon as possible!

If you have questions about an antique ring you own, please send in as many details about the ring as possible with clear pictures.
Comments and questions from EWR visitors
Click on the links to see comments and answered questions...

Return from Victorian Wedding Rings to Antique Wedding Rings
or
Return to Everything Wedding Rings Home