Emerald Engagement Rings
and
Wedding Bands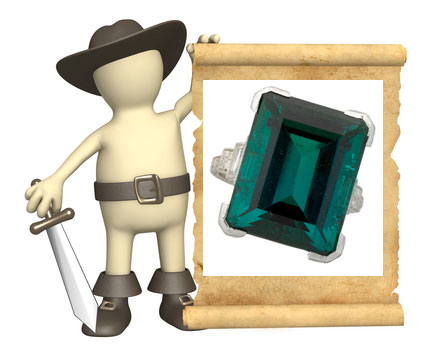 Emerald engagement rings have been treasured for centuries because of their beauty, rarity, and the emerald's association with Venus, the goddess of love. No gemstone captures the mesmerizing depths of a striking green emerald, but the prized and precious emerald wedding ring will require special care to ensure the quality of the emerald lasts a lifetime.
To find out if an emerald wedding ring is the gemstone engagement ring for you, use the info below including emerald properties, enhancements, care guidelines to keep in mind, price evaluations plus valuable shopping tips.

Emerald Fast Fun Facts!

May Birthstone

Durability: Good

Meaning: Endearing love

Flash Factor: Good
Special Care: Yes

Price $$: High

Availability: Moderate
And if you have any questions about emerald engagement rings and wedding bands, just use the handy comment box at the end of the page to send in your questions, reviews, comments or to share pics of your stunning emerald ring with future visitors!
Properties of the Emerald
Durability = Good for Quality Gems Which Have A Low Amount of Inclusions
Hardness = 7.5 – 8.0
Refractive Index = 1.577 – 1.583
Specific Gravity = 2.72
Emeralds are currently mined in Afghanistan, Brazil, Colombia, India, Pakistan, Russia, the United States, Zambia, and Zimbabwe. The most prized and rare emeralds with a high degree of clarity in larger carat sizes are usually found in Colombia.


The Meaning of Emeralds
The emerald has always been a gemstone that is symbolic of love and faith, and because of this belief ancient Romans offered precious emeralds as gifts to their goddess of love - Venus.
The emerald is also believed to be calming, soothing to agitated minds, and to bless the wearer with the gift of foresight.
The emerald is the classic birthstone for the month of June and the modern birthstone for the month of May.

Emerald Enhancements

Emerald gemstones are usually enhanced through a process which uses oil, resins and wax to coat the stone, heal any cracks, and improve the color, clarity, and overall appearance of the stone.
Enhancements which use colored dyes or colored oils are occasionally used. These enhancements are not acceptable by most processional jewelers because they have very poor stability ratings.
Avoid emerald engagement rings and emerald wedding bands created with color enhanced emeralds. Emeralds which have been dyed are labeled with a D.


Special Care for Emerald Rings
While emeralds can be fairly resistant to most types of scratches they still require special care especially for every day wear emerald engagement rings. Sudden temperature changes, steam cleaning, cleaning with chemicals, and ultrasonic cleaning can damage the stones and should be avoided.
Because emeralds are sensitive to ultrasonic cleaning and chemicals, it is best to avoid white gold emerald rings that must have a rhodium plate renewed every few years. Palladium and platinum are excellent alternatives to white gold!

Those who wear emerald rings should take precautions against hitting the rings against hard surfaces as some emerald gemstones may be brittle and prone to breaking.
Emeralds with a high degree of clarity and a small degree of inclusions are stronger than emeralds with low clarity and/or multiple inclusions. Emeralds which are heavily included will need to be treated with extra special care and ideally should be avoided in every day wear rings.
Emerald rings should be stored in a soft pouch or box separate from other pieces of jewelry to avoid scratches.

It is best to remove an emerald ring before swimming in chlorinated water too.

Emerald Price Guide
What can couples expect to pay for beautiful emerald engagement rings?
The average price of a quality emerald carat is around $1,000 dollars. But larger carat gemstones or gemstones with an excellent degree of clarity can fetch prices as high as $5,000 to $20,000 dollars per carat.
Factors such as carat, cut, clarity, and color all may have a big impact on the price of an emerald gemstone.
An ideal emerald gemstone has a high degree of clarity with few inclusions, a deep lustrous green saturated color exhibited throughout the stone - with hints or secondary flashes of blue - and a custom cut which maximizes the color, brilliance and fire qualities of the stone.
Emeralds often have internal inclusions, and emeralds with a high degree of clarity are very rare and priced much, much, higher than emeralds which appear cloudy or which contain even small amounts of visible inclusions. The most precious of all emeralds have a high degree of clarity and a very low amount of inclusions without the use of any treatments.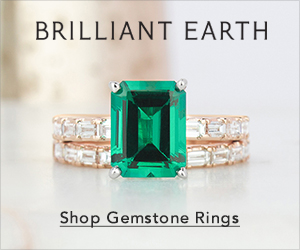 The overall price of emerald engagement rings or emerald wedding bands will rise dramatically according to the carat size too. Emerald rings which contain smaller stones less than a carat in size are much more affordable than rings with made with a 1 carat emerald stone. As the emerald carat size continues to exceed 1 carat, the gemstone price increases by an almost exponential amount.

Emerald and diamond rings, and rings crafted with platinum, are significantly higher priced as well.


Best Settings and Cuts for Emerald Wedding Rings
Emeralds look stunning in any cut, but the classic emerald-cut emerald is by far the most popular style for this radiant gemstone. While an emerald-cut does slightly decrease the flash and fire qualities of any gemstone, it can showcase the size of a higher carat gem in a spectacular fashion - and the wide table facets of an emerald-cut have an especially memorizing effect in an emerald gemstone.
The round brilliant cut too is popular with emerald wedding rings - and especially with emerald and diamond rings - because this type of cut maximizes the amount of flash and fire in the gemstone....which heightens the bling factor of the ring.
Pear cuts too showcase plenty of brilliance and fire on emerald gemstones. 

Classic cuts including oval and cushion cuts are increasing in popularity as well with their lovely vintage look.

In terms of settings, you'll definitely want to stick with emerald rings that are crafted with secure and long lasting settings - including settings made with platinum and 18k gold. Four to six prongs are best and - in the case of emerald wedding bands and men's emerald rings - the channel set style offers a very snug setting that will offer extra protection and security for the gemstone.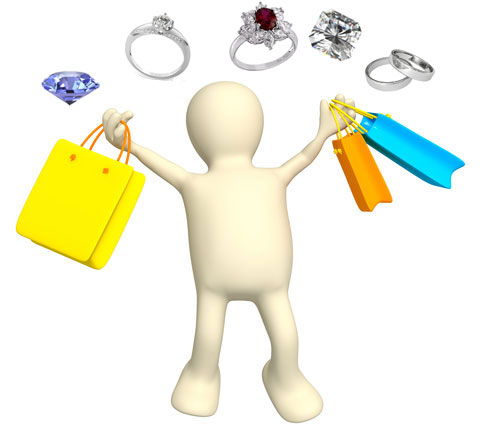 Shopping Tips for Emerald Engagement Rings and Wedding Bands
It is important to keep in mind that when it comes to emeralds you get what you pay for. Cheaper emerald engagement rings and emerald wedding bands which contain emeralds with a high degree of inclusions, cloudiness, and poor color quality are available for as low as $80 dollars per carat, but these cheaper versions are a poor representation of a true quality emerald. (Emeralds with multiple, visible, inclusions are also more brittle and less durable).
Most emeralds come with inclusions, but those that have a low degree of inclusions and a high clarity rating are highly valued and much more durable.
Desirable custom cuts and deep green colors are important factors in the overall cost of the emerald too.

Oiling the gemstone with colorless oils is an acceptable enhancement, although these gems are not valued nearly as high as those that have received no treatment yet still retain a high degree of clarity.
Though watch out for any emerald engagement rings or emerald wedding bands which contain D labeled emeralds that have been dyed and treated with colored oils.
If you are on a tight budget, emerald wedding bands and engagement rings crafted with multiple, but smaller carat, stones set together are much more affordable than rings that showcase a larger carat center emerald gemstone.

Synthetic emerald rings are a terrific alternative too - as they have the exact same physical properties as natural emerald rings (some synthetics even come with small inclusions so they will look more emerald like). Just be sure that the ring is crafted with top notch workmanship and materials and that the gemstone is an actual synthetic and not a simulant.
While synthetics are a great affordable alternative, they are sometimes sold as genuine emeralds. But if you are looking for a natural emerald ring, in addition to sticking with a reputable retailer here is another tip:

Synthetic emeralds will often become luminescent under an ultraviolet light whereas a natural emerald will not.
Unfortunately, in addition to synthetic emeralds sold as real emeralds, there have even been rings crafted with green cubic zirconia and sold as the real thing. To shop wisely, it is a good idea to research any retailer and seller before you buy - and to make sure your ring is available with a no-nonsense refund policy.

And remember, if someone is trying to sell you a beautiful emerald wedding band or ring which contains a gemstone with a high degree of clarity and carat for a low price, chances are this is a synthetic emerald gemstone or even a colored simulant like cubic zirconia.
Emerald and diamond rings should come with a certification from a reputable diamond laboratory like the GIA, AGS, EGL or IGI. If you are looking for an estate, vintage or antique emerald ring, the ring should come with a certificate of authentication and/or an appraisal.
Last but not least, the best metals for emerald engagement rings and wedding bands are definitely platinum, 18k rose or 18k yellow gold and palladium. Silver is an affordable white metal, but any silver wedding ring will need extra care to reduce risks for scratches and nicks on the band.

Do you have comments or questions about emerald engagement rings and wedding bands?
Send in your questions or comments, or share pics of your beautiful emerald ring here!

I will post answers to your questions as soon as possible!
Return from Emerald Engagement Rings to Gemstone Engagement Rings
or
Return to Everything Wedding Rings Home