Art Nouveau Rings
and
Wedding Bands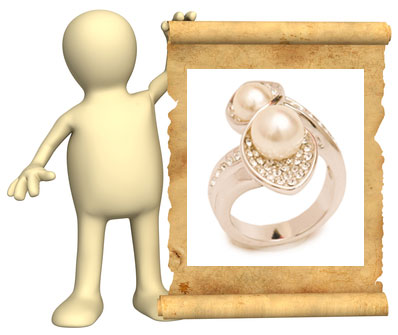 Art Nouveau rings were crafted during the highly creative era between 1890 - 1915 which began in the Late Victorian Era and lasted through the brief Edwardian Age. This time is heavily defined by an artistic movement which emphasized designs inspired by nature as a creative protest against the Industrial Revolution.
Today, the Art Nouveau engagement ring and Art Nouveau wedding ring are highly prized for their unique styles and superior workmanship - and rings produced during these amazing years of prosperity, peace and growing social freedoms remain high in demand.
Fun Fast Facts About
Art Nouveau Rings!
A revival of the plique a jour enamel technique in jewelry, including rings, occurred during this time.
French Art Nouveau ring designs were greatly influenced by Oriental styles.
Art Nouveau rings are often distinguished from Art Deco rings by their emphasis on curvaous lines and more natural shapes.

If you are searching for an authentic antique ring from this time period, use our helpful guide below including info on the designs of the age, popular metals and materials for rings plus valuable antique ring shopping tips. If you have any questions, use the comments section at the end of the page!

Styles and Designs of Art Nouveau Rings
Art Nouveau styles are defined by their flowing symmetry, circular swirls and loops, and very feminine designs. A return to nature was the main theme of this movement, and the lines and shapes of the rings were designed to reflect symmetry of nature.
While Art Nouveau designs, particularly those developed in the later years of the movement, often experimented with geometric shapes (which gradually lead to the inspiration for the Art Deco movement), the styles were still intrinsically about highlighting an emphasis on nature through creativity.
During this period too, there was a huge interest in returning back to the bygone days of handcraft jewelry pieces - an art which was rapidly disappearing due to the machines of the Industrial Revolution. Unfortunately, the desire for a return to simpler days - and handcraft art - was never fully realized. As a result, many rings from this period were machine-made or mass produced - although antique handcraft rings from this time can often be found through specialized antique dealers.


Find Authentic Art Nouveau Rings Like These at Brilliant Earth Antique Rings!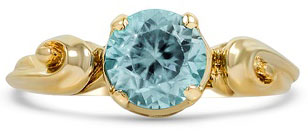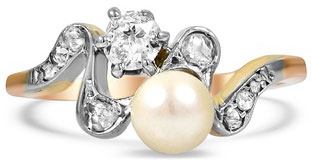 Common motifs featured in antique Art Nouveau wedding rings and engagement rings - and ring pieces in general - were insect, plant and flower designs, Oriental styles and curvaceous lines. Abstract designs were gradually introduced too including circular sunburst shapes and whiplash curves, and many pieces were made with the highly sophisticated look of the Edwardian Era.
This is also the period of time when fired enamels made huge advances in popularity and streamlined processes; as a result, many rings from this age are noted for their brightly colored enamels and almost stained glass appearances which were formed from a revival of an age old jewelry technique known as plique á jour.




Popular Art Nouveau Jewelry Gemstones and Metals
Platinum and white gold were used prominently in Art Nouveau antique rings. During the early artistic period of the Art Nouveau years, platinum made its first public debut in jewelry for the public, and the metal quickly became a preferred material particularly for luxury pieces. Silver and white or yellow gold - including 14k and 18k gold - were quite common too.
Pearls were at the top of the list for Art Nouveau jewelry followed by colorful gemstones including tourmaline, garnet, emerald, carnelian, synthetic and natural ruby, opal, moonstone and lapis lazuli. Small diamonds were often used as accents around central gemstones or pearls, or were combined to create a "diamond flower" type look. Crystal was also incorporated into rings to add a little extra flash for an affordable price.


See a Stunning Collection of Art Nouveau Rings at Adin Fine Antique Jewelry
(receive 5% off with code=Everything-Wedding-Rings for online or phone purchases)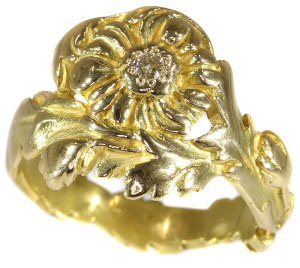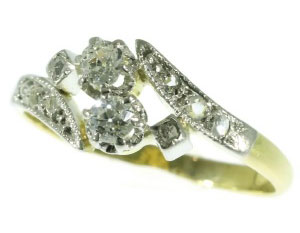 Diamonds were not often the central feature in the Art Nouveau engagement ring (unless used to create a flower-like or sunburst design); instead, small diamonds were used as accents, and gemstones were usually the main focus of Art Nouveau wedding rings.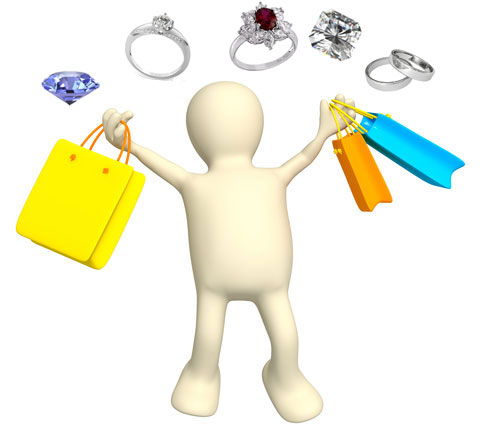 Shopping Tips for Antique Art Nouveau Rings
Shoppers for antique rings from the Art Nouveau years need to use caution. The rich and sublime designs of these rings have long been high in demand, and as a result tons of replicas are on the market.
As always, it is best to stick with specialized retailers who have a concrete reputation dealing with antique rings and antique jewelry in general. And any rings that contain precious gemstones or diamonds should come with a report which contains info about the stones.
A top online resource for Art Nouveau rings - and antique/vintage rings in general - is Brilliant Earth. Here you'll find quite an impressive selection of rings from this amazing design period.
Another reputable source for authentic Art Nouveau engagement and wedding rings, Adin Fine Antique Jewelry, is one of the most highly recommended jewelers for authentic antique rings from this time period. In addition to free ring sizing, Adin continually maintains a beautiful selection of Art Nouveau rings. (Use code=Everything Wedding Rings to receive a 5% discount when purchasing online or mention this code is purchasing over the phone).


When searching for authentic Art Nouveau jewelry, keep these tips in mind:
1. Rings from this period - especially those made in the U.S. and Britain - should have two stamps: a hallmark stamp which references the metal the ring is made from and a maker's mark stamp.
2. Remember the most common types of metals during this time: platinum, white and (sometimes) yellow gold and sterling silver and the use of gemstones or pearls combined with smaller diamonds.
3. Many Art Nouveau rings have survived in excellent condition. Do not settle for rings that have been damaged or show extreme signs of wear and tear.
4. Value of rings from this time is heavily affected by condition and workmanship. Highly valued rings are in excellent condition and contain all of their original gemstones and diamonds.
5. Rings produced during these years were most often machine-made, although some handcrafted pieces were created too. Expect to pay much more for handcrafted pieces.
6. Authentic antique rings from the Art Nouveau years are usually priced at well over $1,000 dollars, many are in the $2,500 to $10,000 dollar range - so if a price looks too good to be true, it probably is!
Do you have questions or comments about Art Nouveau rings?
Send in your questions or comments, or share pics of your lovely Art Nouveau ring here!

I will post answers to your questions as soon as possible!

If you have questions about an antique ring that you own, please send in as much detail about the ring as possible along with clear pictures!
Return from Art Nouveau Rings to Antique Wedding Rings
or
Return to Everything Wedding Rings Home