Edwardian Rings
and
The Antique Filigree Ring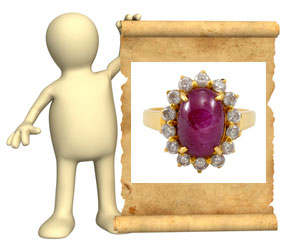 Antique Edwardian rings were created during the brief reign of King Edward VII which lasted from 1901 to 1910. Edwardian era jewelry, furniture, and even clothing designs were characterized by a delicate elegance and light airy feeling which seemed to capture the carefree attitudes of the day.
It was during this time that the famous filigree ring made its debut, and today an authentic antique filigree ring is truly something to cherish.

Fun Fast Facts About
Edwardian Era Rings!

Platinum, for the first time, became widely used to create entire rings instead of only the prongs and settings.

The "suspended in air" diamond knife edge setting was invented during this era.

Popular styles included cluster rings and flower-like shapes using colorful gemstones and diamonds.

If you are searching for a stunning ring from this period, or an antique wedding or engagement ring, use our handy guide below including info on history, popular styles, metals and materials of the times plus shopping tips for genuine antique rings.
And if you have any questions or comments about Edwardian rings, just use the comment box at the end of the page!

*Art Nouveau rings were crafted during the Edwardian Age too and are sometimes labeled as Edwardian rings - but because these uniquely styled rings are recognized by their own design trend, we have covered them in a separate section.



History and Design Styles of Edwardian Antique Rings
Jewelry designs during the Edwardian era were heavily influenced by the styles of the very Late-Victorian Age. During this time, jewelry became much more sophisticated and refined. Colorful gemstones took center stage, as well as diamonds - and advancements in gemstone and diamond settings and cuts continued.
Throughout the Edwardian Age, the arts flourished during the peacetime years before World War I known as "Belle Epoque" or "The Beautiful Age" and inspired new clothing and jewelry fashions.


Rings became an experiment of fragility and color combined - achieving an almost lace-like effect through delicate metal-works and the development of filigree paired with gorgeous center stones including diamonds, pearls or eye catching gemstones. And many authentic antique Edwardian rings cherished today are a stunning display of elegance and delicacy.



One of the more en vogue styles which developed during this time was the cluster ring with a central diamond or gemstone encircled by a bouquet of colorful gemstones or pearls.

Flower-like themes in jewelry became quite popular too due to Queen Alexandra's love and appreciation of flowers. Pearls were featured prominently in Edwardian jewelry as well, in part from the heavy use of freshwater pearls during the late 1800s by Tiffany & Co.
Some designs and motifs of the Edwardian era reflected the influence of Art Nouveau's circular lines and swirls, and others had more geometric styles. Popular patterns and style effects for jewelry included bows and ribbons, moon and stars, flowers, garlands, leaves, shamrocks, scrolls and hearts.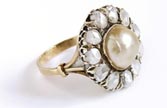 Popular Metals and Materials for Rings of the Edwardian Age
Rings of this era are often defined by the use of platinum for the bands. This is the era when platinum became widely available not only for gemstone or diamond settings but for the entire piece of jewelry. Plus new, more fashionable cuts of diamonds became widely available during the Edwardian era including the baguette, trapeze, and triangular cut.
Large diamonds were especially popular and more accessible in the early 20th century, and Edwardian antique engagement rings have a stunning effect of being light and airy while cradling large diamonds and gemstones at the same time.
Although platinum was a favorite Edwardian age metal, multicolored gold was quite popular too including rose gold. White gold began to make an appearance and 18k yellow gold was used often in luxury pieces. Silver was also frequently employed for crafting rings as well.
In addition to diamonds and pearls, popular gemstones of the era included amethyst, garnet, peridot, sapphire (particularly pink sapphire) and emerald. Opal, moonstone and mother of pearl were also on the top of the list for ring gemstones during the Edwardian era - and colorful gemstone combinations were a favorite for flowering designs.

Gemstones and diamonds were frequently set with "claw" prongs and deep bezel settings plus the new "knife edge setting" which created a suspended in the air effect for diamonds.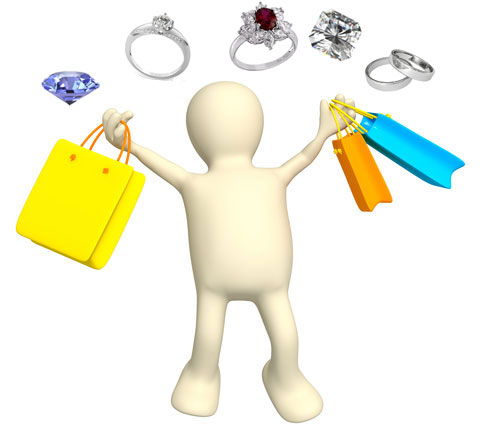 Shopping Tips for Antique Edwardian Rings

Where to find real Edwardian rings?

A fantastic resource for genuine Edwardian rings is Brilliant Earth's Antique Rings Selection - where you will often find a remarkable selection of rings from this time period, in addition to Art Nouveau rings, in outstanding condition.
Another reputable resource for antique Edwardian rings, one of my favorite - and most highly recommended - antique ring jewelers is Adin Fine Antique Jewelry. Adin maintains a selection of authentic Edwardian jewelry including wedding and engagement rings, filigree rings and stunning antique gemstone rings - and Adin offers free ring sizing too! Plus, you can take advantage of a special Adin offers for our visitors. Use code=Everything Wedding Rings to receive a 5% discount on any online Adin purchase, or mention this special if purchasing over the phone.

On your search for authentic antique rings from the Edwardian years, whether in person or online, keep these tips in mind while you shop:
1. Rings from this time crafted both in the USA and Britain should have hallmark and maker's mark stamps. (Avoid rings with only a hallmark stamp with no accompanying maker's mark stamp). However, some European countries did not have hallmarking laws at this time so a real Edwardian ring may or may not have any stamps on the inside of the band.

2. The value of Edwardian rings can be severely affected by condition. If the original gemstones and diamonds are missing or have been replaced, or the prongs are damaged, or the work is sub-standard, then the value will be quite low. Make sure the condition of the ring is known before purchase.
3. Edwardian style rings were so popular that they were created well into the 1940s and 1950s - and are still replicated to this day. So, it is technically feasible to buy a vintage Edwardian style ring that was not produced during the Edwardian years. If you are searching for antique rings from this time, check the date of the ring's manufacture too along with the style category.
4. Most Edwardian rings were not handcrafted - they were machine made and some were mass produced. This was a time when the Industrial Revolution was entering into its full swing and handcrafted rings created during these years are quite rare.
5. Many rings from the Edwardian years are in excellent condition and look almost new. Shoppers should not have to settle for rings that have been damaged or which are in poor condition.
As with all antique ring purchases, your best bet is to stick with retailers who have a verifiable reputation in dealing with antique jewelry. Edwardian rings which contain diamonds or precious gemstones should come with a report too containing info about the stones and their value.
Keep in mind that most antique rings from the Edwardian era are priced at well over $1,000 dollars - and many are priced in the $3,000 to $10,000 dollar range. Even simple antique wedding bands from this era are usually priced around $1,000 dollars. So, beware if you see a supposed authentic ring from this time available for a low, low price.

Do you have comments or questions or antique Edwardian rings?
Send in your questions and comments about Edwardian rings, or share pics of your antique Edwardian ring here!

I will post answers to your questions as soon as possible!

If you would like to know more about a ring you have, please send in as much detailed info about the ring as possible along with pictures.
Comments and questions from EWR visitors
Click on the links to see comments and answered questions...

Edwardian Ring ? Not rated yet
Hello, I just read your very informative blog on antique rings and I am hoping you can possibly give me your opinion on the age of this ring I found in …
Edwardian Engagement Ring Not rated yet
Hello, I was wondering how to find history about an Edwardian ring. Do you know how to obtain such information? Is there anything you could tell …
Return from Edwardian Rings to Antique Wedding Rings
or
Return to Everything Wedding Rings Home