Knife Edge Wedding Ring Styles
While these cutting edge modern wedding ring designs are quite unique, they are still available in a choice range of styles. Couples can choose from knife edge engagement rings - which can be crafted with small to extra large diamonds - in classic solitaire styles to halo designs, and men's knife edge wedding bands made with clean or inlay features.
The "knife" portion on the edge of the band can be very sharp and clear - or the band may be slightly tapered outwards in the middle. So, you can decide how sharp the edge will be on your ring's design.

Although the edge of the band is tapered, the band may still be set with gemstones and diamonds - and most knife edge wedding rings have a rounded comfort fit on the inside and they are just as comfortable as regular wedding bands. As the inside of the bands have a wider width, the bands may be engraved as well.
In terms of durability, the metals with the highest resistance to wear include platinum, palladium and 18k gold - contemporary wedding bands made with tungsten, titanium, steel or cobalt chrome will also hold up extremely well to every day wear.


Are Knife Edge Bands Resizable?
Knife edge bands may or may not be resizable depending on the style of the band. Most wedding bands and engagement rings with clean streamlined styles are resizable, but if the bands are made with intricate designs resizing may either be impossible or higher priced than traditional ring sizing jobs.
Bands with a knife edge that are channel or pavè set with gemstones are resizable as long as the gemstones are not set around the entire band (i.e. the gemstones are only set around the front of the band). Knife edge rings that contain gemstones set around the whole circle of the band are not resizable.


Do Knife Edge Wedding Rings Need Special Care?
Knife edge wedding rings made with strong metals do not require any more care than traditional styled wedding rings. As with regular bands, care should be taken to avoid exposing the rings to hard knocks or blows to prevent scratches. Knife edge rings should be cleaned occasionally as well to maintain their original luster and shine - and small surface scratches may be removed with a professional buff.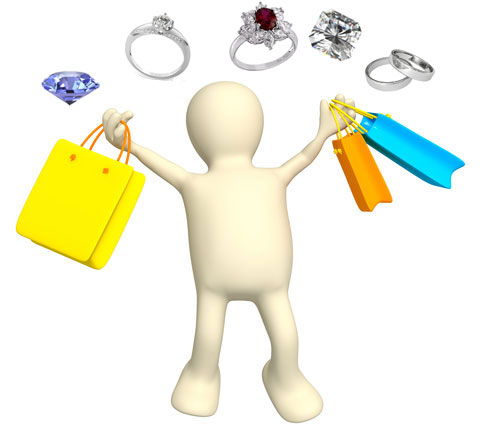 Shopping Tips for Knife Edge Wedding Bands
Tapered edges on wedding bands require extra secure quality settings for gemstones and diamonds - so one way to make sure you ring is made with high standards of workmanship is to stick with reputable and well known jewelers, boutiques and retailers who specialize in knife edge ring styles and rings crafted with platinum settings.