Is this antique ring fake? Has the band simply been replaced?
My husband just bought this ring, and it didn't occur to us until after he paid that I've never seen an antique ring with a pink sapphire before. Also, obviously, the price is too good to be true - so we just got excited and jumped on it, thinking it was a perfect birthday gift. But now I'm terrified that he just over-paid for a fake. Could the fact that band is not original to the head account for the low price, or should we try to cancel the payment?


Hello,
Sorry to hear about your dilemma, but before I get into any details about the issues with this purchase, I would highly recommend cancelling the order asap.
I removed the link to protect the privacy of the seller, but here are some major red flags about the seller/shop the ring was purchased from:
1. The rings in her store are WAY under-priced. There is no way that these rings can be authentic antique or vintage rings. Even replicas made with mid-quality materials are priced much higher than the rings she has listed.
2. The seller has no experience what-so-ever with antique or vintage rings, and really hardly any experience with jewelry. Her only experience listed is an interest in gems and jewelry as a hobby. She also mentions that a family member was a jeweler but then contradicts this statement by saying her family member was just a designer.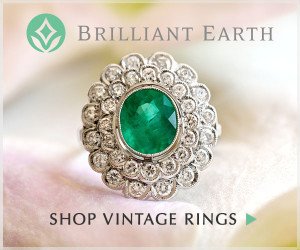 3. She says that all her pieces have been authenticated by a jeweler/gemologist, but none of the pieces that I've seen listed in her shop come with a certificate of authentication. Authenticating pieces of jewelry, especially antique and vintage rings, takes time and expertise - and certified gemologist/jewelers charge for this service...and provide a written report of their findings. But again, there is no mention of who authenticated the pieces and no verification provided to the buyers that the pieces were actually authenticated by a knowledgeable, certified gemologist - and no proof that the rings were authenticated at all.
4. All of her sales are final - unless the items turn out to be not as they were described (which is another red flag, why would this policy even be mentioned if the rings have been authenticated). She does not offer any type of refund at all.
Now for issues with the ring itself:
1. The ring is in awful, truly horrendous, condition. I doubt if the ring could even be worn for any period of time before completely falling apart.
2. As you mentioned, the ring is not an original piece. It looks like a band from another ring was soldered to the setting with what can only be described as way-below-standard soldering workmanship. It's just terrible.
3. This ring, as with her other rings listed, does not come with a certificate of authentication.
4. In the listing for the ring, she mentions, "This ring is very old. The setting is in silver on a 14k gold band. It is from either the 1700s or 1800s. True age is unknown."
In other words - she has no idea when the ring was made. Dating a ring to the "1700s or 1800s" is a huge jump. We're talking about a vast difference in design eras covering a span of over one hundred years - not to mention possible historical significance. She also does not mention why she believes the ring is old or why she dated it to the 1700s or 1800s.
*As an aside too, she wrote "The ring is very old" when she should have said, "I believe the pieces that have been melded together to create this ring are very old."
5. She mentioned that the ring is surrounded by 8 small rose cut diamonds of various sizes, but again offers no evidence as to why she believes the diamonds are real and not, say, paste or even white sapphires.
6. Pink gemstones were very popular during the Victorian age, and to some extent during the Georgian age too. It is common to see Victorian rings made with light pink colored rubies, pink tourmaline, light garnet and even pink sapphires. (Though the use of rubies and garnet were more common than the use of pink sapphires).
*So, antique rings can be made with pink sapphires as they were available for crafted jewelry even as far back as the 1500s - but a man-made gemstone known as "Strass" was a very popular material used throughout the Georgian and Victorian years too. Strass is basically lead glass, and was used to create brilliant paste gemstones with a high degree of sparkle and flash. Bright pink Strass was made too - and often used to imitate the more expensive ruby, tourmaline and sapphire gemstones. Synthetic gemstones - including ruby and sapphires - were available during the Victorian period as well.
Bottom line?
The ring is in terrible condition, it is not even one original piece, there is no proof that the materials in the ring have been authenticated, there is no evidence provided as to why the ring is believed to be antique and the person selling the ring has no experience in the antique jewelry market. And the seller offers no refund with her wares - when jewelers stand behind their products, they always offer some types of refund, even a 7 day refund, or - in the case of bespoke or custom rings - an exchange guarantee of some type.
Honestly, I get so frustrated when I see these kinds of so called antique or vintage shops online. Whether intentionally or not, the people who run these shops - who have no clue about antique or vintage jewelry - are taking advantage of people who truly love vintage and antique jewelry pieces and who may be searching for a bargain.
At any rate, please try to return the ring as quickly as possible. Even if the pieces the ring are made with are antique, they would only be used for scrap because of their horrible condition. In this case, you overpaid for what you believed was a pretty good deal. (And looking at the other pieces in her shop, I can see why potential customers would be fooled because some of her rings look quite nice - but of course they are priced way too low and are most likely cheap imitations).
If you are looking for antique rings online, three places I highly recommend include:
Brilliant Earth
- In addition to handcrafted engagement and wedding rings, BE maintains a huge selection of genuine certified antique and vintage rings, and some are in the under $1,000 dollar price range. BE offers sizing too on all rings.
Adin Fine Antique Jewelry
- Adin carries a breathtaking selection of antique, vintage and estate rings. Plus, when possible, Adin offers free ring sizing services too. While you'll find a lot of high-end antique rings here, there is also a smaller selection of affordable antique rings - all which come with a certificate of authentication. And, you can receive an additional 5% off any Adin purchase by using the code: Everything-Wedding-Rings when you checkout or mention this discount if ordering by phone!
I sincerely hope that you will be able to return the ring for a full and prompt refund. Please keep us posted with how everything turns out - and thank you for sending in your question. While this shopping experience has not been a positive one for you, hopefully future visitors who read this page will find the information useful for locating their own authentic antique rings.
Best of luck with your refund!
Suzanne Gardner
Everything Wedding Rings