Rhodium Plating an Antique Ring
by Nikole
(Calgary, AB, CAN)
I have an antique engagement ring that has been passed down in our family for generations. It has a yellow gold band and I would prefer if it were white gold or platinum. My only issue is that I don't want to change the band completely. Would plating be an option for me?


Hi Nikole,
Plating the ring would be an option - but with an antique ring there are additional considerations to keep in mind.
Before a ring can be plated - with rhodium or even with a platinum plate - the ring must be completely cleaned and buffed. If the ring is not thoroughly cleaned and buffed, the plate will not 'stick' to the ring's metal very well. Any scratches on the ring that are not buffed out will actually be more apparent after a plate application too.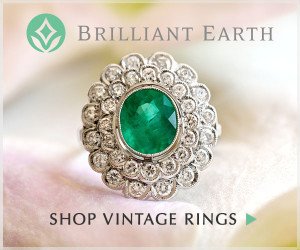 With gold antique rings, cleaning the rings before a rhodium plate application can remove the beautiful patina that develops on gold rings with time. If your ring has a patina layer, removing the patina could affect the value of the ring and would change the color of the band.
Some types of materials and gemstones used to craft antique rings can be harmed by the rhodium plate process as well. If the ring contains any porous or organic gemstones – such as turquoise, pearl, opal or jade – it absolutely should not undergo rhodium plating. Additionally, peridot is particularly susceptible to the sulfuric compound used during the rhodium plate process – so any rings, antique or new, made with peridot gemstones should not be rhodium plated either.
If the ring contains any gemstones which have been damaged, or repaired, or have been treated with fill or dye – these gemstones could be substantially damaged when the rhodium plate is applied.
Materials including tin solder, and foil, which are on some types of antique wedding rings will also be affected negatively – and possibly destroyed - by rhodium plating.
Many of these concerns apply to platinum plating too. Because platinum plating is not performed as often in the U.S. it can also be challenging to find a jeweler who will perform this service – and plating a ring with platinum can cost upwards of a few hundred dollars.
Last but not least, it's important to keep in mind that any type of plate - platinum or rhodium - will need to be continually reapplied about once a year (depending on how often you wear the ring). And over time these costs can add up.
Before you decide to plate the ring, please take the ring to an antique jeweler who is experienced with antique jewelry restoration and appraisal. A professional jeweler can assess the amount of patina on the ring, how much of the ring's value would be impacted if the patina were removed and if the ring is a good candidate for plating.
Last but not least, if you decide to have the ring plated, be sure to take the ring to a jeweler who has experience plating antique rings.
I hope this info is helpful, and do write again if you have any additional questions!
Suzanne Gardner
Everything Wedding Rings