Sizing Down Antique Ring with Hole in the Band
by Caoilfhionn
(Manchester, England)
My fiancé has given me an Edwardian gold ring which belonged to his great-grandmother (diamonds and emeralds). The ring is size T and I am an H but when we took it to be resized the goldsmith said he had found a tiny hole and he was afraid it would disintegrate. Is there any way any new technique etc. that wouldn't damage the ring but would allow it to be sized?



Hello Caoilfhionn,
An experienced goldsmith would know best, and resizing an antique ring with any type of stability issue would be quite difficult – especially with the amount the ring has to be size down.
Going down from a size T to a size H is quite a reduction in size – (for our U.S. readers, this is almost comparable to a size 9.75 down to a size 4). A great deal of the band would have to be removed and the ends would have to soldered back together and then finished. If a hole is present in the band, the process of cutting and then soldering the ends back together could ruin the ring – depending on where the hole is and how severe it is.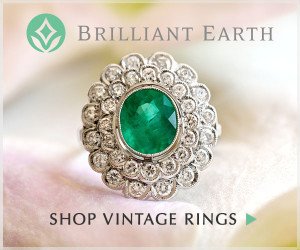 It may be possible to have the ring sized down with a laser instead of a solder torch. The advantage of laser welding is that only a small spot is heated – whereas the use of a solder torch usually heats the whole piece being worked on, so with the laser it is a much gentler process.
There have been advancements in laser welding tools and technologies – although not very many jewelers have the experience/equipment needed to use laser welding.
But even if you can find a jeweler in your area that specializes in laser welding, it is possible that the ring may still not be a good candidate for sizing due to its delicate condition - as reducing the ring size by this much could place significant added stress on the entire band.
The other consideration is that your ring size is smaller than average, and if you have the ring sized down to a size H it may be difficult for any future generations to enjoy wearing the ring (because then the ring would have to be sized back up).
I really think your best option is to use a metal ring guard that can be safely and securely attached to the ring so you can wear it comfortably. Metal ring guards can be used to securely wear rings that are too large, and they are available in silver and yellow, rose and white gold. If your ring is made with platinum then a white gold or silver ring guard would match quite well.
Alternatively, there are also plastic ring adjusters that can be fitted around a ring band – also known as ring snuggies that you could use to wear the ring.
Ring sizing beads are used in some instances to shrink the inner size of a ring without adjusting the entire ring size – but sizing beads are usually only used for a half size adjustment and they must be soldered onto the ring. The soldering process might be too rough on this ring – and could affect the value....and, the beads might be difficult to remove in the future. Customized larger ring beads soldered on the inside of the band to shrink its size down to an H though might be a possibility - but only a jeweler highly experienced with antique rings should be consulted for this work.
I'm not sure though that even with the use of a metal or plastic ring guard that it would be best to wear this ring every day. It sounds like it could be in a delicate state – and with such a difference in size, any guard you attach to the ring may be somewhat noticeable and may not be altogether comfortable for long term every day wear.
A better alternative might be to wear this ring on special occasions (like your wedding day!) with a ring guard, and then purchase another engagement ring that you can wear every day without worry.
Because of the ring's sentimental and monetary value, if you do decide to go with a metal ring guard it would probably be best to consult with a jeweler who can help you to find a quality metal ring guard that will fit securely around the ring – and that will be comfortable to wear.
I do hope that one of these suggestions can offer some resolution to your dilemma - while they might not offer the answers you were hoping for, these are the best alternative choices for ensuring the ring's health and preservation.
Suzanne Gardner
Everything Wedding Rings